[Free Organic Dried Fruit Snack]Pure Enzyme - Natural Noni Fruit Enzyme 500ml
The natural noni fruit enzyme from "Pure Enzyme" contains no artificial colors and preservatives. It is made from the finest noni fruit grown without pollution and fermented with live bacteria for about 2 years.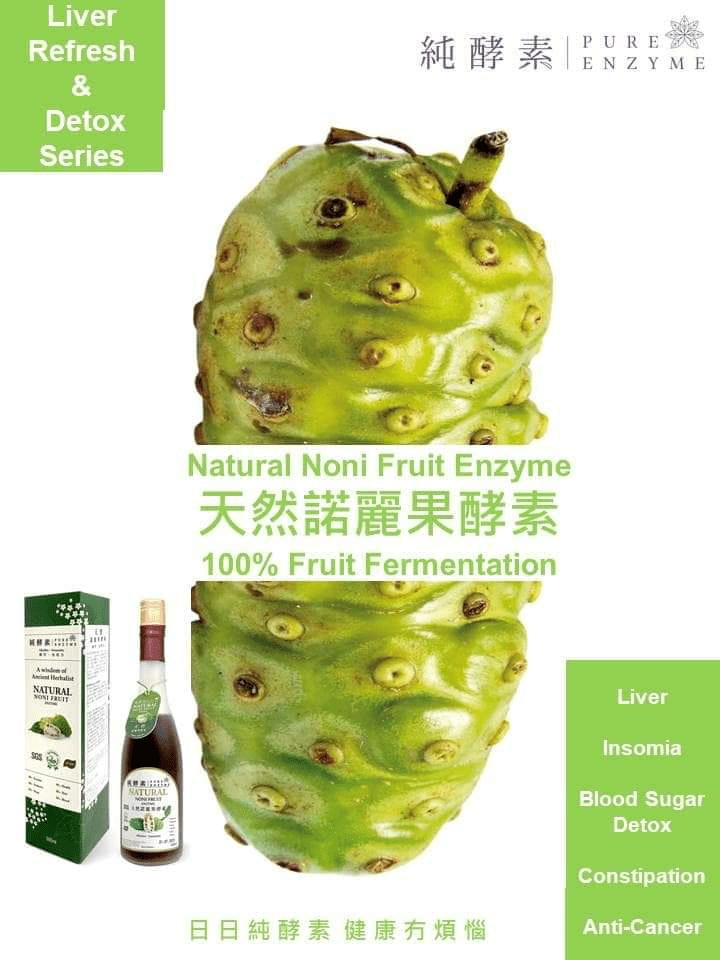 Noni fruits are grown in tropical islands, scientific name "Morinda Citrifolia", is a plant of the genus Morinda in the Rubiaceae family. It is the "Queen of Morinda" and has many health benefits and is widely used, therefore, it is also called the "God-sent Fruit". Modern scientific research has found that noni fruit is rich in Xeronine, and contains more than 150 precious nutrients, which helps adjusting the overall body condition, promote metabolism, improve sleep condition and fight against chronic diseases.
The functions of phytonutrient of polysaccharides and alkaloids in natural noni fruit (Noni) are more important than the function of vitamins. Noni fruit contains a large amount of proxeronine, the precursor of proxeronine between organisms, which can activate protein, cell health, endocrine and nerve conduction balance. Proxeronine is stored in our liver and skin. And it contains three rare important plant nutrients-polysaccharides, antioxidants, alkaloids; there are more than 150 other important ingredients, including nucleic acids, vitamins, minerals, enzymes, essential amino acids (the human body cannot be synthesized naturally) etc. The nutritional ingredients of noni fruit have a synergistic effect, and the effect is far better than that of a single ingredient. Moreover, being in juice form helps retaining the most active ingredients; and is the only form that can be quickly identified and used by the body.
---
Capacity: 500ml
Ingredients:
Noni Fruit (Natural Farm), Yeasts, Brown Sugar
No added fragrance, coloring and preservatives
Validity period:
See packaging for expiry date
---
Intake Recommendation:
Approx 1:7 ratio dilute with room temp or cold water
Storage method:
Please keep it in a cool place if it is not opened, and store it in the refrigerator after opening, and drink it within 1.5 months.
Attention:
Do not pour with hot water
Product of Origin: Taiwan