Perger - German Organic Elderflower Syrup 500ml
Brand: PERGER
Model: EARTH-PERGER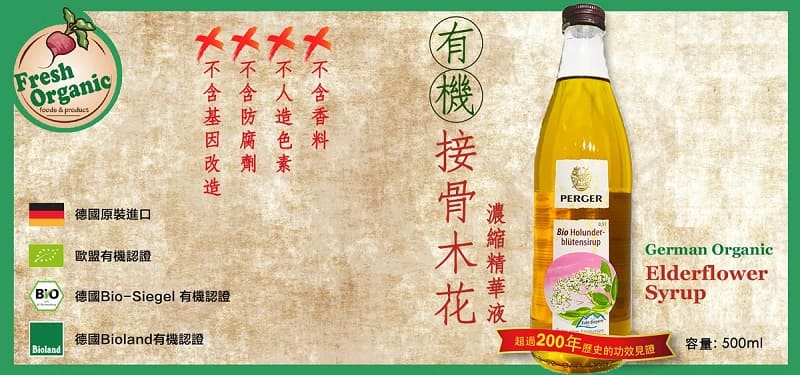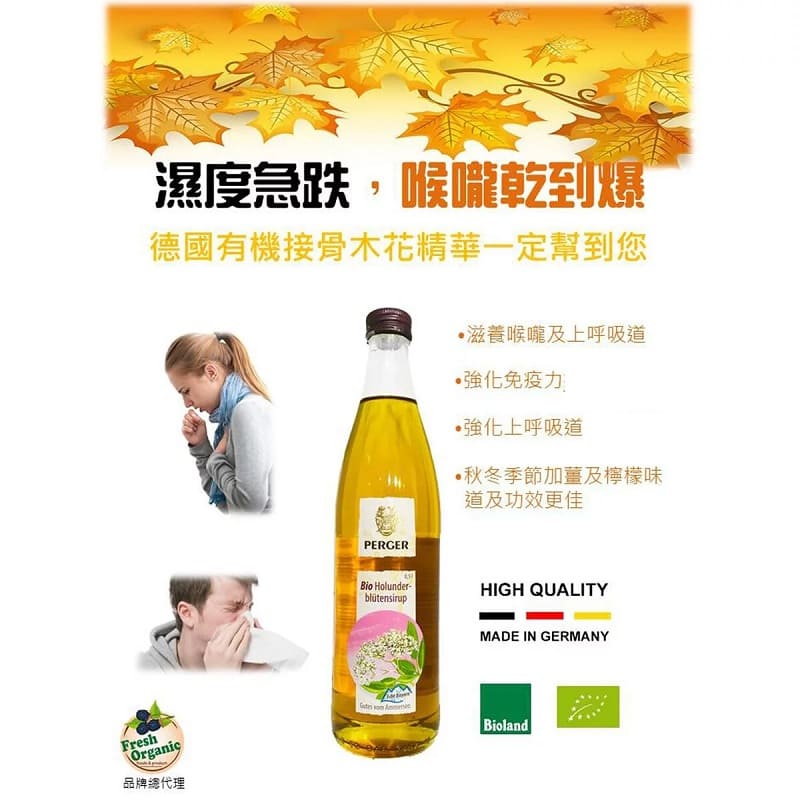 Elderberries can grow to a height of 9 meters and produce sweet, creamy white flowers in summer. After flowering, it bears black-purple fruits like blueberries. Elderberry is known as the "universal medicine chest". When the weather is cold and uncomfortable, it is best to drink a cup of hot elderflower, and then have a good sleep, you will feel much more comfortable when you wake up. When the throat is uncomfortable, in addition to drinking elderflower tea, you can also try brewing a stronger elderflower tea as a mouthwash to relieve symptoms.
---
Perger German Organic Elderflower Extract
Taken from German organic farms, extracted from elderflower yellow and white flowers that bloom from May to July every year
Contains no less than 26% high concentration
The choice of healthy drinks, loved by children
Rich in vitamins, minerals, isoflavones, etc., can help anti-sensitivity, anti-oxidation, strengthen the immune system
No genetically modified ingredients, no preservatives, no artificial colors, no pharmaceutical ingredients and no flavors
---
May help prevent and relieve respiratory discomfort
Helps to remove waste and toxins from the body
Effectively improve the body's natural resistance to disease
---
How to drink:
2-3 teaspoons (10-15ml) each time, 2 times a day. Dilute 1:10 with water for drinking.
When the respiratory tract is uncomfortable, dilute and drink with 30ml of elderflower concentrated essence.
Note: After opening, please refrigerate at 4°C and drink within 6months.
---
Ingredients: Organic Elderflower Extract (26%), Organic Cane Sugar, Organic Lemon Juice
Origin: Germany
Capacity: 500ml