DESSIN Korea Recovery LED Mask I Daily 10 minutes to create perfect skin | All-in-one eye shield | Wireless LED beauty mask
Brand: DESSIN
Model: DESSIN-MASK
DESSIN Recovery LED Mask mainly uses optical principles to directly penetrate different red and blue light waves to different skin layers (surface layer, dermis layer, bottom layer) to solve skin problems from the inside out.
Daily wear the DESSIN Recovery LED Mask 10mins, you can restore skin luster and elasticity, call out youthful, firm, supple and perfect skin.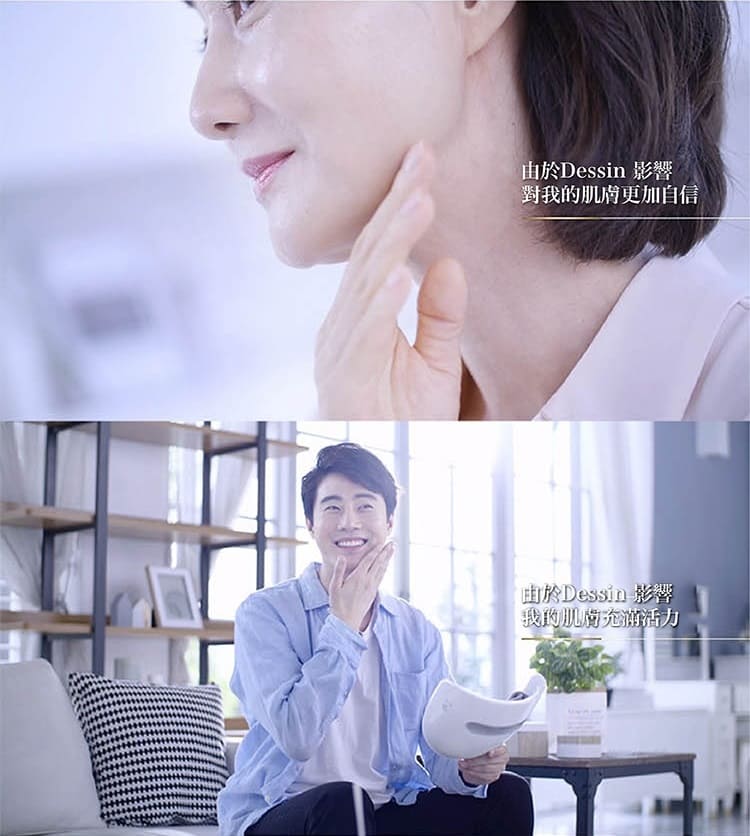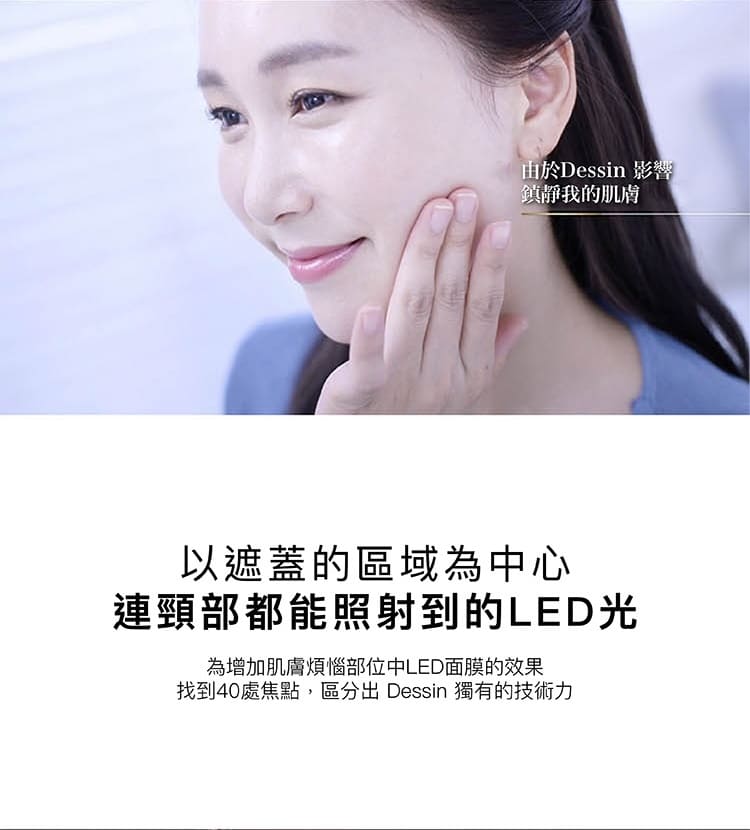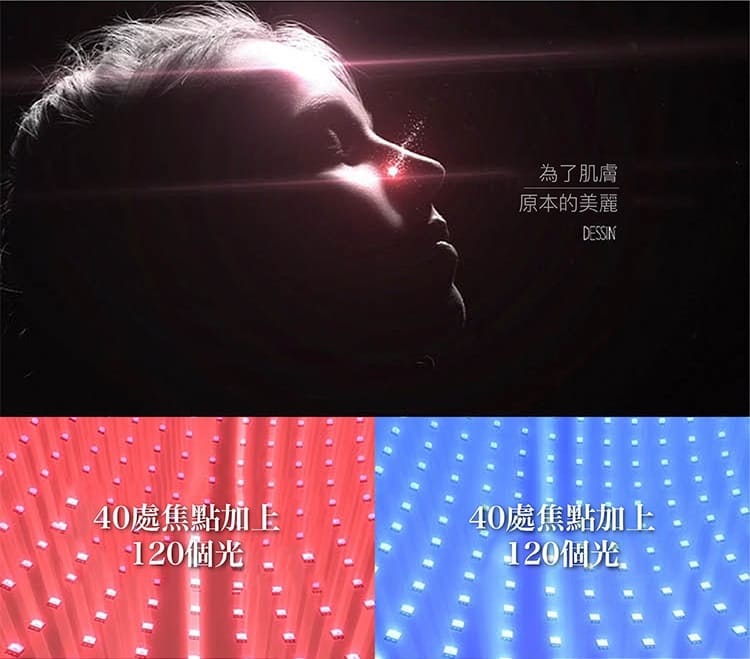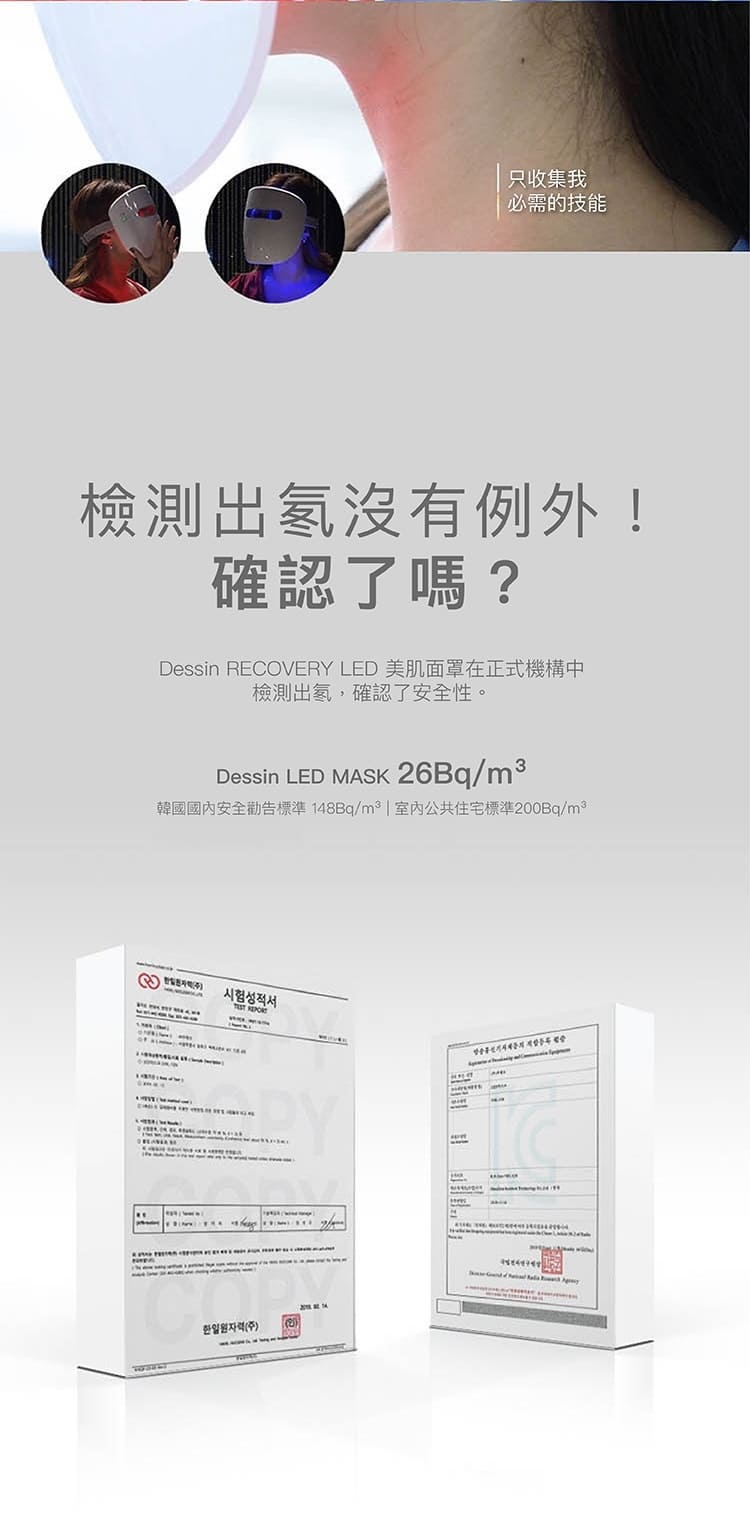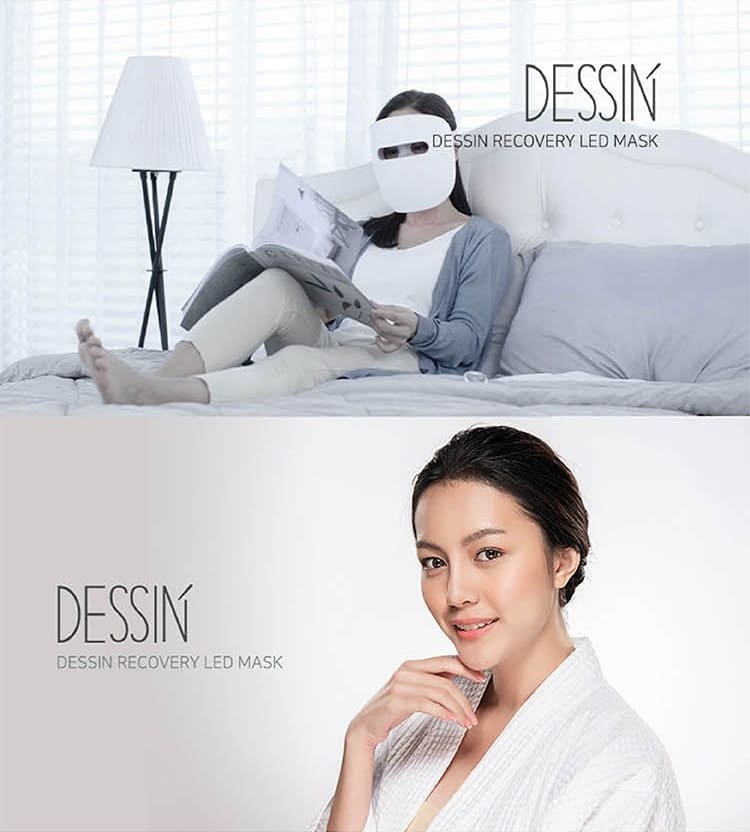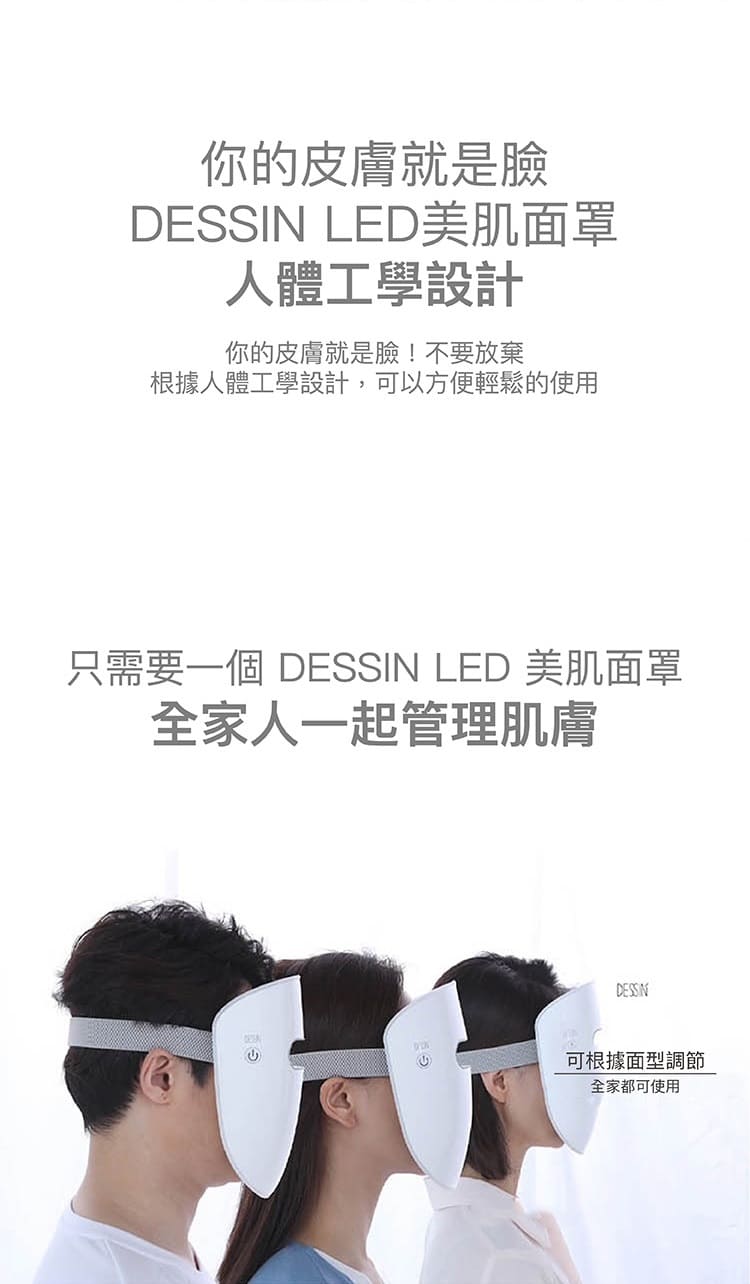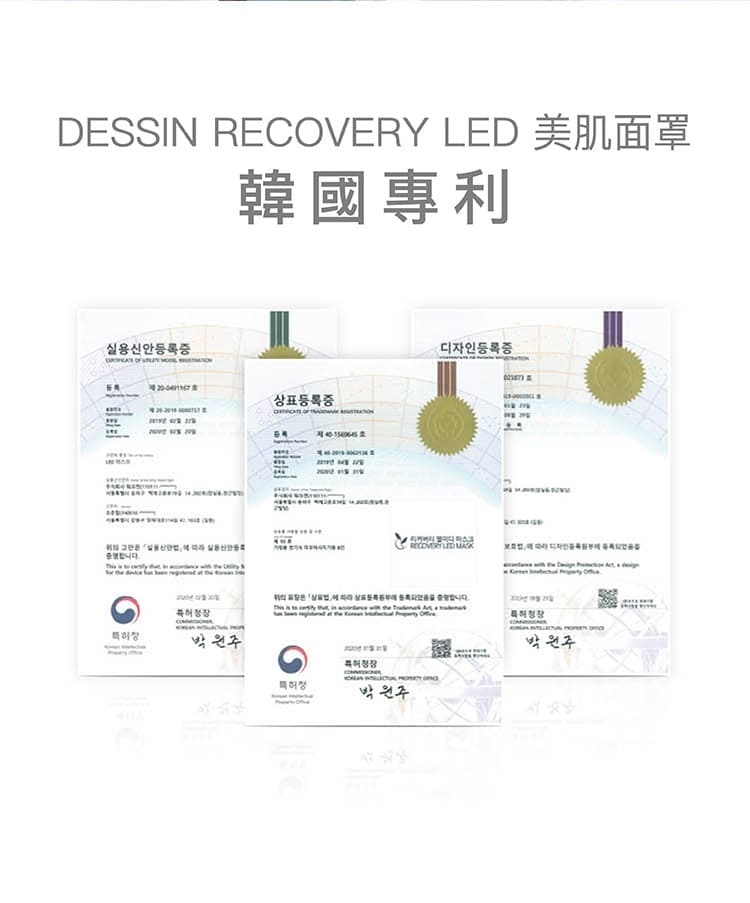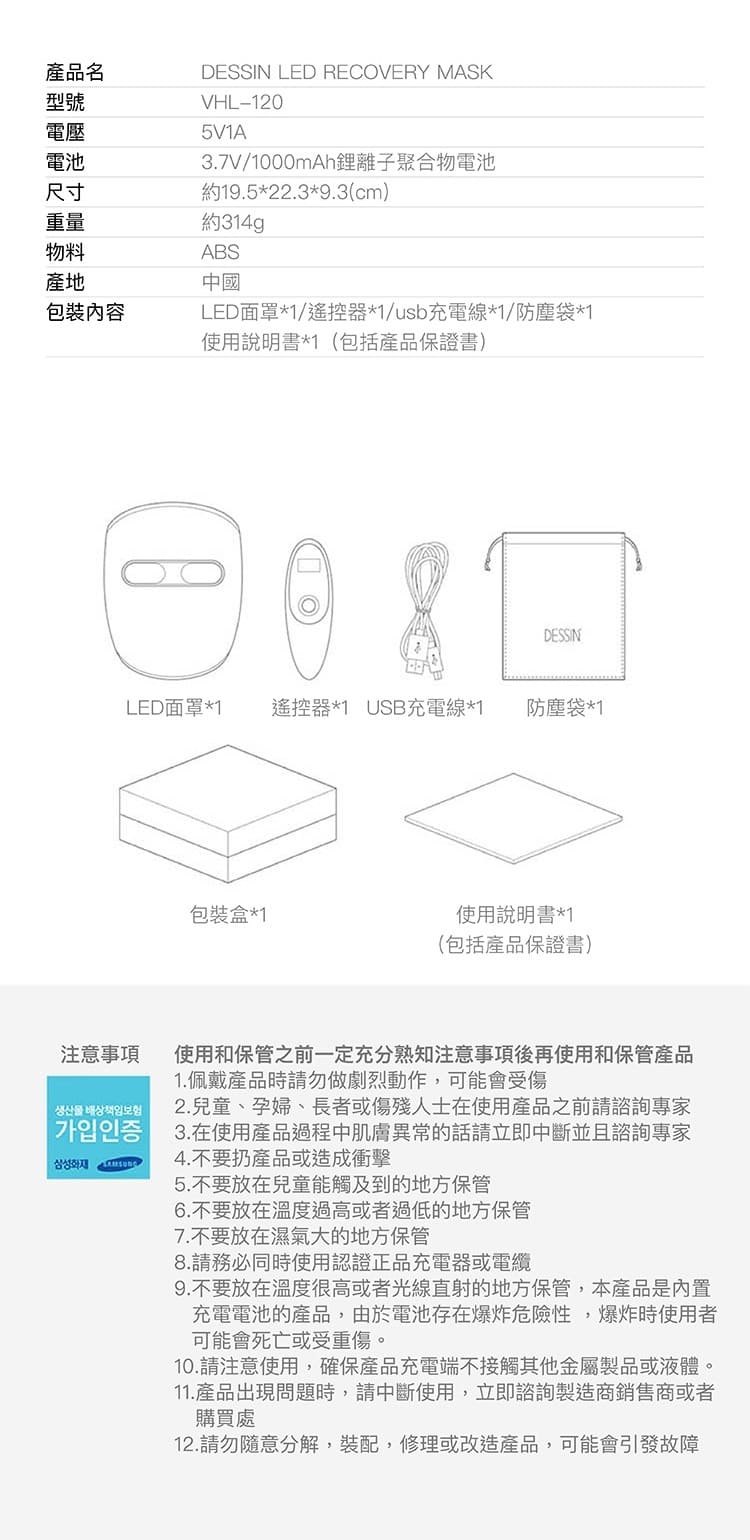 Daily 10mins
Wireless LED beauty mask, can be used continuously for 10 days and 10 minutes a day when fully charged
*In order to prevent harmful electromagnetic radiation, the distance between the LED beauty mask and the remote control is limited within 30cm
Non-contact LED beauty mask
There is a distance of about 1cm between the inside of the LED beauty mask and the skin, so it will not touch the skin and can be used more safely
Open type One-piece visor
The eye shield adopts an integrated open design to prevent glare when in use, so you can watch TV and watch mobile phones as usual
Tailor-made
The adjustable chin pad of the LED beauty mask can be adjusted according to the shape of the face, and any face size can be used
Auto stop function
Automatically end after 10 minutes of use
Using 100-year-old traditional OSRAM LED in Germany
---
Red light function:
Improves fine lines and dark circles, helps to enhance apple muscles, and promotes metabolism and collagen renewal.
Blue light features:
It can reduce the occurrence of sensitive skin caused by weather changes, and at the same time, it can also sterilize and remove acne, and has a significant effect on improving acne-prone skin.
Mode1: Red light and NIR for 5 minutes
Mode2: Red light and NIR10 minutes
Mode3: Blue light 5 minutes
Mode4: Blue light 10 minutes
Mode5: After 10 minutes of red and NIR, 10 minutes of blue light, a total of 20 minutes
---
Instructions:
It can be used continuously for 10 days under a full charge, 10 minutes a day.
Wash the face every day, check the toner, essence, and cream, and then use it.
It is recommended to use it when applying a moisturizing mask every day, which can increase the absorption of nutrients in the mask and help nutrients penetrate into the bottom layer of the skin.
Suggestions:
Ladies who cannot go to a beauty parlor for facial.
People who want to improve skin quality, such as fine lines, dark circles, collagen, or sensitive skin.
It is suitable for daily use when applying a firm moisturizing mask, which can increase the absorption of nutrition of the mask.
---
Product Specifications:
Rechargeable battery, battery capacity 1000MA
Charging time: 1-2 hours
Maximum use time: 2 hours
Size: about (19.5×22.3×9.3)cm
Weight: about 314g
Package content: LED mask, remote control, USB charging cable, dust bag, instruction manual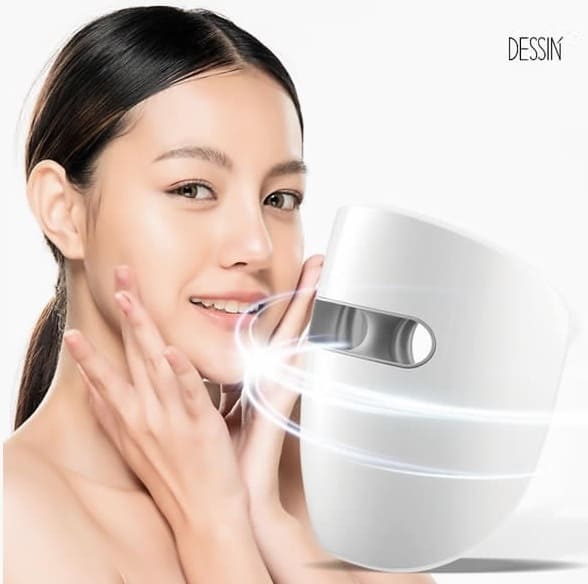 Authorized goods
Warranty Period : 1 Years