Biocool Water Soluble Massage Gel
BIOCOOL Sports Gel is specially formulated to give cooling and refreshing effect for body massage. It is patented forthe formulation, which contains menthol, camphor, and Glycyrrhiza Glabra Root Extract, Methyl sulfonyl methane. Patient response to ultrasound and sports massage therapy is enhanced when BIOCOOL Sports Gel is used to help prior to the ultrasound and massage treatments.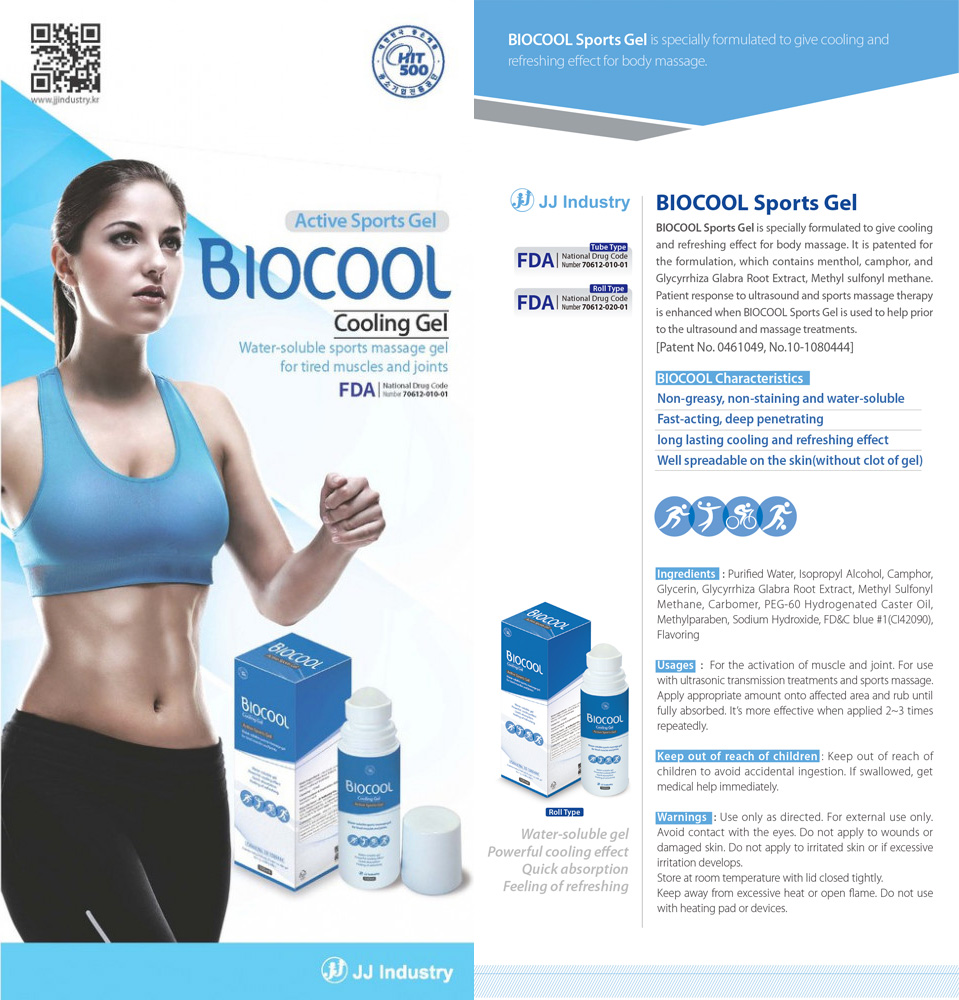 BIOCOOL Characteristics
• Non-greasy, non-staining and water-soluble
• Fast-acting, deep penetrating
• Long lasting cooling and refreshing effect
• Well spreadable on the skin (without clot of gel)

Water-soluble gel / Powerful cooling effect / Quick absorption / Feeling of refreshing​

Application
• Soft Tissue Trigger Point Therapy
• Rehabilitation Exercises
• Pre and Post Workout Stretch
• Massage Treatments
• For the activation of;
- Sore Muscles & Muscle Sprains
- Back, Shoulder, Neck Pain
- Painful Ankle, Knee, Hip & Elbow Joints
- Muscular Strains and Bruise
• Relief Cooling effect for itching from mosquito / insect bites


Usages​
For the activation of muscle and joint. For use with ultrasonic transmission treatments and sports massage.Apply appropriate amount onto affected area and rub until fully absorbed. It's more effective when applied 2~3 times repeatedly.