ONEFit miniwalker Plus
Brand: ONEFit
Model: ONEFIT-WALKER
ONEFit miniwalker Plus – The smallest, lightest Incline Walker with a foldable handlebar
The ONEFit miniwalker Plus is the upgraded version of the original miniwalker; it is equipped with a built-in foldable handlebar and an emergency clip, making you feel more secure. Everything else is the same as the original miniwalker. It is perfect for limited living spaces; it is easy to store and easily move around the house.
Its speed ranges from 1 km/h to 5km/h, and you can walk or slowly jog on it, depending on your mood.
Don't let space and busy life limit your fitness goals.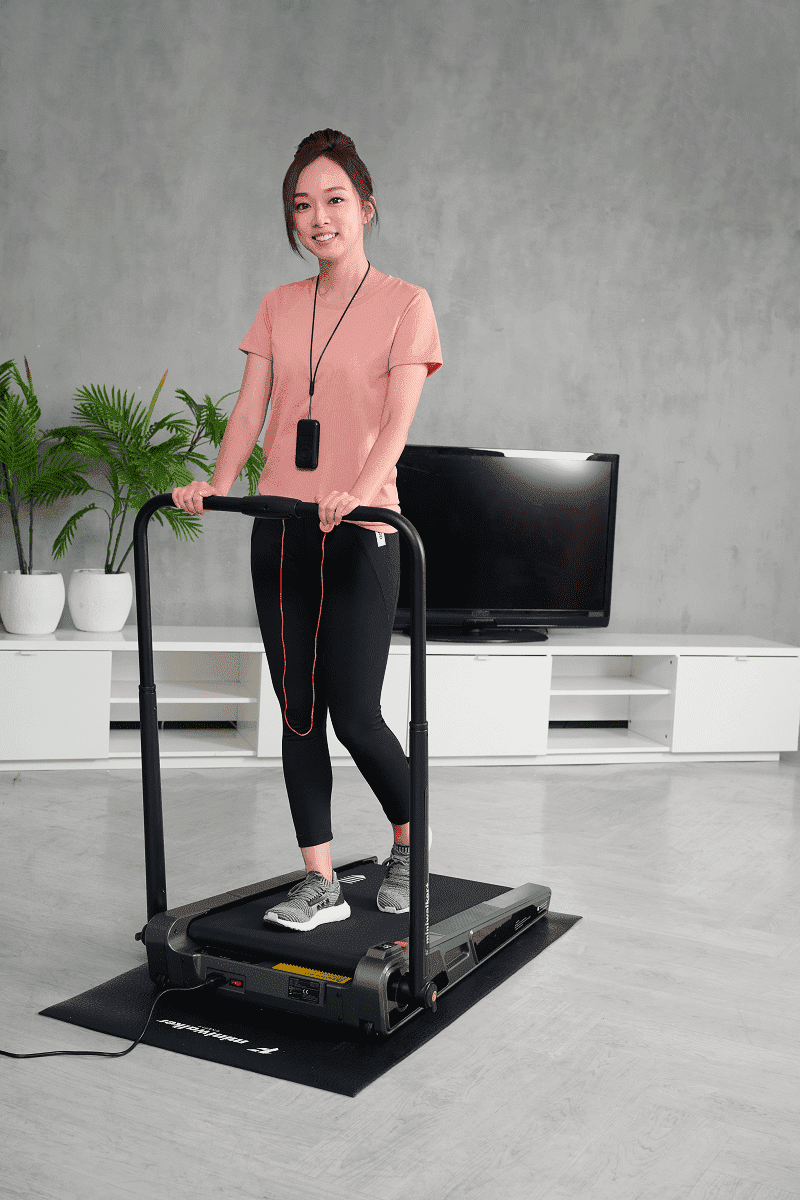 FEATURESINCLINE 5 DEGREE - More comfortable, increase exercise effect.
FROM WALKING TO JOGGING - Speed ranges 1km/h to 5km/h
SMALL, LIGHTWEIGHT YET GREAT STABILITY - Smallest - 96cm lengthLightest - 25kgMax capacity - 110kg
WHISPER QUIET - Noise level ≤ 50DBEASY
CONTROL - RF remote control or mobile App
EASY MAINTENANCE - Easy lubrication system
EASY MOVE - Maneuverable wheels
BULIT-IN Handle Bar - Folderble , equipped with Emergency stop key
---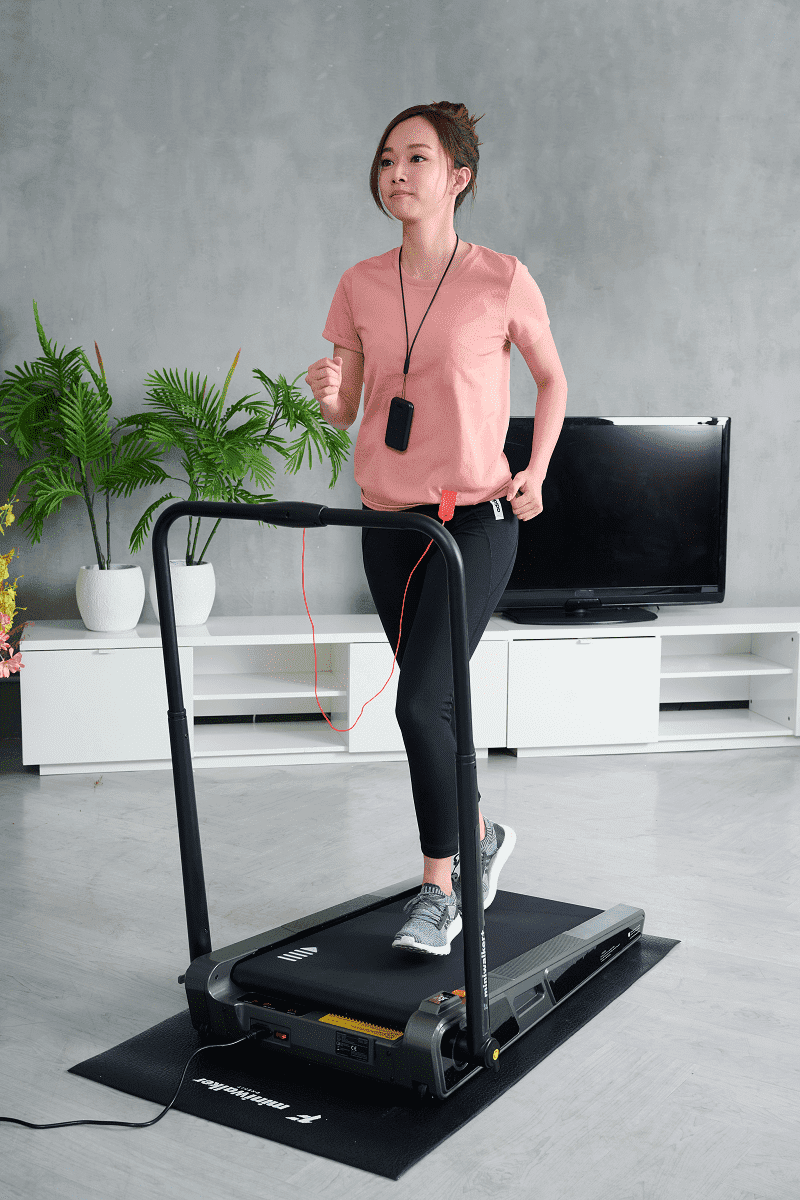 SAFETY KEY – Feel safer when training
ONEFit miniwalker plus is not only equipped with a built-in handlebar but also equipped with an emergency safety clip.
Just clip the safety clip to your clothes. When the safety clip falls off in an emergency, the walking machine will automatically stop, allowing you to feel safer when training.
---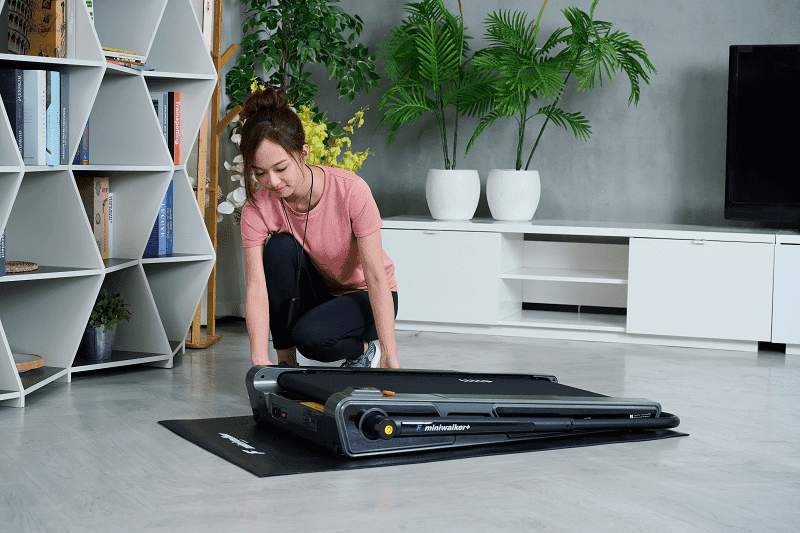 FOLDABLE BULTI-IN HANDLEBAR – Easy to collect, Quick to use
Just adjust the handle adjusters on both sides to easily unfold or fold the handlebar.
Both collection and use are very convenient and fast.
---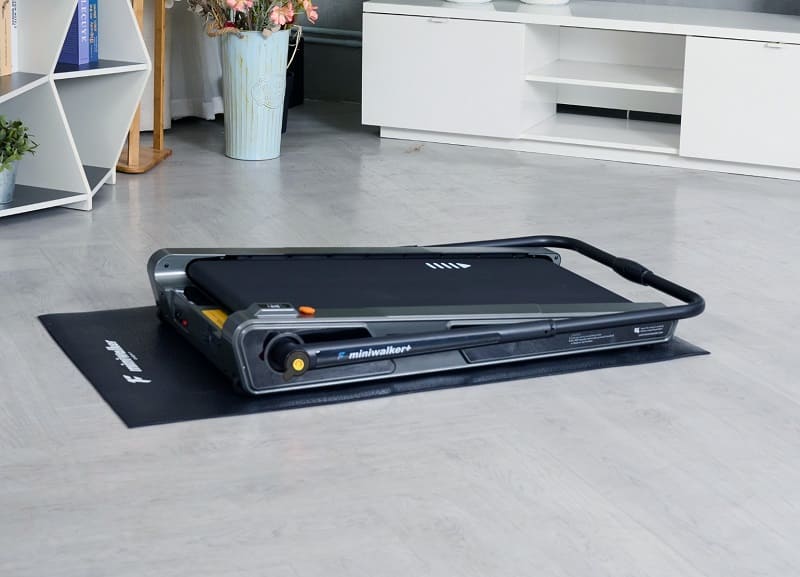 INCLINE – Perfect 5-degree incline
While more strenuous than walking on a flat surface, jogging or walking uphill has the unique advantage of getting your heart rate very high without moving at high speed. It reduces your impact load.
---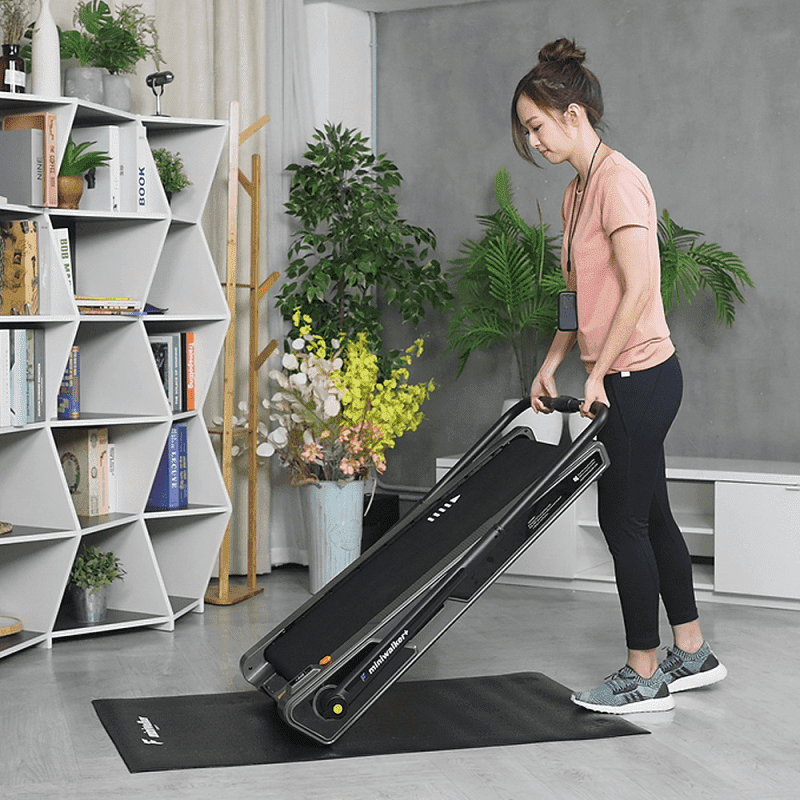 STRUCTURE – Small, Lightweight, yet with excellent stability
Small– 98cm length, Easy to store
Light – 30kg Weight, Easy to move
Max Capacity – 110kg Weight, Solid Build
---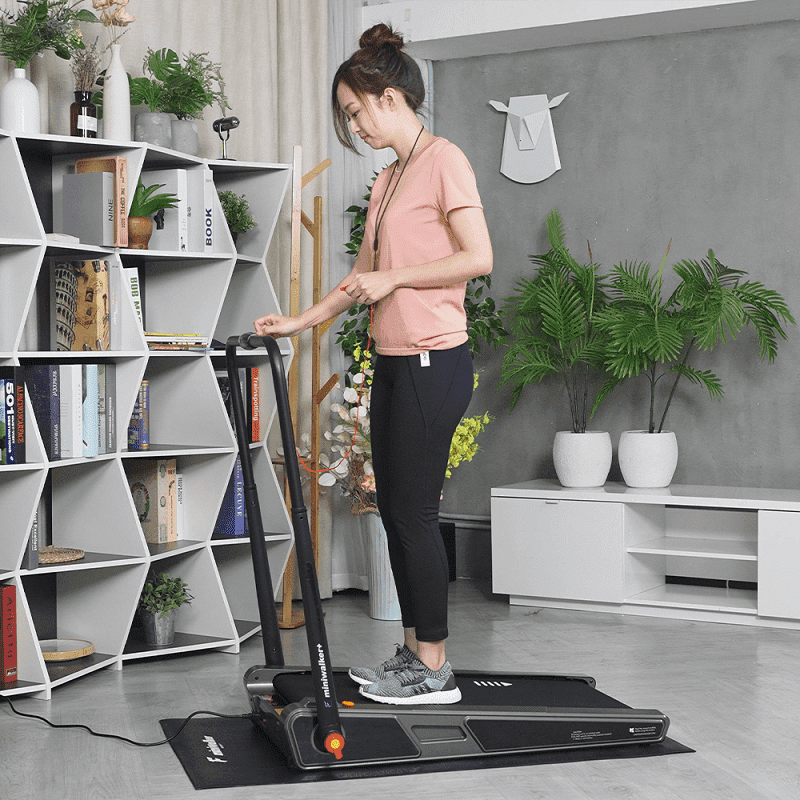 NOISE – Whisper quiet
ONEFit miniwalker includes a DC2HP ultra-quiet motor and patented walking traction control system; the engine's noise never exceeds 50DB to keep things quiet while you work out. This ensures that you do not disturb while at home or even in the office.
---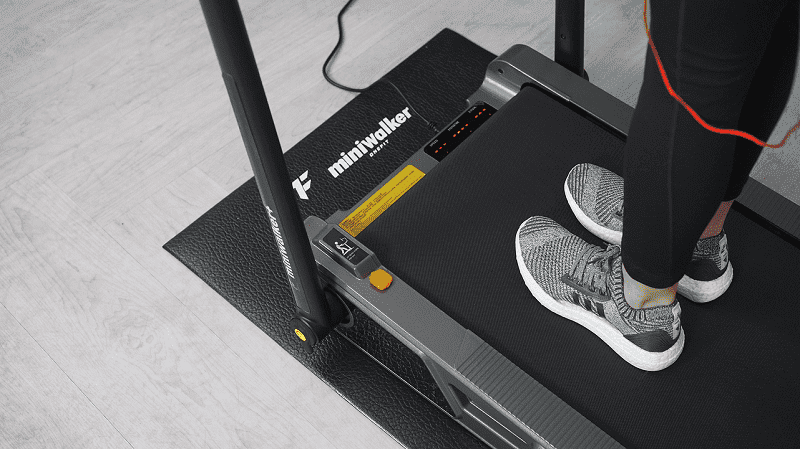 SPEED – From walking to slow jogging
Speed range: 1-5 kmh, 0.62 - 3.1mph
How often have you gotten so frustrated with running that you just gave up? While running isn't for everyone, most people who can walk pain-free can work towards jogging and running.
---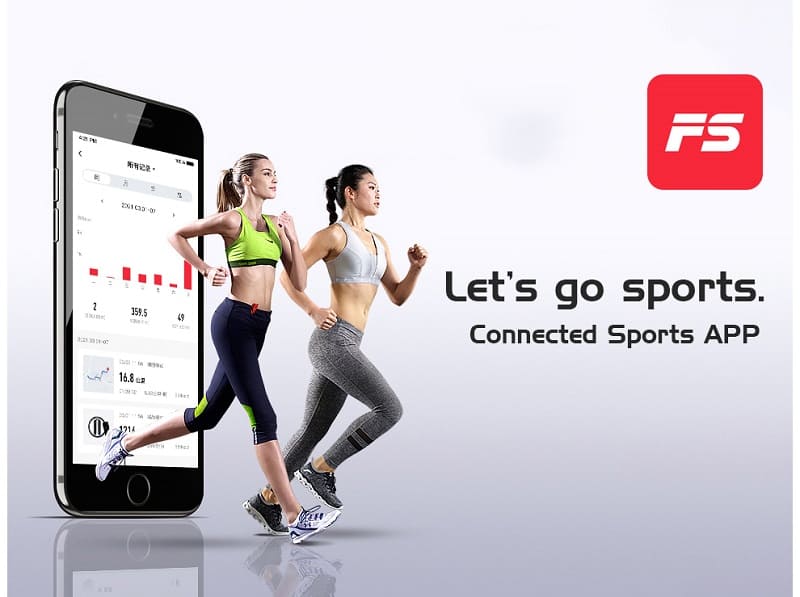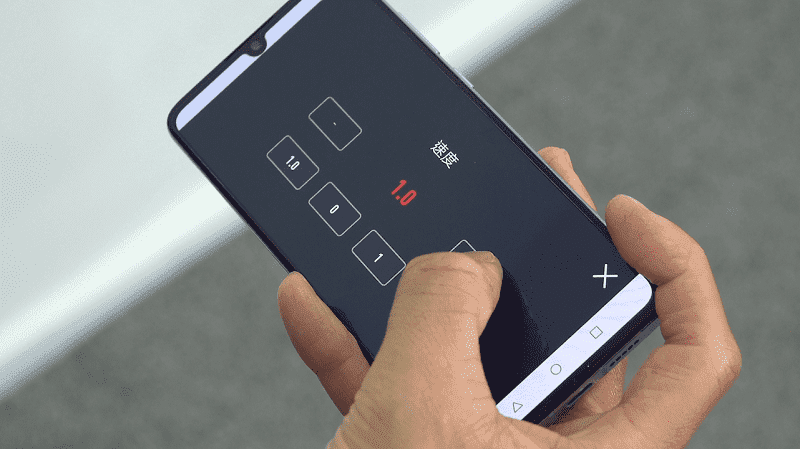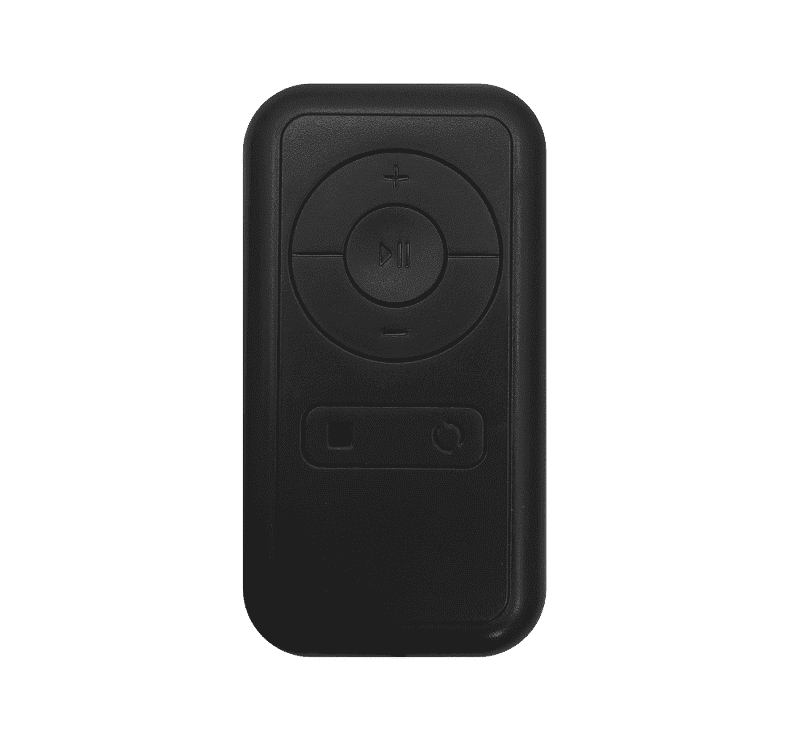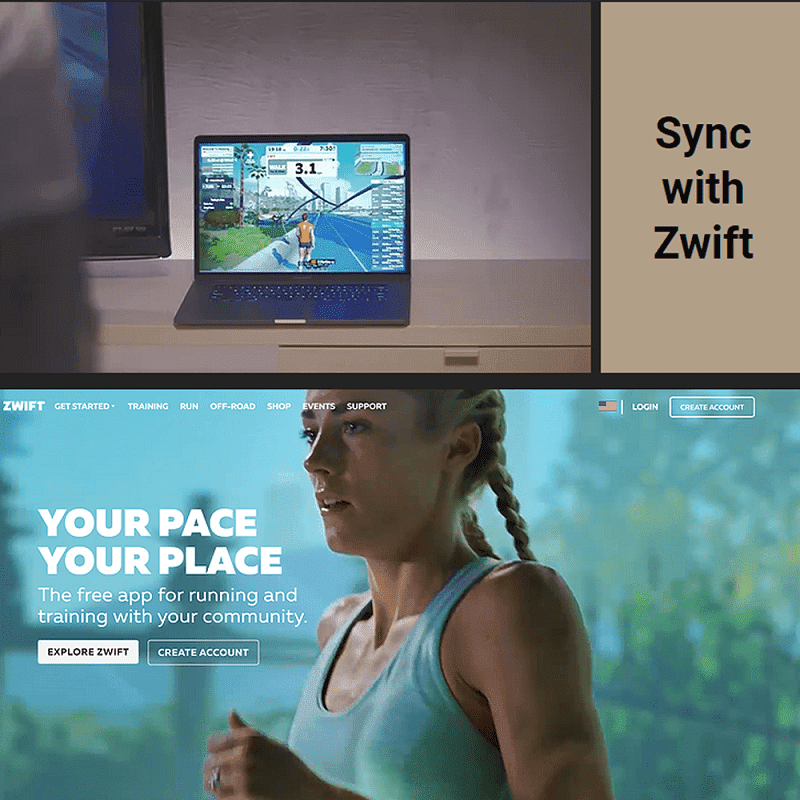 WIRELESS – Remote Control + APP Control
ONEFit miniwallker can be easily controlled by RF remote control and APP. ONEFit miniwallker is equipped with Bluetooth 4.0; you need to install the app from the Android or IOS market; with the app, you can turn the miniwalker on and off, set the speed, and view your training data.
---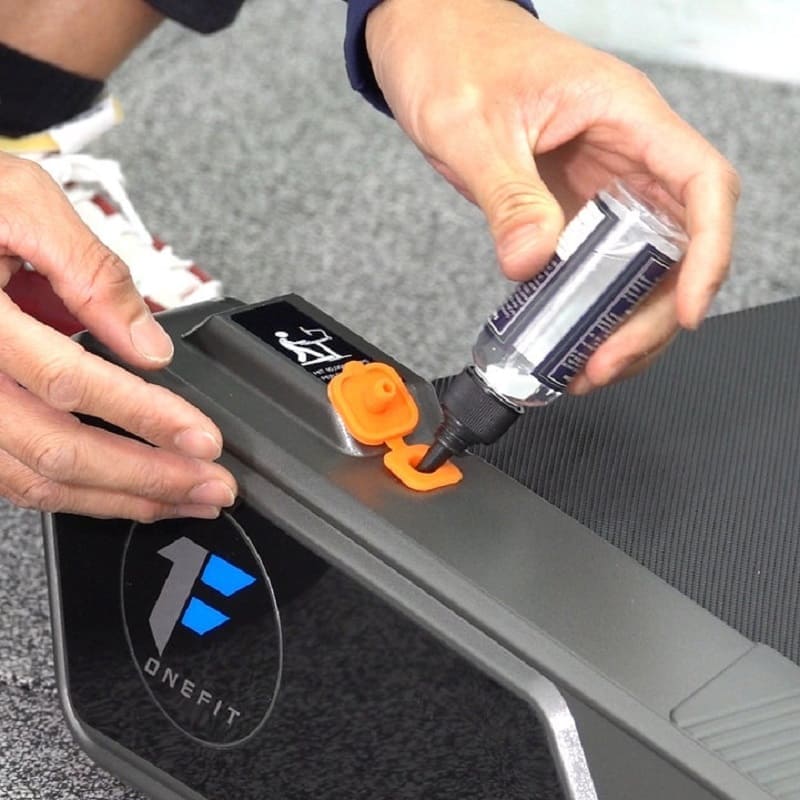 MAINTENANCE – Easy Lubrication System
Proper belt lubrication will help keep your treadmill in optimum condition and reduce needed repairs over time. However, it could be a challenge for users to lubricate traditional treadmills by themselves.
ONEFit miniwalker smart designed an easy lubrication system, all you need to do is open the oil refilling window cap and pour the oil into the window. That's it, no more pour oil under the running belt mess you may have experienced before.
---
Specifications:
Model: OFmini002
Voltage: AC220V
Motor: DC 0.5HP
Speed: 1.0 – 5.0kmh / 0.62 – 3.1Mph
Display: 3-Windows display, Speed, Distance / Time, Steps/Calories
Incline: Fixed Incline 5°
Walking Area: 420 x 870mm /16.54" x 34.25"
Item Dimension: 962 x 670 x 1040(folded 190)mm /38.6" x 26.4" x 41"(folded 7.5")
Item Net Weight: 66.2lb / 30kg
Maximum User Weight: 242.5lb/110kg
Wireless Connection: RF remote controller / Bluetooth 4.0ANT
Compatible Fitness APP: FITSHOW APP - Android 5.0 or higher / iOS 8.0 or higher
Transport Wheels: Maneuverable Wheels
Assemble: Comes fully Assembled
Noise Level: ≤50DB
Recommend User Height: Less than 7th / 185cm
Special Features: Easy lubrication system, Walking traction control system
Warranty Period : 1 Years