Sinocare - Safe AQ UG Blood Glucose and Uric Acid Meter (International Version) Main Unit|Comes with Patented Pain Relief Blood Collection Pen
Sinocare Safe AQ UG Blood Glucose and Uric Acid Meter is everything you need for daily health monitoring. You can use Safe AQ UG to check your uric acid and blood sugar levels conveniently and quickly at any time.
Compliant with ISO 15197: 2013 international standard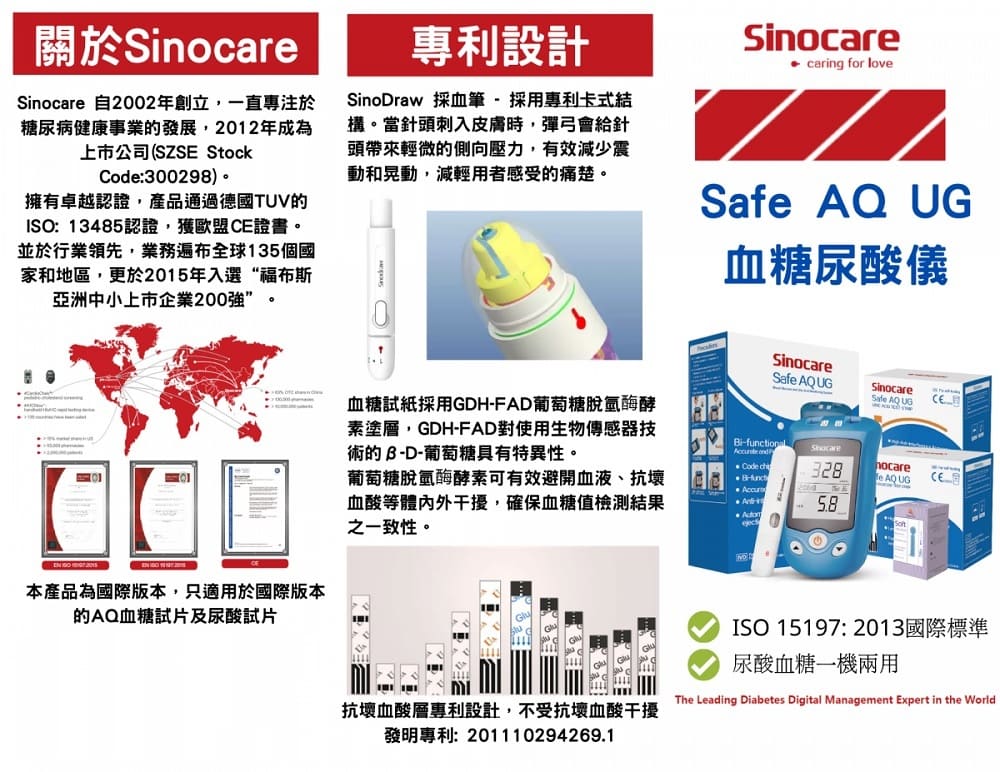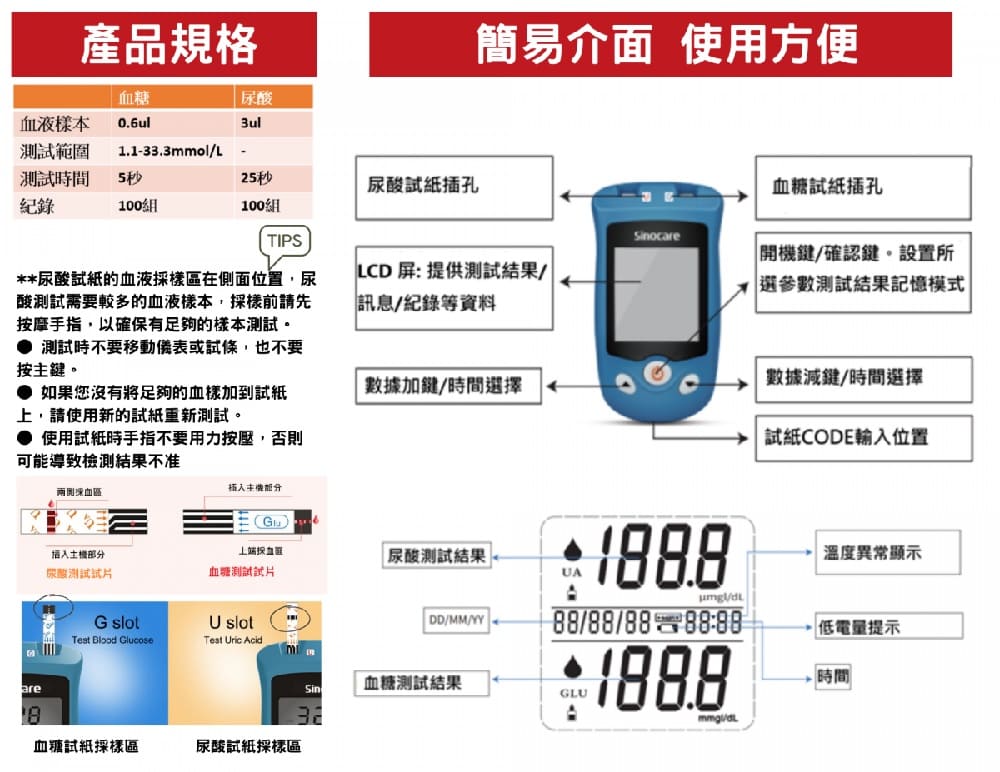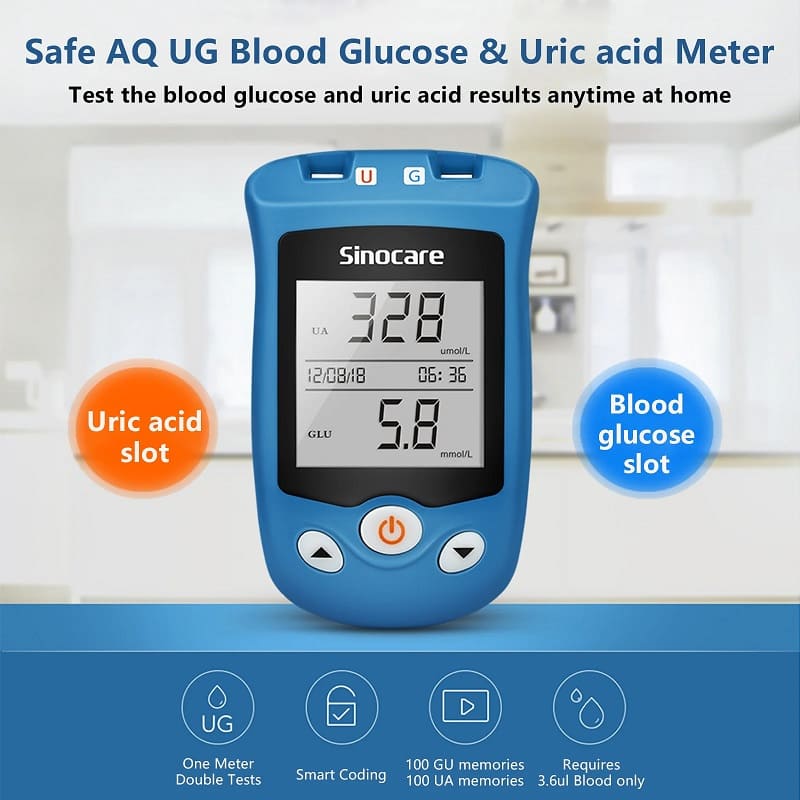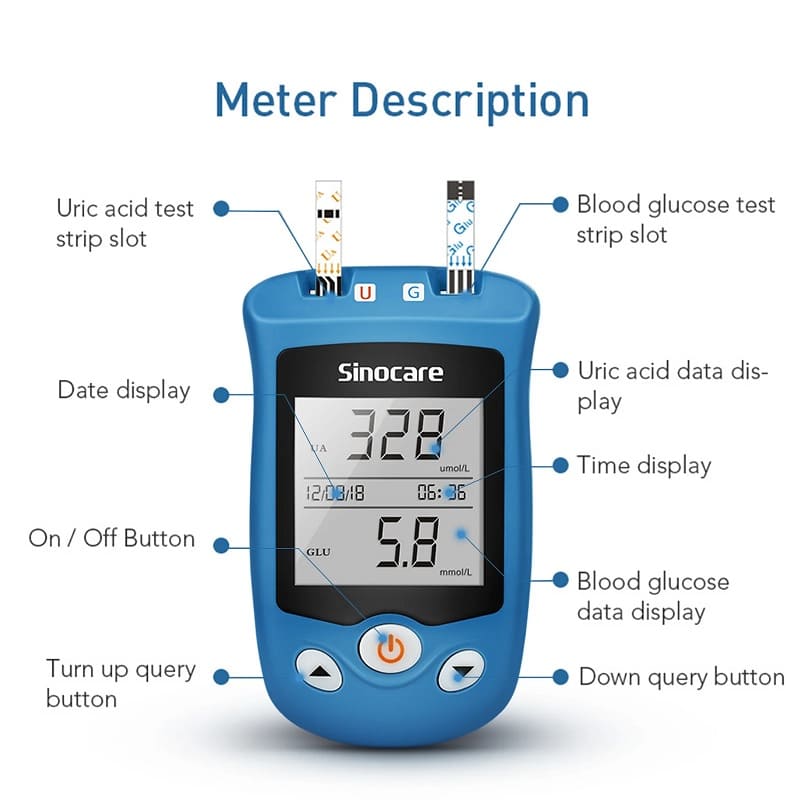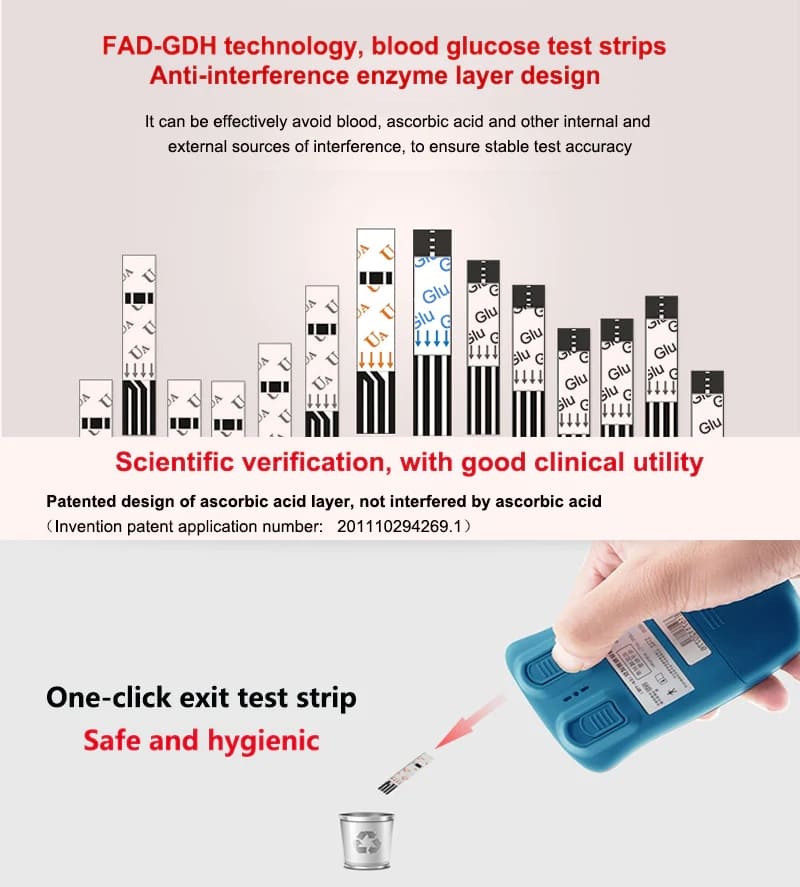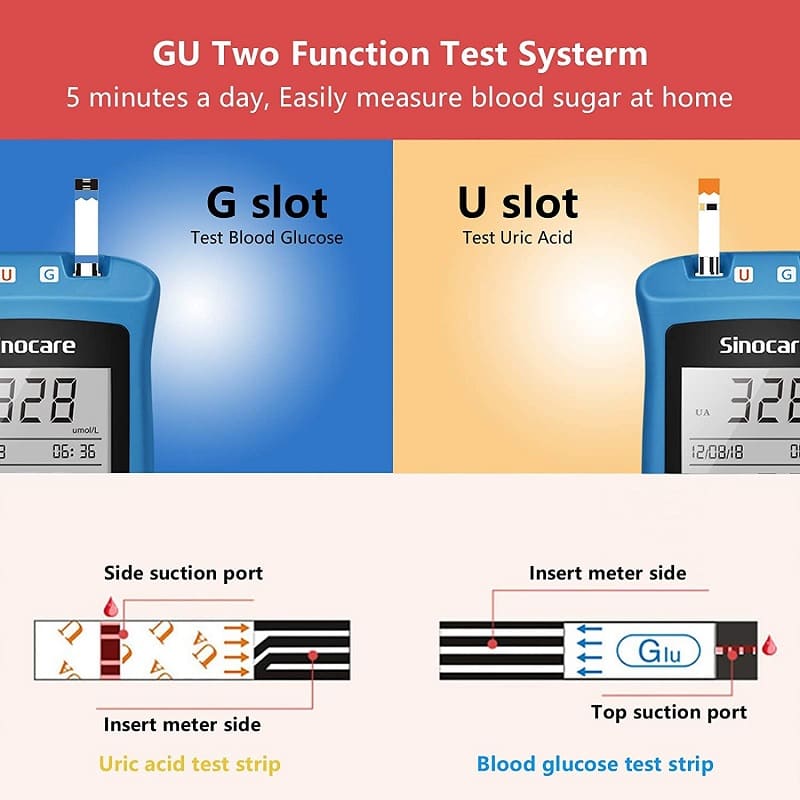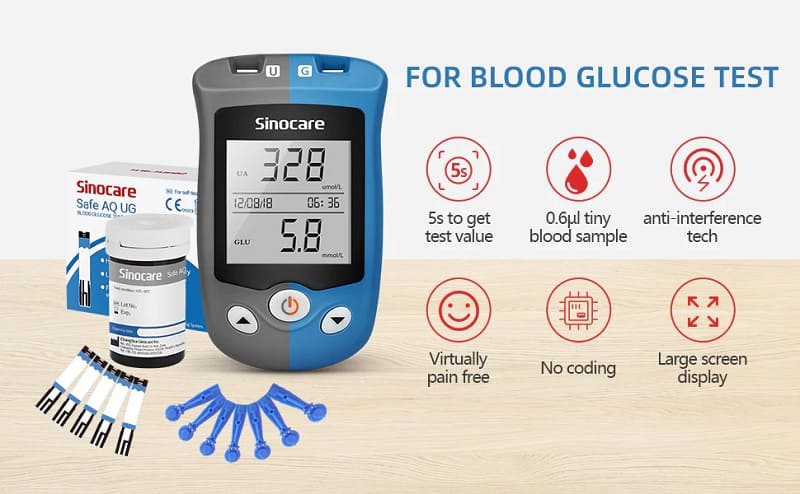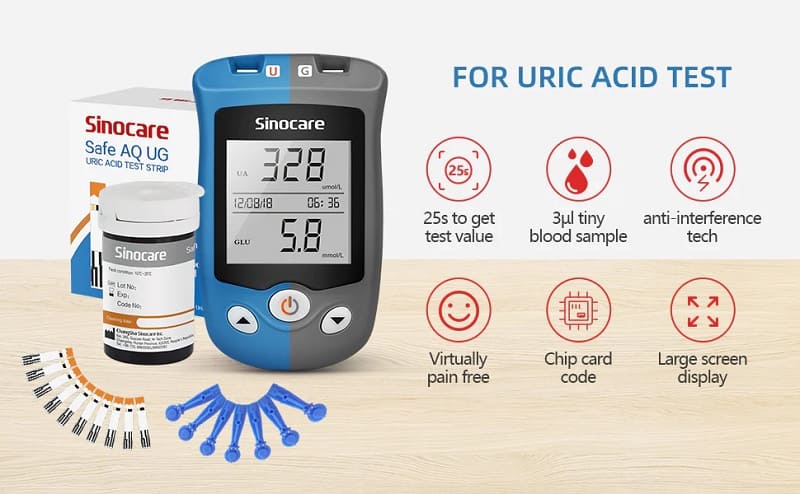 Accurate Test: It helps you get accurate and fast results quickly.
Advanced Electrode Test Strip: It can avoid the interference of blood oxygen changes and ensure you get accurate test results every time.
Small and easy to use: You can use this device with one-handed activation. With fast lancing and adjustable lancing device settings. Almost painless puncture design can effectively help reduce skin damage.
---
Blood collected for 
Blood Sugar is 0.6ul / Uric Acid is 3ul
Uric acid test sampling requires more blood samples:
The following methods can help blood circulation and blood collection: Wash your hands with warm water and soap before blood collection to keep your fingers warm. Remember to wash and dry your fingers. Hold your arm vertically to encourage blood flow to your fingertips. Hold the fingertips below the finger joints, massage gently towards the fingertips, and then press for 3 seconds. You can also adjust the blood collection pen to a larger blood collection depth to collect enough blood.
---
SinoDraw Blood Collection Pen - Adopt patented card structure. When the needle penetrates the skin, the slingshot will apply slight lateral pressure to the needle, effectively reducing vibration and shaking.
Notice:
● Only add blood when there is a flashing blood drop symbol
● Before blood collection, the sterilized ethanol at the puncture site should completely evaporate.
● Hold the tip of the test strip over the drop of blood until the meter beeps. Visually confirm that the blood sample fills the entire sampling area at the end of the test strip.
***The blood collection area of the uric acid test paper is on the side of the test paper
***The blood collection area of the blood glucose test strip is at the bottom of the test strip
---
Package includes:
Safe AQ UG Blood Glucose and Uric Acid Meter (International Version) Host*1
User Manual*1
Carrying case*1
---
Notice:
This product is an international version,
Only applicable to the international version of AQ Blood Glucose test strip and Uric Acid test strip
**Only includes the host, battery/glucose test/uric acid test strips are not included in the package
The blood glucose test unit is mmol/L.
Blood glucose test strips should be used within 6 months of opening the bottle. Please use up the uric acid test strips within 3 months.
Please read the instruction manual before use.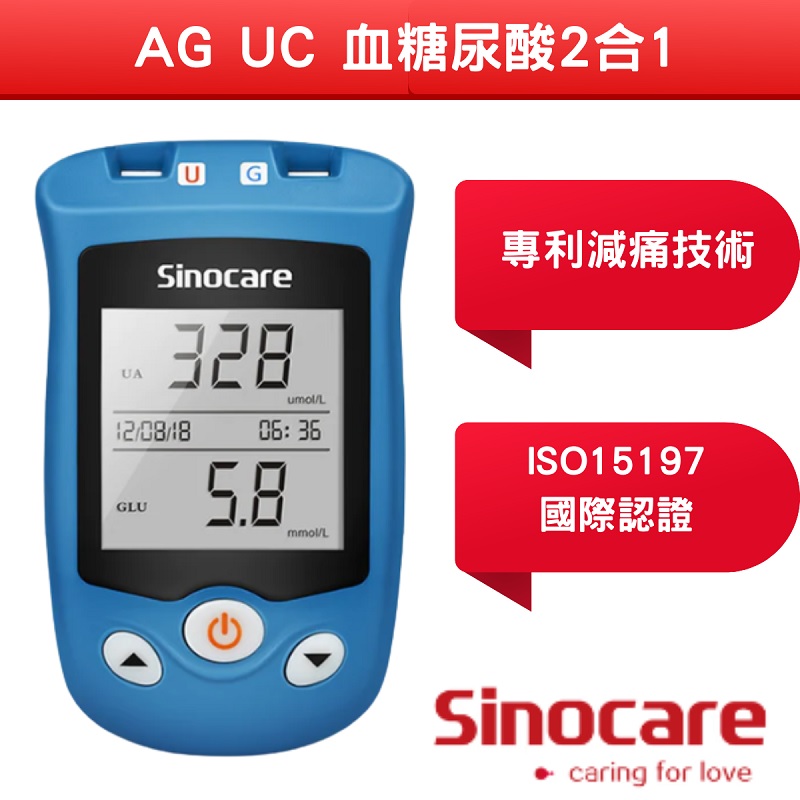 Authorized goods
Warranty Period : 1 Years