Miyama Kanpo ResetAge NMN 4050mg 90PC I Anti-Aging I Make in Japan
ResetAge adopts a biological fermentation method that guarantees purity to more than 99%, adding 6 advanced ingredients to promote skin metabolism, help maintain cell vitality, maintain skin moisture and elasticity, prevent rough skin, beautify skin, whiten skin, prevent acne, and constantly break through anti-aging The rules, reshape life, and rebirth for your age.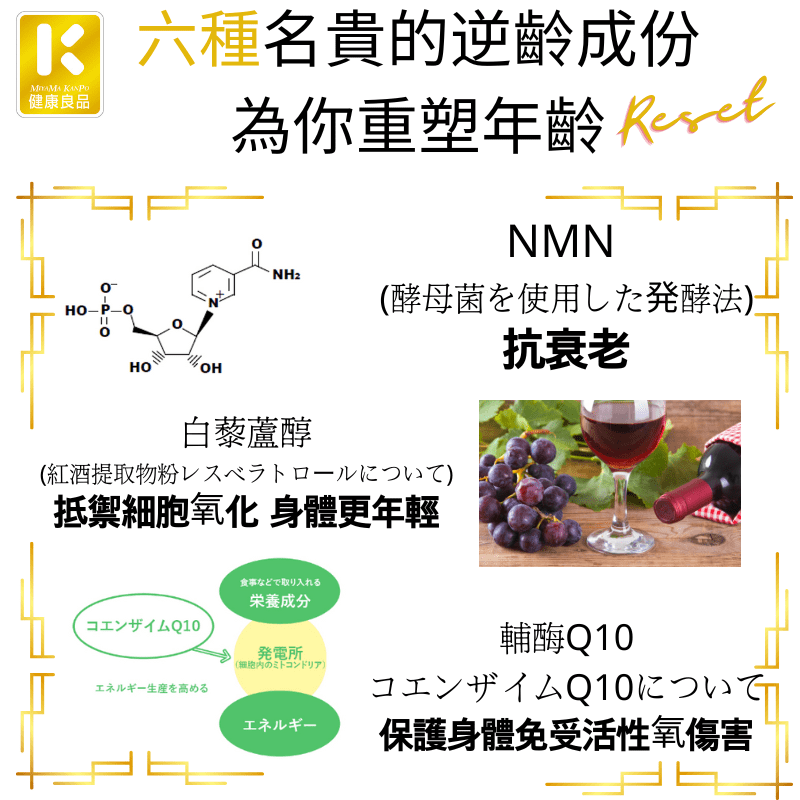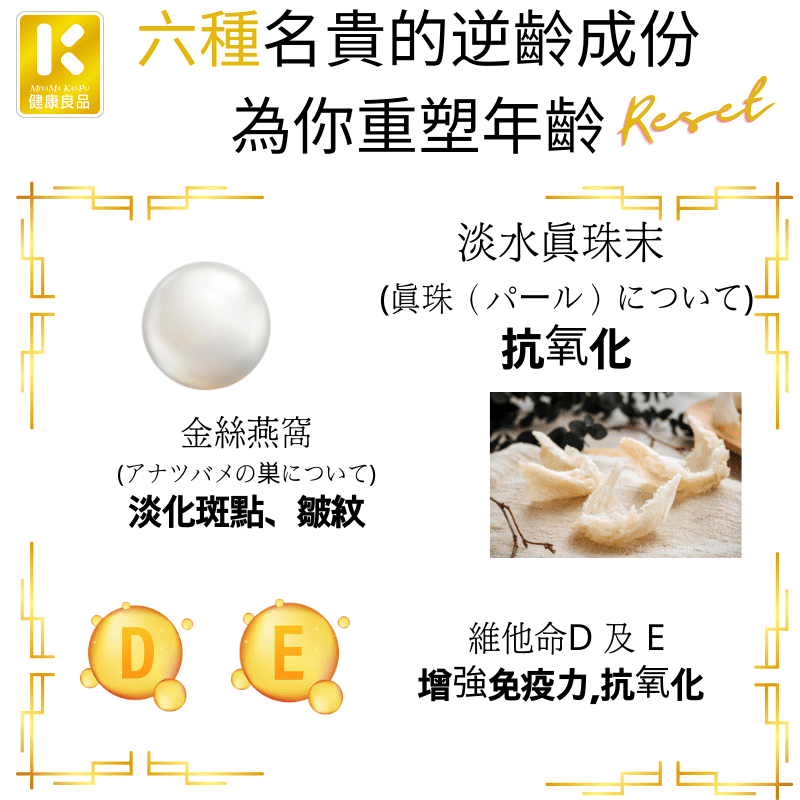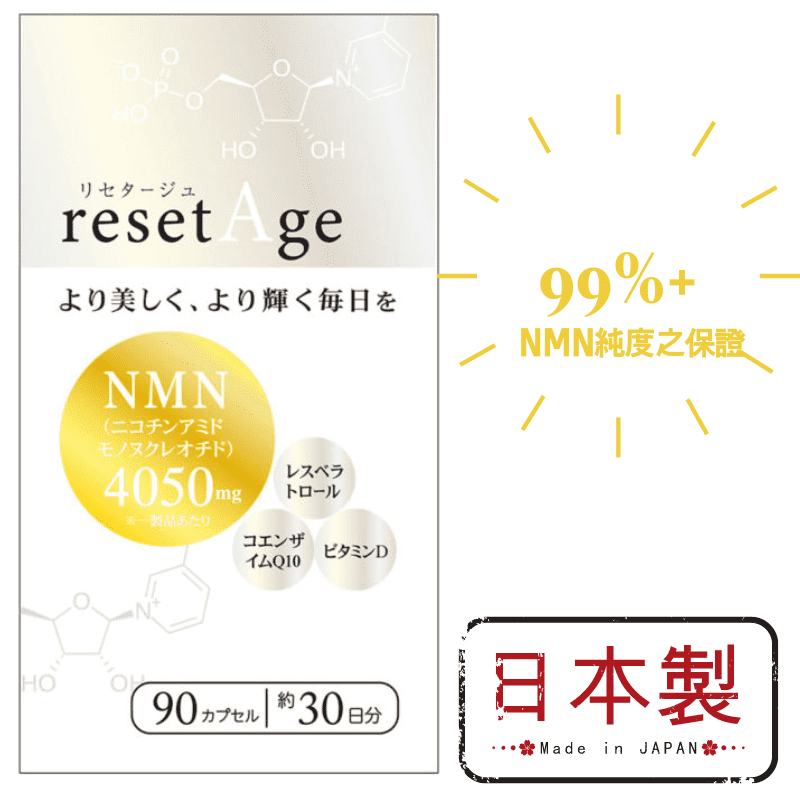 ---
Ingredient introduction:
NMN Nicotinamide Mononucleotide
It is a coenzyme necessary for the production of cellular energy and is essential for all human activities.
Helps activate sirtuins (SIRT) and has anti-aging effects.
Resveratrol
It has super antioxidant capacity, resists cell oxidation, and is expected to have the effect of keeping the body healthy and young.
Coenzyme Q10
Like NMN, it is a coenzyme that generates most of the energy required for life activities and protects the body from damage caused by active oxygen.
Freshwater pearl powder
A protein containing conchiolin, composed of 17 amino acids, has antioxidant and cell division activation effects.
Golden Bird's Nest
Rich in sialic acid, it can prevent blemishes, wrinkles and sagging caused by oxidation in the body, and lighten dark spots.
Vitamin D
Secretes antibacterial substances in cells and enhances immunity.
Vitamin E
It has a strong antioxidant effect and can protect the body from active oxygen that causes various harms.
Red wine extract contains some of the antioxidant nutrients found in red wine
---
Adhere to the use of high-quality raw materials
Manufactured in GMP food certified factory
A Wide Variety of Healthy Foods and Supplements Just for You
TV Asahi "Shinichi Hatori Morning Show" and NHK special program "NEXT WORLD", official YouTube promotion product of businessman Takafumi Horie.
---
Country of Origin: Japan
Capacity: 90 capsules/bottle (about 30 days doage)
---
Usage :
Take 3 capsules daily with water. as a dietary supplement
Storage method: Please store in the refrigerator or in a cool and dry place, avoiding direct sunlight
---
Disclaimer:
For product details, please refer to the instructions on the packaging. The pictures are for reference only, and the actual product shall prevail. If pregnant, taking medication or undergoing medical treatment, consult your physician first.
This product is not registered under the Pharmacy and Poisons Ordinance or the Chinese Medicine Ordinance. Any claims made for this product have not been reviewed for the purposes of such registration. This product is not intended to diagnose, treat or prevent any disease.