Miyama Kanpo Barley Green Juice + Lactic Acid Bacteria 150g I Made in Japan
Lactic acid bacteria containing barley grass green juice!
Every 5g can ingest 50 billion plant-based nano-lactic acid bacteria!
Green juice is very suitable for modern people who lack vegetables and dairy products!
There is absolutely no pesticide residue in the production process.
Green juice is a drink made from barley leaves, which are young leaves of barley, or plants rich in vitamins and minerals chlorophyll. Rich in nutrients and fiber, it can detoxify, lax, help lose weight, etc. It is a good health food.
And plant-based nano-sized lactic acid bacteria can relieve allergies.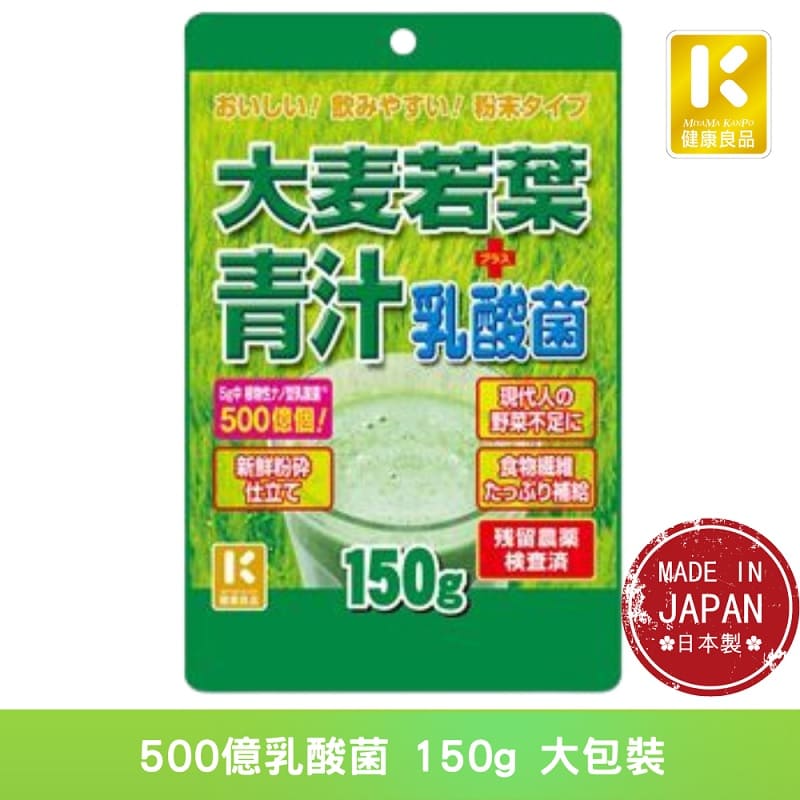 Improve gastrointestinal health and smooth bowel movements
balance the immune system
Improve body obesity
Helps relieve allergies
---
Country of Origin: Japan
Capacity: 150g
---
Usage :
30 daily servings
It is recommended to add 5g per day to 150cc of water/hot water/milk, stir and enjoy
Storage method: Please place in a cool and dry place, avoid direct sunlight
---
Disclaimer:
For product details, please refer to the instructions on the packaging. The pictures are for reference only, and the actual product shall prevail.
The manufacturing plant of this product also produces foods such as milk, eggs and small peptides.
If you are pregnant, are taking medicine, have received medical treatment, or are sensitive to the ingredients of this product, please consult your doctor or professional before taking it.
This product is not registered under the Pharmacy and Poisons Ordinance or the Chinese Medicine Ordinance. Any claims made for this product have not been reviewed for the purposes of such registration. This product is not intended to diagnose, treat or prevent any disease.