Fonebud W 4G Roaming & Borderless Social Media Device
***6GB of free international data and leather case with purchase Fonebud W!

Fonebud W is a travel WiFi device that allows the US and European traveler to have unrestricted WiFi access in more than 90 countries. Travelers to China are able to have unrestricted access to Google, Facebook, Youtube and send Whatsapp to their family and clients anytime, without worry about using VPN in China.
Perfect for the business traveler, Fonebud W promises 35 active hours of unlimited 4G/3G Wi-Fi data roaming abroad and can connect up to eight devices at a time. The hotspot also functions as a wireless or USB charging station that can be used with or without cords. With a 10,000mAh battery and Qi charging capabilities, fonebud keeps people connected on-the-go.
【Product details】
Dimension:15.6cmx 7.5cmx 2cm
Weight:280g (battery included)
Wifi Transfer Rate:Up to 150Mbps
Wi-Fi:Wi-Fi AP,Supports up to 7 users
LCD Display:1.44 inch
Battery Capacity:10,000 mAH
Battery working hour:Up to 35 hours
Standby Time:Up to 72 hours
Mirceo USB:Micro USB 1.5A Charge IN
Wireless Charging:5V,1.5A Output(5W)
CPU:Ouad Core 1GHz
Network solution:eSIM Technology
Memory:4GByte EMMC + 512MBye DDR2
Wi-Fi Chipset:MT6625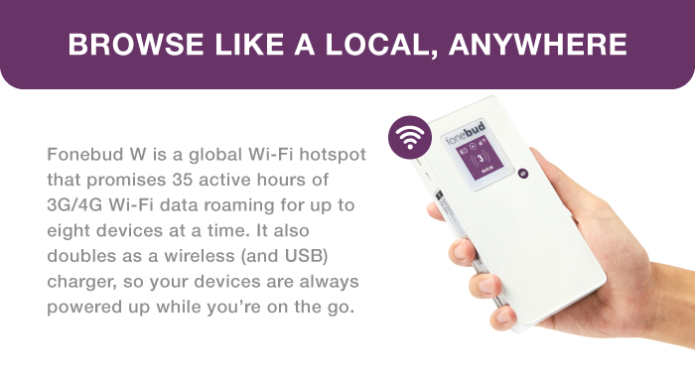 Fonebud W lets your travels be worry-free, bringing internet data to you and up to 7 extra friends, colleagues or family members! You are assured it will last you all day, as the Wifi hotspot packs a 10,000 mAh battery and wireless charging for extra convenience.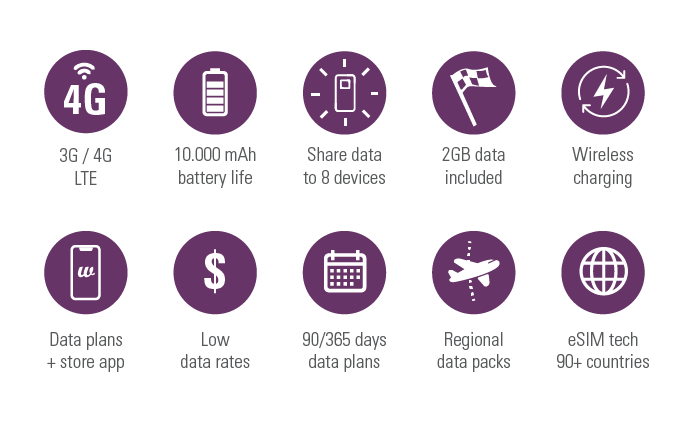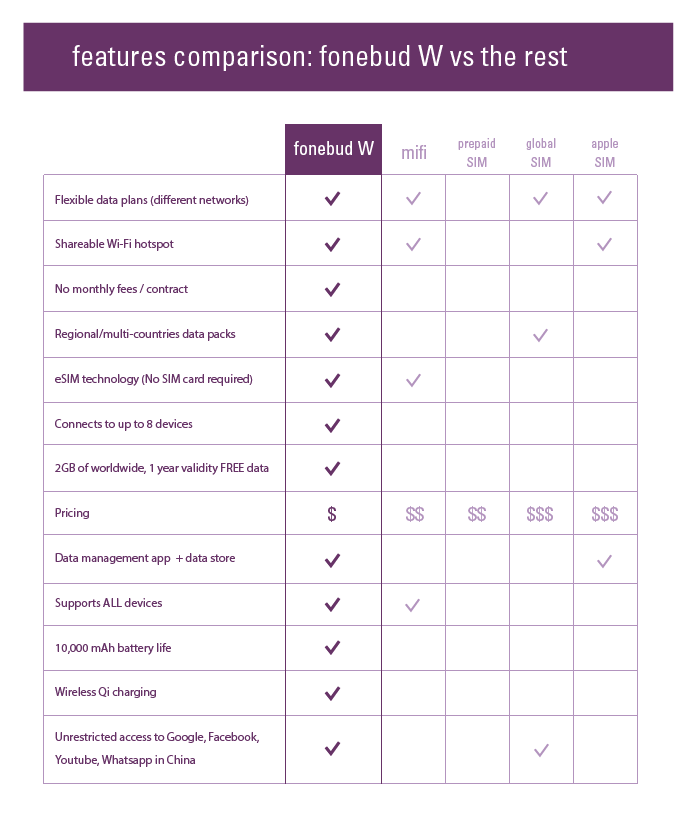 4G LTE DATA ROAMING
Fonebud W is a global data platform that creates a Wi-Fi hotspot from local networks to provide you with active data roaming in 90+ countries, so you're always connected, no matter where you are.
Your friends, family and team members can all stay connected; share data with up to eight devices at a time!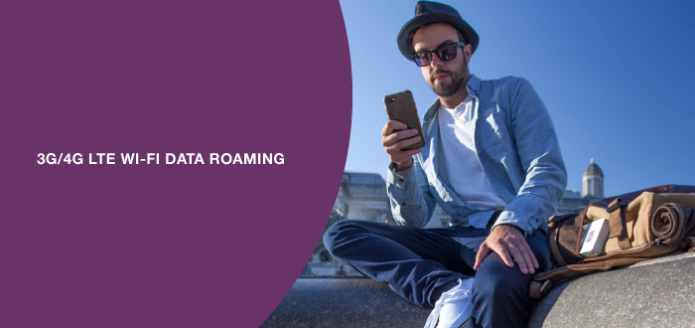 Limited special offer:6GB of free international data with purchase!!!
When you purchase Fonebud W, you'll get 2GB of international data included for free! BUT now you can get 6GB of Free international data!This allows you to start using it right after you create your account, and it is valid in all our countries! And if you can't travel now, no worries, it's valid for a full year (365 days after activation).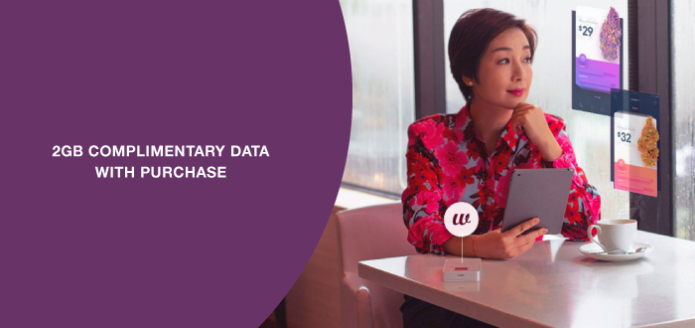 WIRELESS CHARGING
Fonebud W provides you with 10,000mAh of battery life— that means you can roam non-stop for 35 hours straight, without going back to your hotel twice a day to recharge.
It also means your phone won't let you down when it's time to capture that sunset photo (or call that last cab). Don't forget Fonebud W uses Wireless Charging (you can also charge via USB cable too)!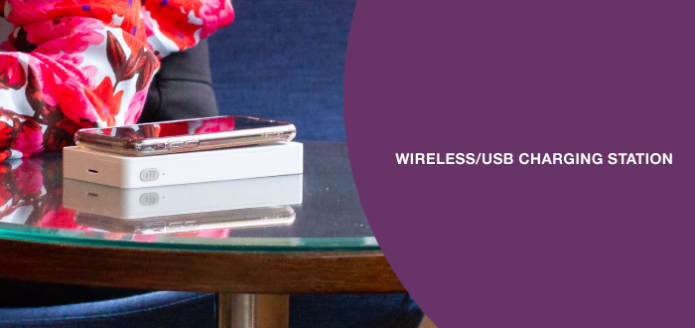 BUY THE DATA YOU NEED, ONLY WHEN YOU NEED IT
No monthly fees! Instantly load up on data with our easy-to-navigate app. Do not fear running out of data in the middle of a jungle trek or a teleconference on the other side of the world. All you have to do is load the app, choose a package and get your data up and running in minutes! You can see the current state of all your data plans and how much data is left, for how long and how much you spent on it!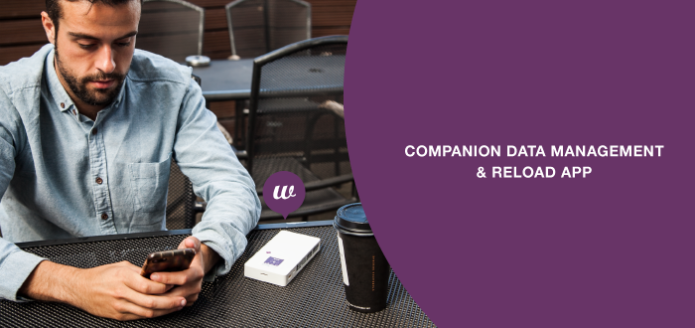 RESUME YOUR DATA PACK WHERE YOU LEFT IT
With our 90 days or 365 days data plans, you can resume your plan when you come back and keep the leftover data for later! Plans change? No worries! Leave that package on hold and finish it when you return. Find promotional offers for the countries you travel to with packages adapted to your needs at great prices.
What are eSIMs?
eSIMs are identifiers that are embedded in a device. They allow supporting operators all over the world to provide 3G/4G/LTE when entering their network. Having a single ID lets you keep track of your data use and transactions!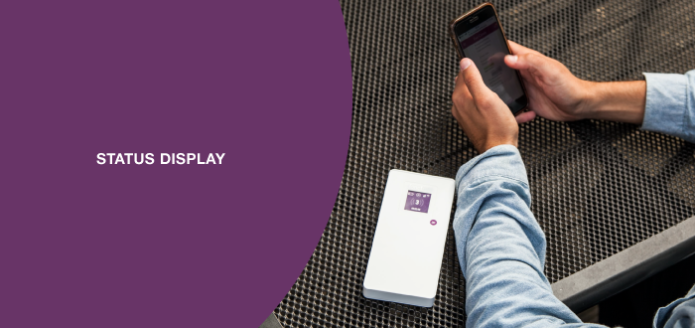 SHARE YOUR WIFI INSTANTLY
Fonebud W's display gives you access to everything; see instantly where you're at. Press the button to check the battery, the network status, the number of devices hooked to your hotspot and how long it has been active.
Press another time to show the login and password and share them around!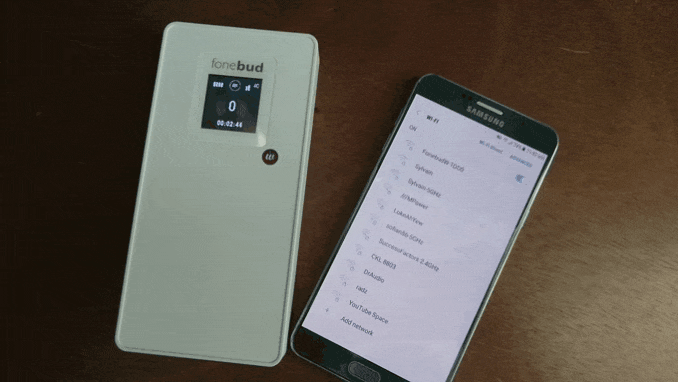 COMPACT AND STURDY
Fonebud W may be travel-size, but it packs a punch. It is easy to grip, pack and conceal.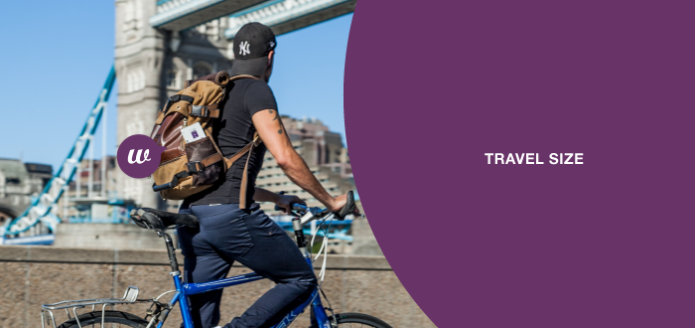 *Product information is provided by Fonebud.