PGut VitaBac Super Antidote for Allergy (30 capsules) |E3 high version| Use by: 28/09/2024
Free PGut Portable Mini Fan
Brand: PGut
Model: PGUT-ALLERGY-VB-30C

- Each capsule contains 20 billion CFU of active probiotics
- Rich in Bifidobacterium adolescentis, strengthening intestinal health
- 2 specially selected probiotics: Bifidobacterium lactis and Lactobacillus paracasei, which can improve moisture-sensitive discomfort and reduce the risk of recurrence
- Added postbiotic HK-LP extracted from proprietary probiotic essence to quickly balance the intestinal microecology and relieve intestinal discomfort
- Special selected 10 types of highly effective probiotic formulas
- Produced according to international GMP and ISO22000 standards, safe and reliable
- Passed heavy metal food grade safety test
- No added flavours/No added artificial colors/Gluten-free
Alleviate discomfort of allergy
Reduce the risk of moisture sensitivity relapse
Alleviate nasal discomfort
Strengthen immune barrier
Repair intestinal mucosa
Postbiotic formula quickly balances intestinal microecology

Country of Origin: Taiwan
Capacity: 30 capsules (each capsule contains 20 billion active probiotics)
Instructions for consumption: Take directly with water
Recommended dosage: Take one capsule once a day, before or after meals.
Storage: Please store in a cool and dry place away from direct sunlight.

---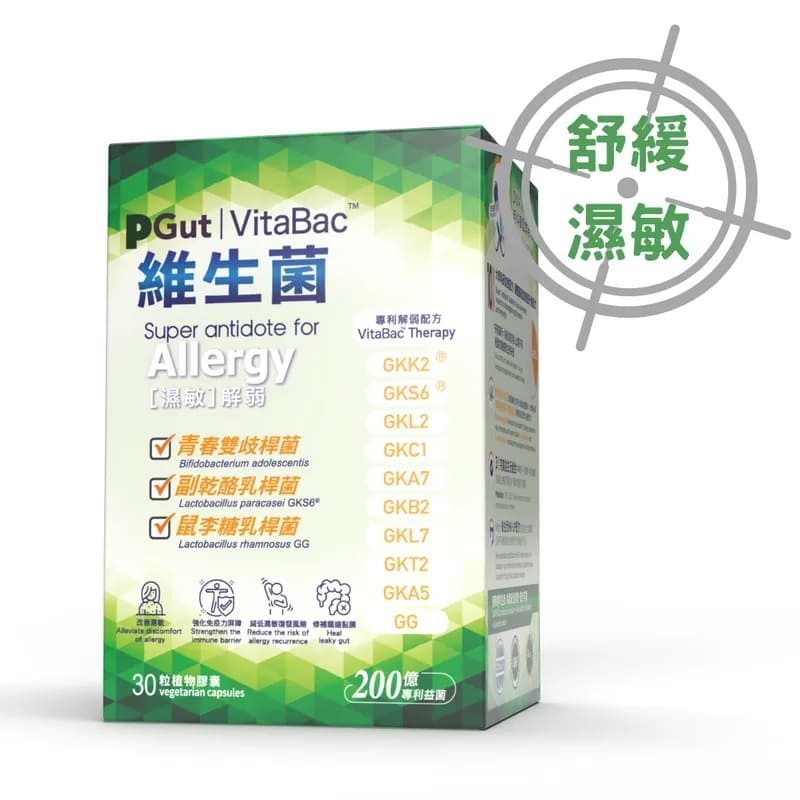 *Disclaimer: Please refer to packaging instructions for product details. The pictures are for reference only, and the actual product shall prevail. The efficacy of this product may vary depending on different physical conditions, age, lifestyle habits and other factors. This information is for reference only and is not intended for diagnosis or treatment. This product is not registered under the Pharmacy and Poisons Ordinance or the Chinese Medicine Ordinance. Any claims made for this product have not been evaluated for such registration. This product is not intended to diagnose, treat or prevent any disease.