Snowden Extra Strength Saw Palmetto Prostate Patches 30Patches|Waterproof|Made in UK
Brand: Snowden
Model: SNOWDEN-PROSTATE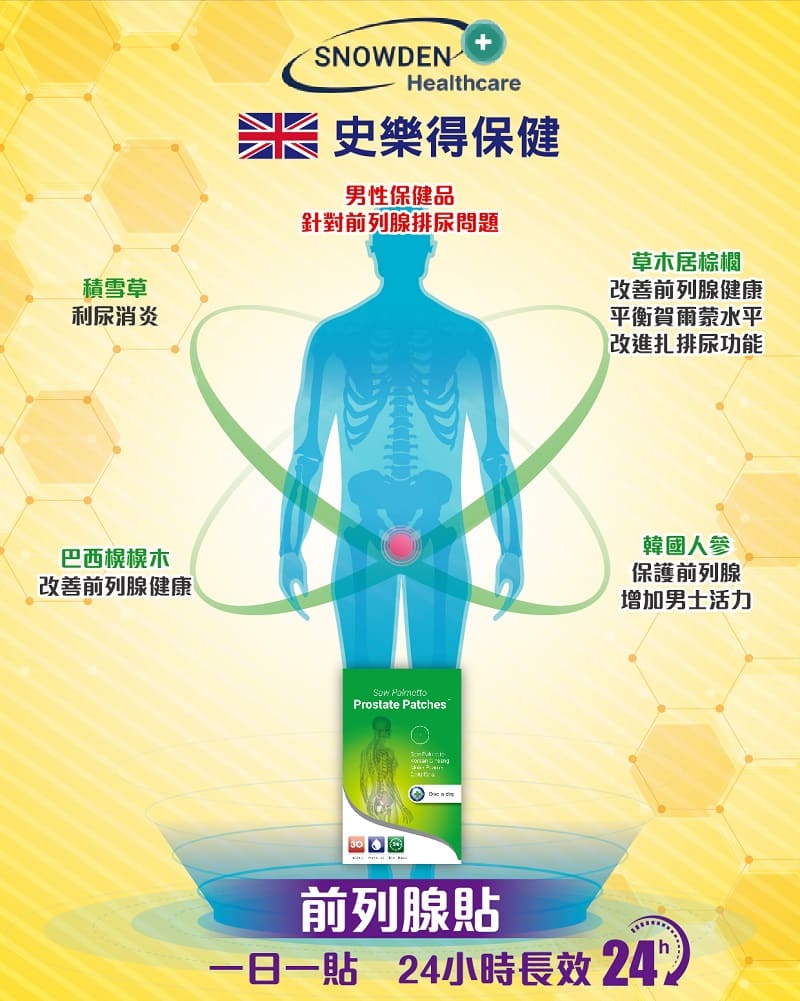 Saw palmetto is a plant native to the southeastern United States that has bioactive fatty acid and sterol components. Saw Palmetto Berries have been found to support healthy prostate function.
Our new Extra Strength Saw Palmetto Prostate Patches now contain 5 TIMES more than old version Saw Palmetto
Helps Men's Health
Aids in healthy prostate function
Improve urination
These patches are drug free and a simple alternative to taking Saw Palmetto orally.
---
How to use:
Using Saw Palmetto Prostate Patches couldn't be easier. Simply apply one patch to a relatively hair-free part of your body (the inner arm, lower back or shoulder are ideal) and change it at the same time every day.
You can wash off any residue or adhesive left on the skin with warm soapy water.
We recommend you do not exceed one patch per day.
---
Ingredients: Aqua (Water), Acrylates Copolymer, Serenoa Serrulata (Saw Palmetto) Fruit Powder, Alcohol Denat., Withania Somnifera (Ashawagandha) Root Extract, Maltodextrin, Phenoxyethanol, Ptychopetalum Olacoides (Muira Puama) Root Extract, Centella Asiatica (Gotu Kola) Leaf/Root Extract, Eleutherococcus Senticosus (Siberian Ginseng) Root Extract, Turnera Diffusa (Damiana) Leaf Extract, Polygonum Cuspidatum (Resveratrol) Root Extract, Glycerin, Capryl Glycol, Decylene Glycol
---
See reverse of patch for expiry.
Contains: One Month's Supply(30 Patches)
Made in UK
---
Saw Palmetto Prostate Patches are not a medicine and are not intended to replace any medication you may be taking.
Please read the directions above carefully before using.
Do not apply to damaged or inflamed skin.
Discontinue use and consult a doctor if you experience any adverse reactions.
If the product enters the eye, wash out thoroughly with plenty of clean water.
Please keep out of reach of children.
Store in a cool, dry place. For use by men only. Latex free.