SIQURA Hand Sanitiser & Protectant - 375ml + O2U Air Family Air Purifying Plush-White
Brand: SIQURA
Model: SIQ-HAND-375-O2U-WH
Set included:
1 x SIQURA Hand Sanitiser & Protectant - 375ml

1 x O2U Air Family Air Purifying Plush-White
---
SIQURA Hand Sanitiser & Protectant - 375ml
Advanced antimicrobial




defense for your hands
SIQURA Hand Sanitiser & Protectant provides long term antimicrobial defence — it kills 99.99% germs and lasts up to 24hrs​ assuming typical daily activity​. The foam goes on wet and dries to form a microscopic protective barrier that continues to destroy bacteria for long lasting protection and peace of mind.
Most sanitisers evaporate within a short period of time, leaving hands vulnerable to recontamination. SIQURA Hand Sanitiser and Protectant is a two-in-one solution. It sanitises hands and then remains bonded to create a protective shield that continues to defend against bacterial attack.
---
How do you use SIQURA Hand Sanitiser& Protectant?
Hands should be clean and dry before applying foam. Apply foam to both hands and ensure hands are thoroughly covered.
Allow hands to air-dry. Once dry, the antibacterial active is locked onto your hands.
Your hands will now be defended against bacterial contamination for up to 24hrs, assuming typical daily activity. For optimum performance, reapply after hand washing, or if hands become soiled.
---
How friendly is SIQURA Hand Sanitiser & Protectant?
Rather than poisoning microbes by using alcohol or harsh chemicals SIQURA Hand Sanitiser & Protectant uses a small electrostatic charge to kill microorganisms, making it suitable for use in childcare, education, commercial and domestic environments.
The non-alcohol formulation will not dry, crack or damage your hands. Even after multiple applications, hands remain protected, soft and smooth. The QuatLock protective shield is microscopic — meaning it's so small that you may not even notice that it's there.
SIQURA Hand Sanitiser & Protectant is friendly for humans. It is rapidly degrading and breaks down to form simple organic compounds — reducing the potential for negative environmental impacts.
Solvent-free

No carcinogenic compounds

Non-oxidative

Non-flammable

Bio-friendly

Non-alcohol

Glycerol-free
---
How does it work?
SIQURA Hand Sanitiser & Protectant uses Quatlock technology to bond the active antimicrobial to most surfaces for long-lasting defense.
---
Ideal for use within:
Hospitality: Restaurants & Cafes

Education: Childcare, Schools, Universities

Public Transport: Buses, Trains, Trams

Retail Spaces: Counters, Touchpoints

Lifestyle Environments: Gyms & Fitness

Homes: Furniture, Floors, Fixtures

Vehicles: Cars, Vans, Trucks
Made in Australia
---
O2U Air Family Air Purifying Plush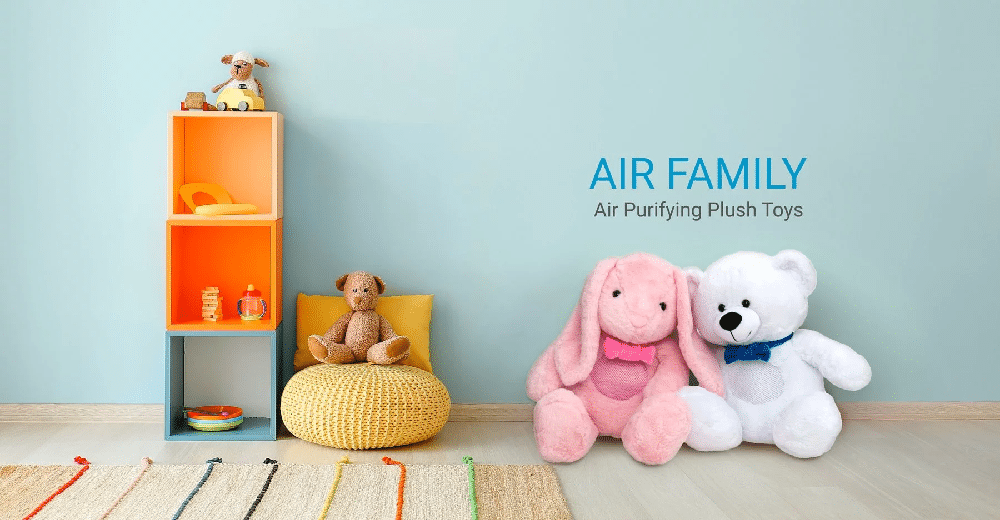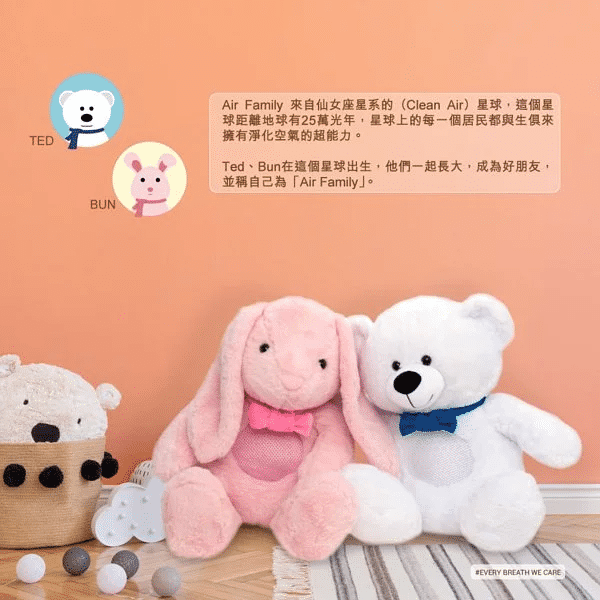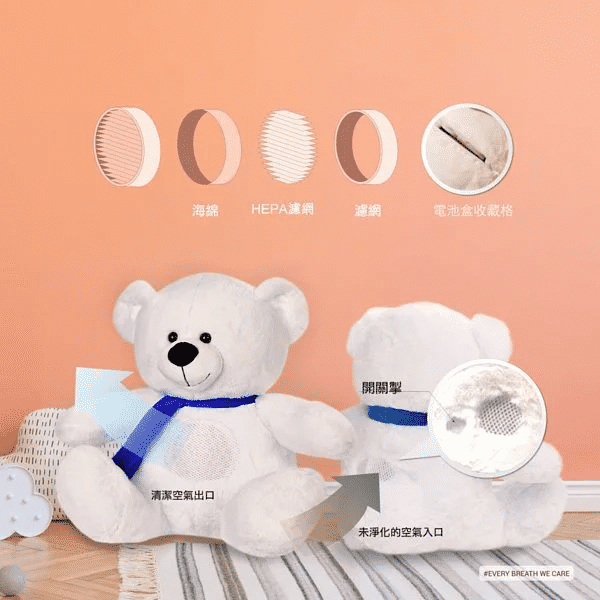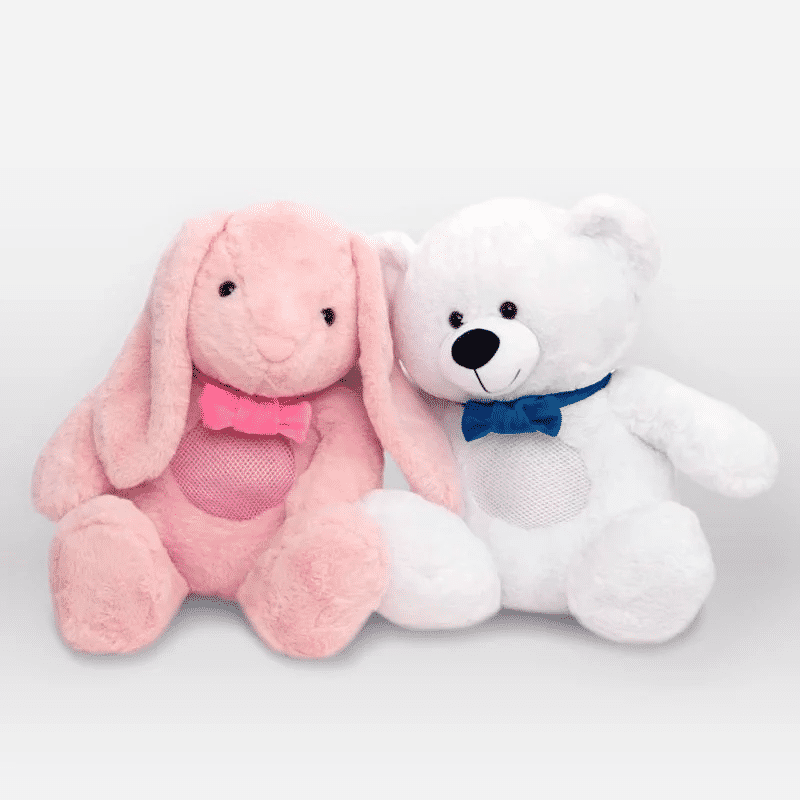 About
Air Family comes from the "Clean Air", a planet in the Andromeda galaxy. It is 250,000 light-years from the earth. All inhabitants in the Clean Air have an inborn gift of generating clean air. Ted and Bun are good friends and they call themselves the Air Family. They were born and grew up in the Clean Air planet.
Ted is a white teddy bear and he smiles all the time and always wears a blue scarf around his neck. He likes bringing hilarity and naivety and having fun with kids.
Bun is pink bunny with a pair of long ears. She always demonstrates a sense of justice and likes taking care of the kids and the poor. Unlike other rabbits, she loves pumpkin rather than carrots.
Product Features:
Instant removal of PM2.5 particles up to 99% efficiency

HEPA Filter with H12 grade traps tiny particles with diameter larger than 2.5µm

With brand-new technique comparing to traditional air purifier, air is blowing through the HEPA filter which can achieve a higher filtration efficiency than the others.

With the special aerodynamic design, clean air is diffused to user in a soft, comfortable and unconscious way.

A 10 minutes auto-off battery saving design which prolongs the time of playing.
SPEC:
Size: 40x30x33 cm (H*D*W)
Weight:800g
Materials: Soft Velboa, PP Cotton, ABS, PP
Key Components:DC Fan(12V, ≦0.35A), HEPA Filter
Power Supply:AA-1.5V, 3pcs
Battery Run-Time:4.0hours
Overheat Protection:Yes
Timer Control:10mins
Certificates:GB6675-1, GB6675-2, GB6675-3,GB6675-4, GB19865, ROHS(IEC62321)
HEPA filter
Dimension:100mm
Thickness:25mm
Particle Removal:PM2.5
Life Time:>8,760hours
PM2.5 Removal Efficiency:
99% (from 5cm away)
Authorized goods
Warranty Period : 6 Months