Prime-Living SkinShield 24 Residual Antibacterial Skin Protector 250ml
Primeliving PrimeShield Residual Antimicrobial Surface Protector - An All Day germfree Protection
SkinShield 24 is a durable moisturizing antimicrobial skin protector. Its Nano Stabbing technology creates a water resistant protection that continues to kill 99.9% viruses, bacteria and fungi for 24 hours, even after repeated washing.
SkinShield 24 was formerly named as HandShield 24. Microscopic bed of tiny spikes on treated surfaces, microbes were destroyed upon direct contact.
Features
24 hours anti-microbial protection
99.9% antibacterial after repeated hand washing
Kill viruses, bacteria and fungi
Alcohol free, Non-fragrance
Suitable for all ages & pets
Made in U.S.A.
How to use: Take appropriate amount of SkinShield 24. Rub hands for 3-5 seconds or target area and allows it to dry. Use 1 time a day is enough.
Application: SkinShield 24 can be used on hand, foot, acne, pimple, armpit, personal sensitive area and pet paw.
Test report support:
99.9% kill Candida, Escherichia coli, Pseudomonas aeruginosa, Staphylococcus aureus, etc.
99.9% Kill H1N1 virus.
Dermatology test suitable for human skin use.
Ingredients: Silicone compound, purified water.
Note: The color of natural products and organic products will be different because of each harvest are different. But it doesn't affect to its effect.
【Dermatological test on human】

【99.9%killing of Candida, Staphylococcus aureus test】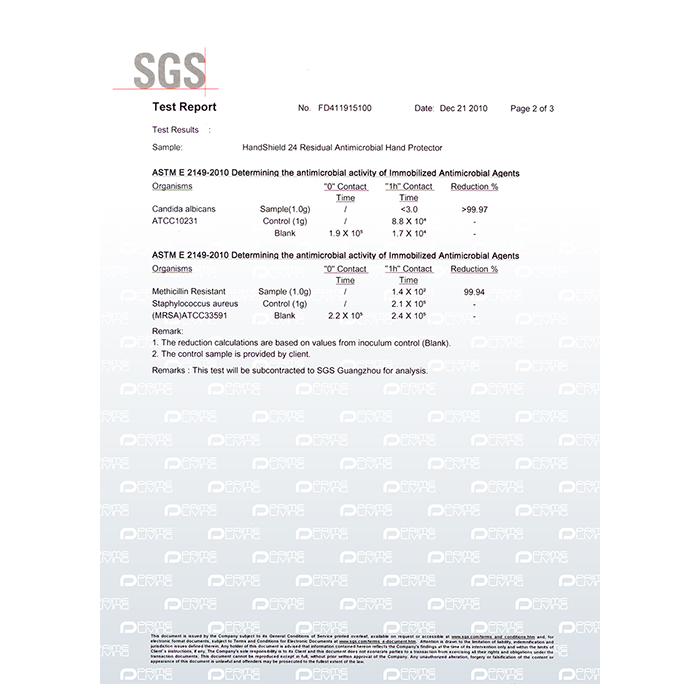 【99.9% killing E. coli, Pseudomonas aeruginosa, Staphylococcus aureus test】