MAONO Lavalier Microphone (AU-100)
Brand: MAONO
Model: MAONO-AU-100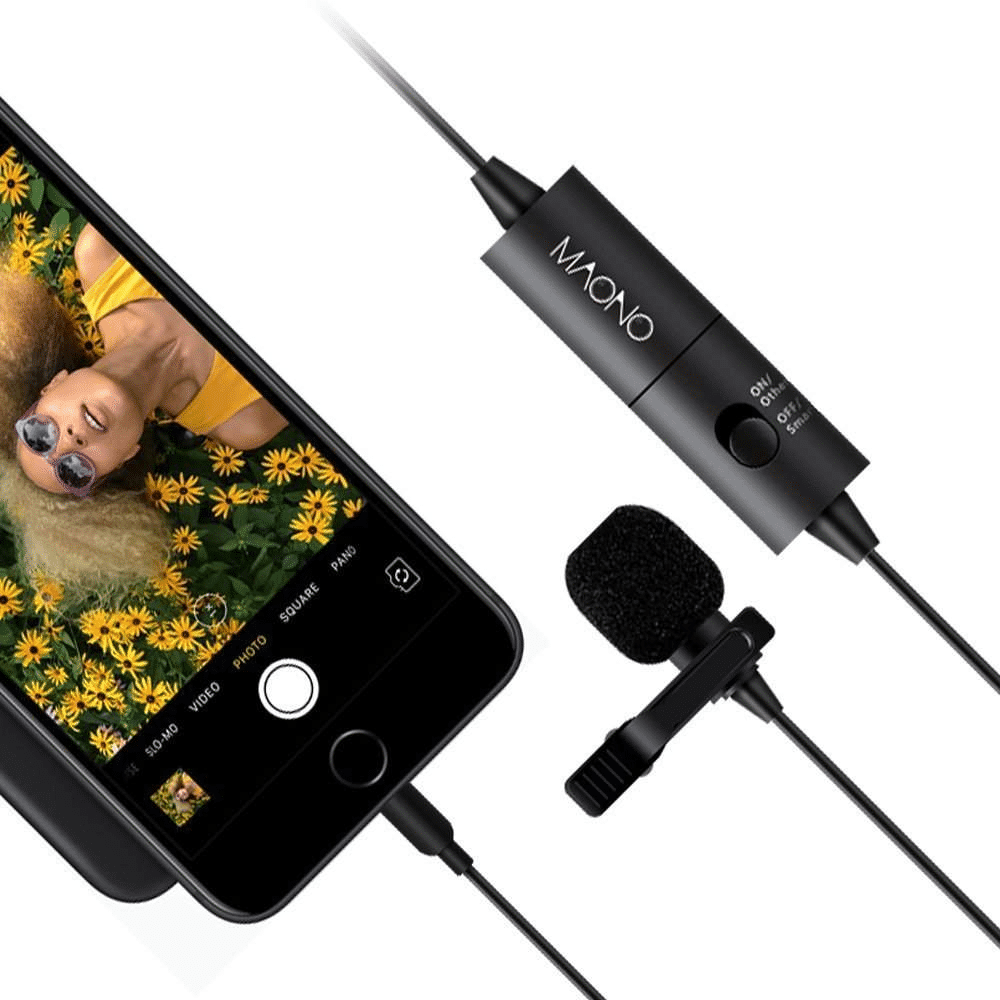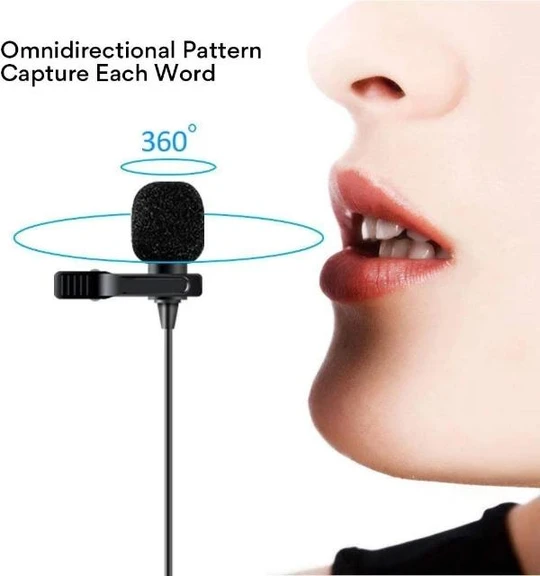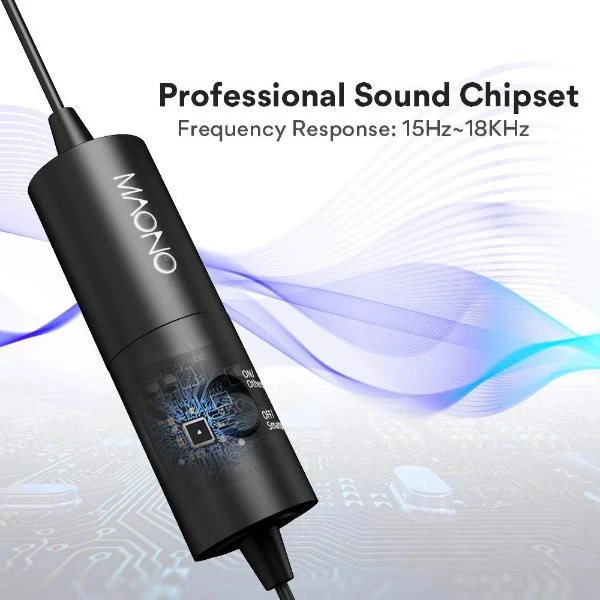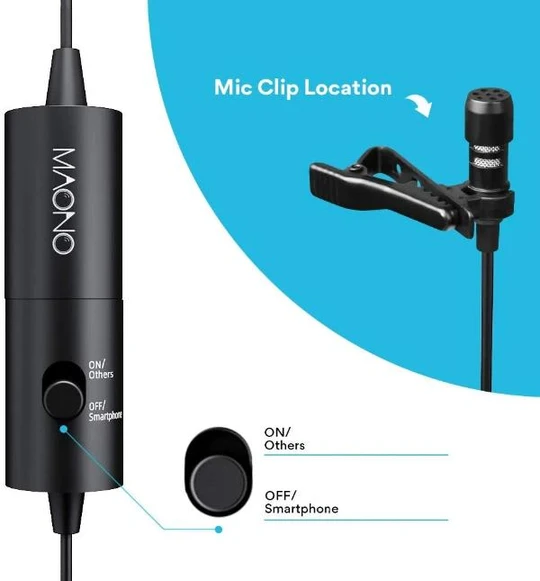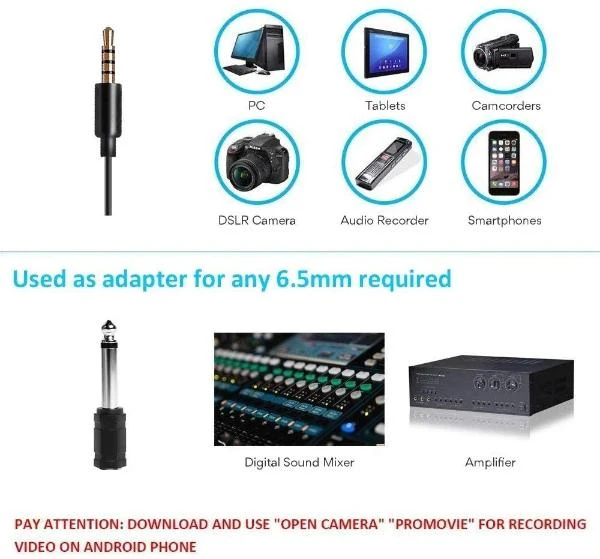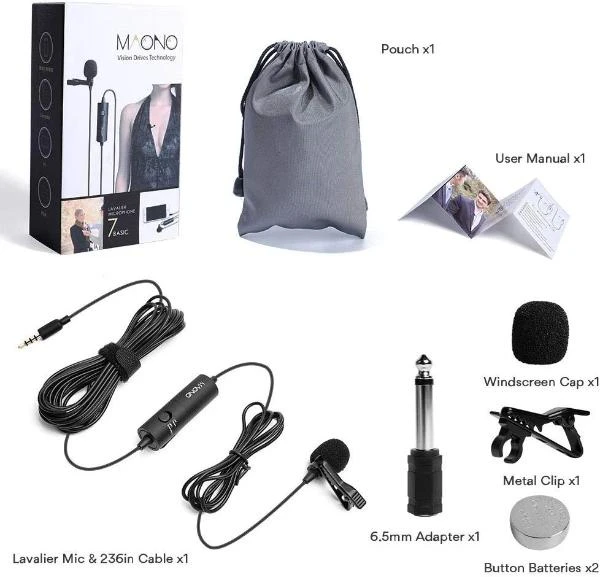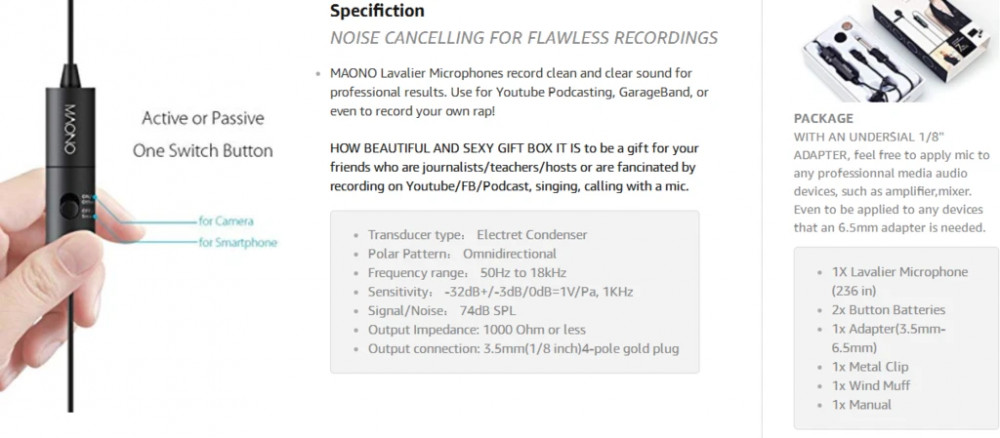 VISION DRIVES TECHNOLOGY
To differentiate from others, our lavalier microphone combo includes one more backup battery and an adapter for DSLR/Amplifier and other professional audio devices to make your life easier. What's more, even though there are several similar lavalier microphones, MAONO Lapel Microphone has been improved by our professional R&D members with more high-end configurations. Upgraded product in more exquisite appearance.

ONE MICROPHONE, FULL COMPATIBILITY
This is the ideal microphone for almost all audio and video recording needs, Android/Windows Smartphones/Computers/Apple iPhone/Samsung/DSLR, like Canon EOS Rebel T6 Digital SLR Camera, Canon EOS Rebel T5i DSLR Camera, Canon PowerShot SX530 HS 16.0 MP CMOS Digital Camera, Canon SX530 PowerShot, Canon PowerShot SX420 IS, Nikon Coolpix L340 20.2 MP Digital Camera and so on to record for YouTube/Interviewing/Live Broadcasting/Teaching/Speech/Events/Singing/Calling and wherever it may be necessary to record audio in broadcast quality.
FlAT FREQUENCY AND HIGH SENSITIVITY
-32dB+/-3dB,15Hz~18KHz, flatter frequency makes a better recording of vocals and instruments. "OFF" is for smartphone mode, ON" is for DSLR camera mode, make sure use the right mode to match your device. It's normal that a big noise might happen when plugging a microphone into a camera in auto volume mode, don't worry, just decrease volume a bit and it will eliminate the noise. Please download and use OPEN CAMERA or PROMO VID when recording video on ANDROID
COMPATIBLE WITH SMARTPHONE AND COMPUTER
The 3.5mm TRRS audio Jack of lapel microphone is compatible with computer, iPhone and android, what surprise is ONE MORE 6.5mm ADAPTER is included, ideal for those who use DSLR, camera, or other professional audio devices. Note: we do not promise this lavalier microphone is compatible with all kinds of devices, If you are not sure whether it works for your phone, please consult us for a second confirmation
Adjustable through Velcro. There must be a tremendous difference between speaking directly into the video when recording and utilizing the microphone. MORE ADVANCED CONFIGURATION and 236 inches LONG CORD helps to record LOUD and CRISP sound when interviewing, live broadcasting on Podcast, calling with Skype, Teaching, Audio/Video Recording on YouTube and so on. the best gift for friends
EXTREMELY LIGHTWEIGHT SMALL MICROPHONE
We go above and beyond when it comes to material selection. Mini metal clip allows you to easily clip it to your collar, tie or pocket. We use state of the art lightweight materials to insure you barely even notice the mic is there
INCLUDED
1X Lavalier Microphone (236 in cable)

2x Button Batteries (one for backup)

1x Adapter(3.5mm-6.5mm)

1x Metal Clip

1x Wind Muff

1x Manual

1x Pouch Bag
Electret Condenser : Omni-directional
Frequency Range: 65Hz ~ 18KHz
Sensitivity: -30dB +/-3dB / 0dB=1V/Pa, 1kHz
Output Impedance: 1000 Ohm or less
Output Connection: 3.5mm (1/8¡±) TRRS
Battery Type: LR44 | Audio Cable: 20ft (6m)

Authorized goods
Warranty Period : 1 Years