INJOY Health - Probio-Mix Super Greens - 90g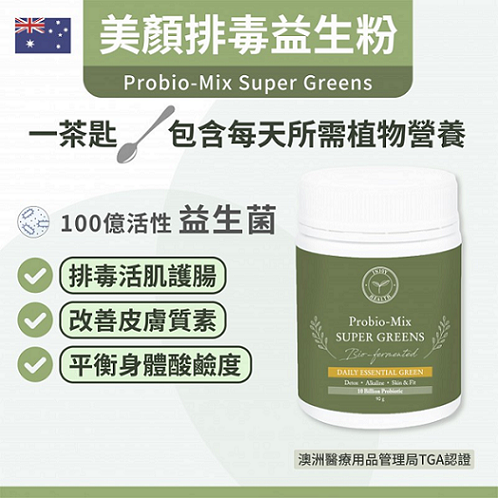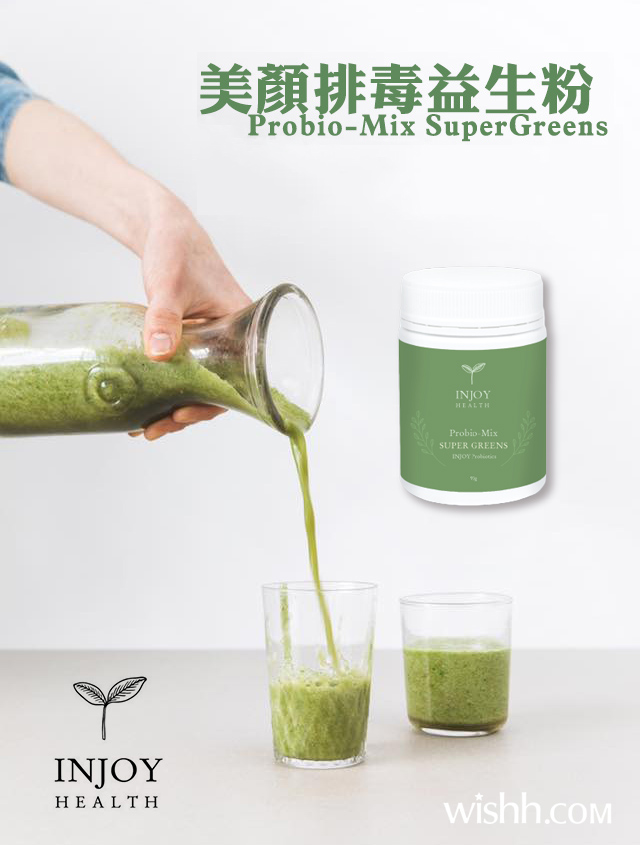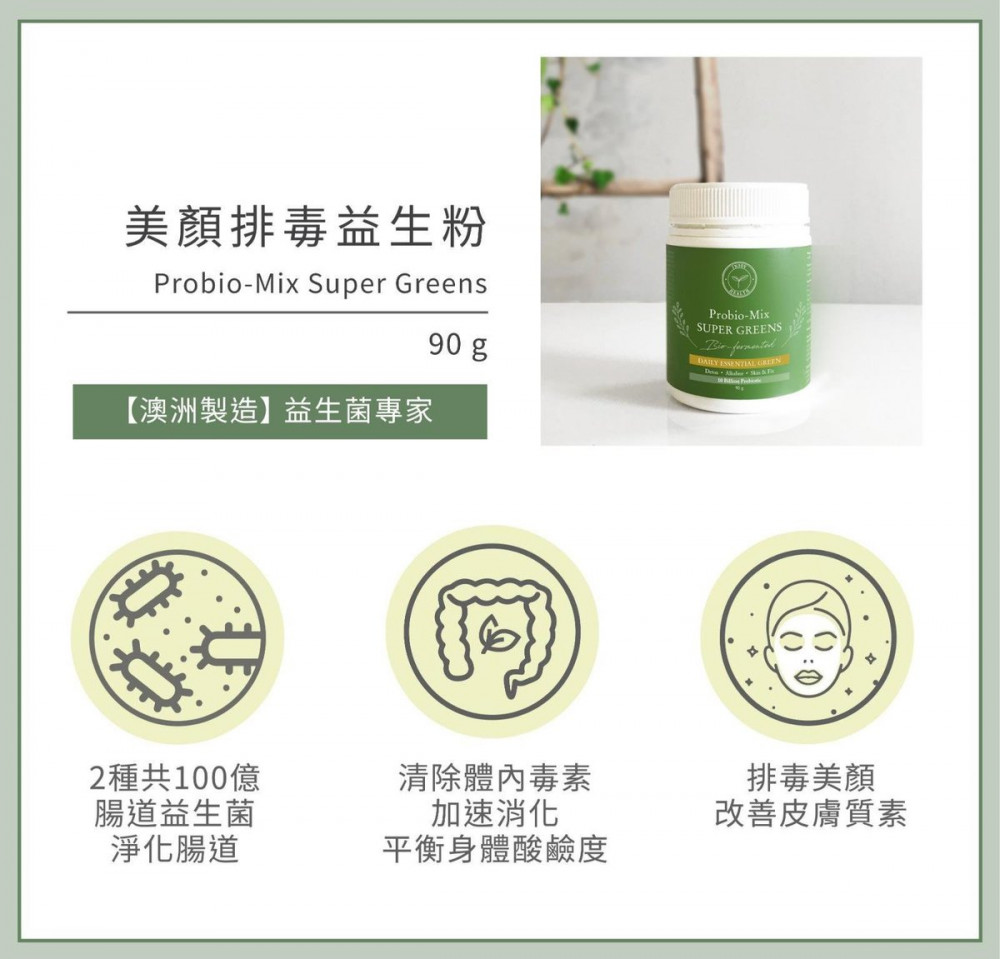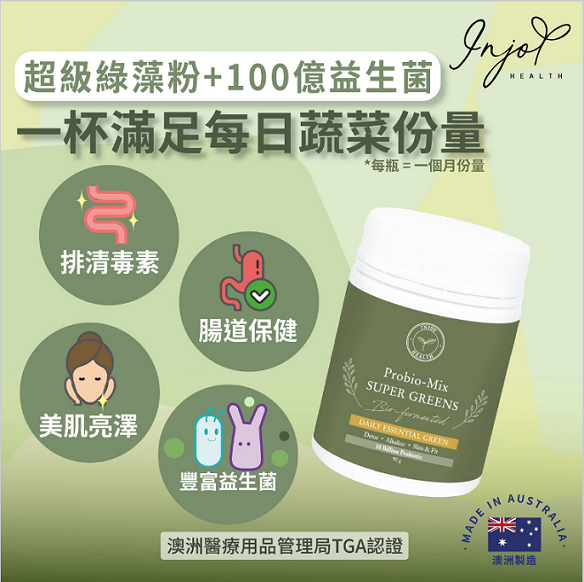 Highly alkalized super-green powdered formula composited of spirulina, cholorella, organic wheat grass, mungs bean and various organic herbal extracts, effectively support detoxification, colon cleansing, balance body's pH value and protect body cells from free-radical damage. It contains 10 billion bioactive probiotics promoting gut flora activities to support highly effective detoxification, aid in digestion, strengthen immune system and constipation relief.
Suitable for
Individuals who has an imbalance diet and frequently dine out

Individuals who has a busy & stressful lifestyle

Individuals who have a weak detox function & slow metabolism

Individuals who need daily greens

3 years old or above
Direction:
Dissolve 1 teaspoon (about 5 grams) of Probio-Mix Super Green powder in 200 mL of water in room temperature or milk and juice before breakfast on an empty stomach.
*We highly recommend drink with INJOY Probio-Life series for optimal gut health.
*Suitable for 3 years old or above.
Product origin: Australia
Certificates
GMP

TGA

ACO

Non GMO

Vegan friendly
Detailed ingredients:
Spirulina: Most nutrient-dense foods on earth. Protein-rich, bio-active chlorophyll with a complete spectrum of amino acids which are extremely energizing, alkalizing, deeply mineralizing and soothing superfood.

Chlorella: Single-celled, water-grown dark green algae very rich in chlorophyll. It is extremely alkalizing, cleansing, a potent sustainable source of plant-based Iron and Calcium.

Alfalfa: Rich in chlorophyll which promotes optimal liver detoxification to eliminate potential harmful waste in the body, may also improve digestion and weight control.

Wheatgrass Leaf: Boosting with alkalizing effect and chlorophyll that specifically helps in detox heavy metals; also increases metabolism and oxygenate body cells at the same time. It is used to rebuild and damaged tissues which help in aging or body function decay.

Mung Beans: High source of protein, fibre, antioxidants, phytonutrients all work synergistically to protect against heart health, infections and boost immunity by fighting free radicals. Resistant starch in mung beans also act as a prebiotic to promote optimal absorption of our probiotic supplements.

10 billions of 2 Gut Loving Probiotic Strains (L. acidophilus, L. plantarum): provide a basis for the maintenance of intestinal health.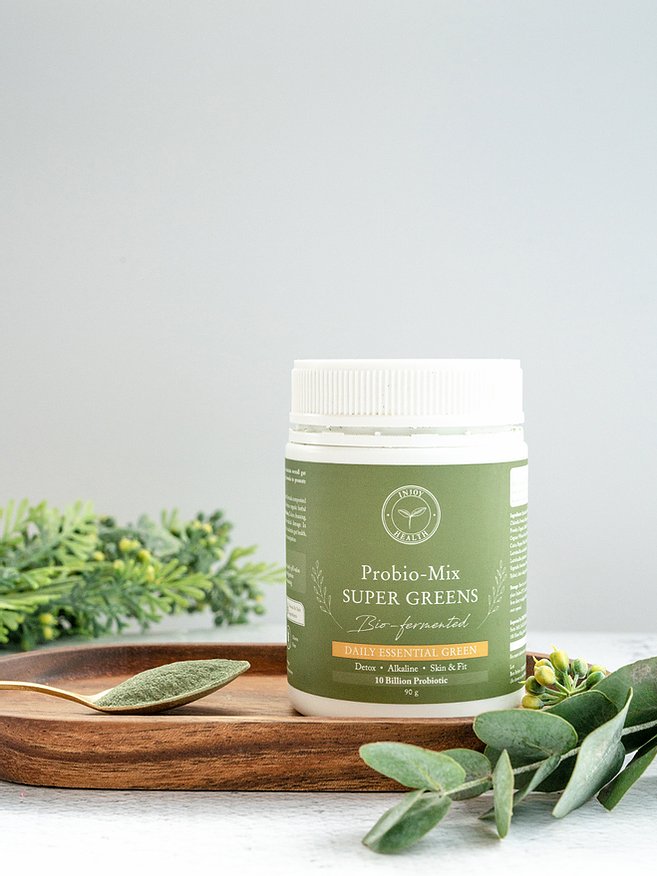 Conditions
Storage: Store below 25 °C in a cool, dry place, and protect from sunlight.

Refrigerate once opened, and use within 90 days.

Precautions: Not suitable for children under 6 years old. For pregnant or breastfeeding women, or those taking prescription of allergic to ingredients, consults a physician before taking this product.

Disclaimer: This product is not registered under the Pharmacy and Poisons Ordinance or the Chinese medicine Ordinance. Any claim made for it has not been subject to evaluation for such registration. This product is not intended to diagnose, treat or prevent any disease.
Clinical Research link
Md. Abul Kalam Azad. Probiotic Species in the Modulation of Gut Microbiota: An OverviewBiomed Res Int. 2018; 2018: 9478630.

Zhuang X, Xiong L, Li L, Li M, Chen M. Alterations of gut microbiota in patients with irritable bowel syndrome: A systematic review and meta-analysis. J Gastroenterol Hepatol 2017;32:28-38

Yueyue Meng et al. Immunomodulatory activity of Lactobacillus plantarum KLDS1.0318 in cyclophosphamide-treated mice,Food Nutr Res. 2018; 62: 10

Michael Hoppe et al. Freeze-dried Lactobacillus plantarum 299v increases iron absorption in young females—Double isotope sequential single-blind studies in menstruating women, PLoS One. 2017; 12(12): e0189141.

Li P, Characterization of extracellular vitamin B12 producing Lactobacillus plantarum strains and assessment of the probiotic potentials Food Chem. 2017 Nov 1;234:494-501