INJOY Health - Probio-Life Superberry Functional Probiotic Drinks - 500ml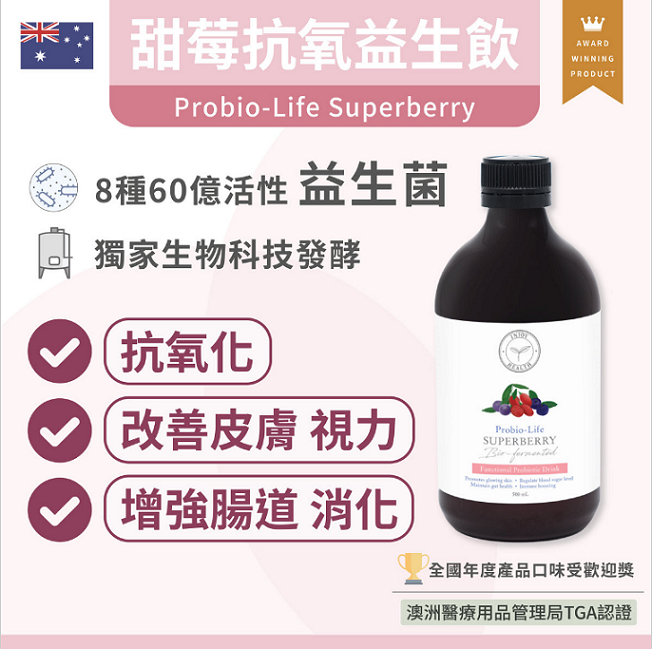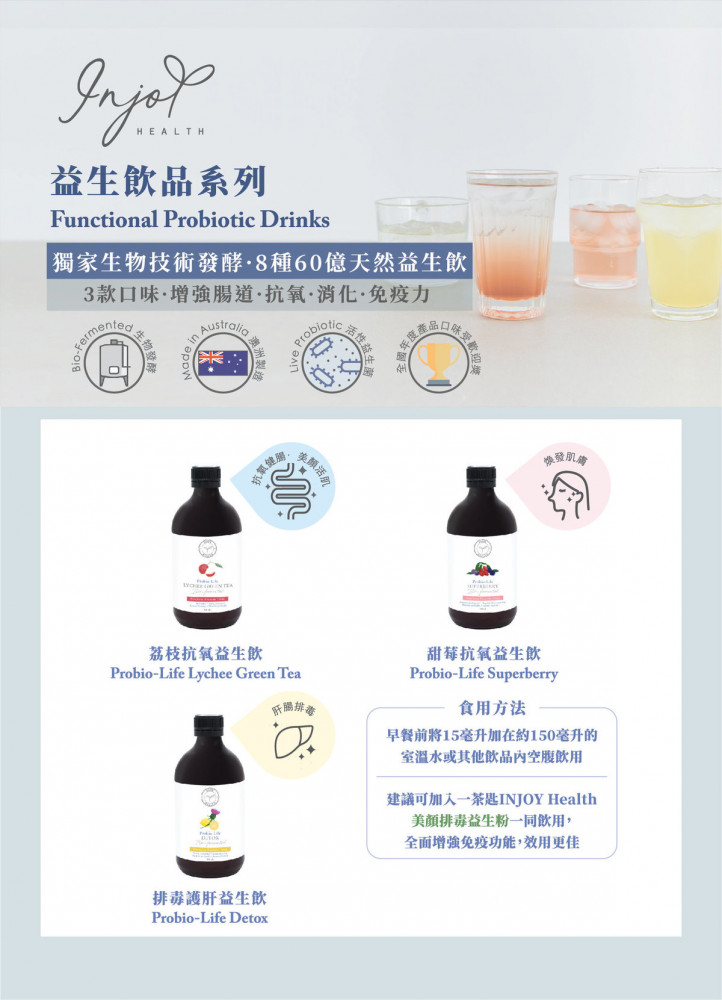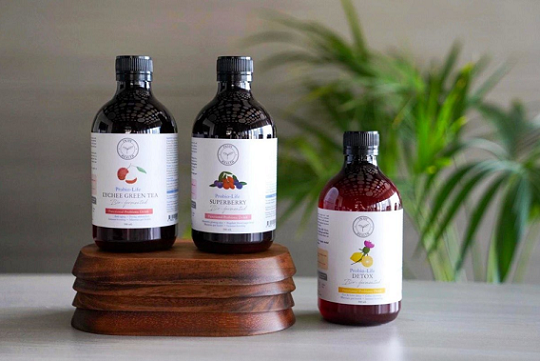 Numerous benefits of well-chosen superfood cultures to maintain gut health with extra boost of additional health functional benefits.
Promote glowing skin

Help regulate blood sugar level

Neutralize free radical damage on skin
Product origin: Australia
Package quantity: 500ml
Product description:
Probio-Life series are bio-fermented, enzyme-rich and anti-inflammatory probiotic supplements with 5 truly natural bio-active concentrates. Each serving combines 8 diverse strains of 6-billion live probiotics and the benefits of well-chosen superfood cultures to maintain gut health and improve digestion with an extra boost of additional health functional benefits.
Generous bursts of Blueberry, Acai, Goji & Maqui Berries and Papaya, which are naturally rich in antioxidants, essential vitamin and minerals. This promotes glowing skin and regulate blood sugar level by fighting against free radical damages on skins resulted from exposure to the sun's UV rays. This tangy flavored superberry drink is bound to become a regular part of your lifestyle!
Suitable for
Individuals who has unstable blood sugar level

Individuals who would like to have a glowing skin

All family members

6 years old or above
Direction:
Consume on an empty stomach in the morning

Mix 15 ml of Probio-Life series with 200ml room temperature water or with yogurt/juice for even better taste *We highly recommend that mixing with our Probio-Mix Super Greens to maximize the health benefits of Probiotics.
Certificates:
Detail ingredients:
Blueberry: Contain a wide range of antioxidants, gallic acid to protect our brain from degeneration and neurotoxicity; resveratrol to improve skin health and vision; pro-anthocyanins to reverse chronic inflammation.

Acai: Amazonian superfood high in antioxidant anthocyanins, phytonutrients, electrolytes, amino acids and dietary fibre which help improve cognitive function, may assist in stabilizing blood sugar level and aids in weight-loss.

Goji Berry: Excellent source of vitamins, bio-compatible minerals and antioxidants which boost immune system, counter stress, detoxify liver and enhance stamina. They are naturally low in calories and fat-free.

Maqui Berry: Wild-crafted superberry packed with bio-flavonoids, anthocyanins and polyphenols, vitamin C, calcium, iron and potassium to support immune health from harmful free radicals.

Carica Papaya Fruit: Most potent source of phytonutrients, vitamin A, B and C, amino acids, carotenes, potassium and magnesium. It is also rich in papain, a proteolytic enzyme that helps break down proteins, fats and carbohydrates for optimal digestive health.

8 Gut-Loving Probiotic Strains (L. acidophilus, L. casei, L. plantarum, L. bulgaricus, L. fermentum, B. lactis, B. bifidum, S. cerevisiae): provide a basis for the maintenance of intestinal health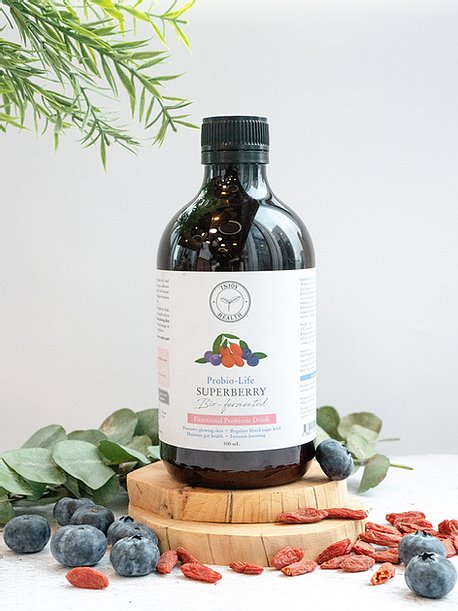 Conditions
Storage: Store below 25 °C in a cool, dry place, and protect from sunlight. Refrigerate once opened.
Precautions: Not suitable for children under 6 years old. For pregnant or breastfeeding women, or those taking prescription of allergic to ingredients, consults a physician before taking this product.
Disclaimer: This product is not registered under the Pharmacy and Poisons Ordinance or the Chinese medicine Ordinance. Any claim made for it has not been subject to evaluation for such registration. This product is not intended to diagnose, treat or prevent any disease.
Clinical Research link
Z. Asemi, Z. Zare, H. Shakeri, S.S. Sabihi, A. EsmaillzadehEffect of multispecies probiotic supplements on metabolic profiles, hs-CRP, and oxidative stress in patients with type 2 diabetes

Hjortmo S Growth rate and medium composition strongly affect folate content in Saccharomyces cerevisiae.Int J Food Microbiol. 2008 Mar 31;123(1-2):93-100

Michael Hoppe et al. Freeze-dried Lactobacillus plantarum 299v increases iron absorption in young females—Double isotope sequential single-blind studies in menstruating women, PLoS One. 2017; 12(12): e0189141.

Bernini L. J., Simão A. N. C., Alfieri D. F., et al. Beneficial effects of Bifidobacterium lactis on lipid profile and cytokines in patients with metabolic syndrome: A randomized trial. Effects of probiotics on metabolic syndrome. Nutrition Journal . 2016;32(6):716–719. doi: 10.1016/j.nut.2015.11.001.

Xiao Meng,Gut Microbiota's Relationship with Liver Disease and Role in Hepatoprotection by Dietary Natural Products and ProbioticsNutrients. 2018 Oct; 10(10): 1457.