INJOY Health - Probio-Life Lychee Green Tea Functional Probiotic Drinks - 500ml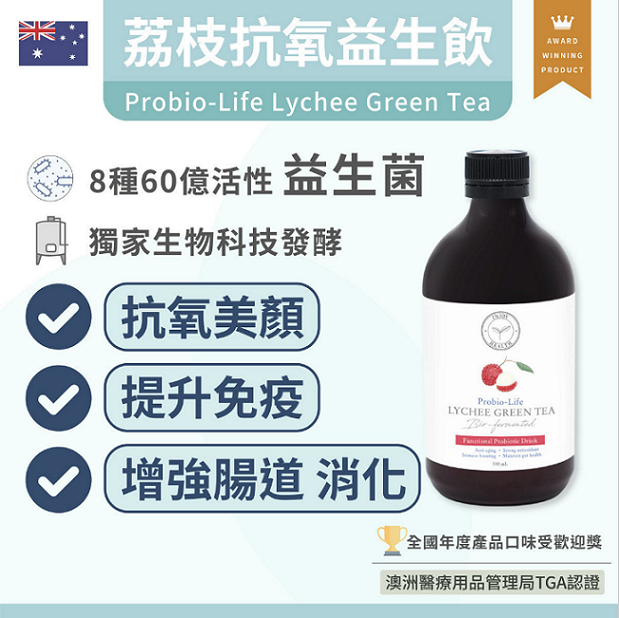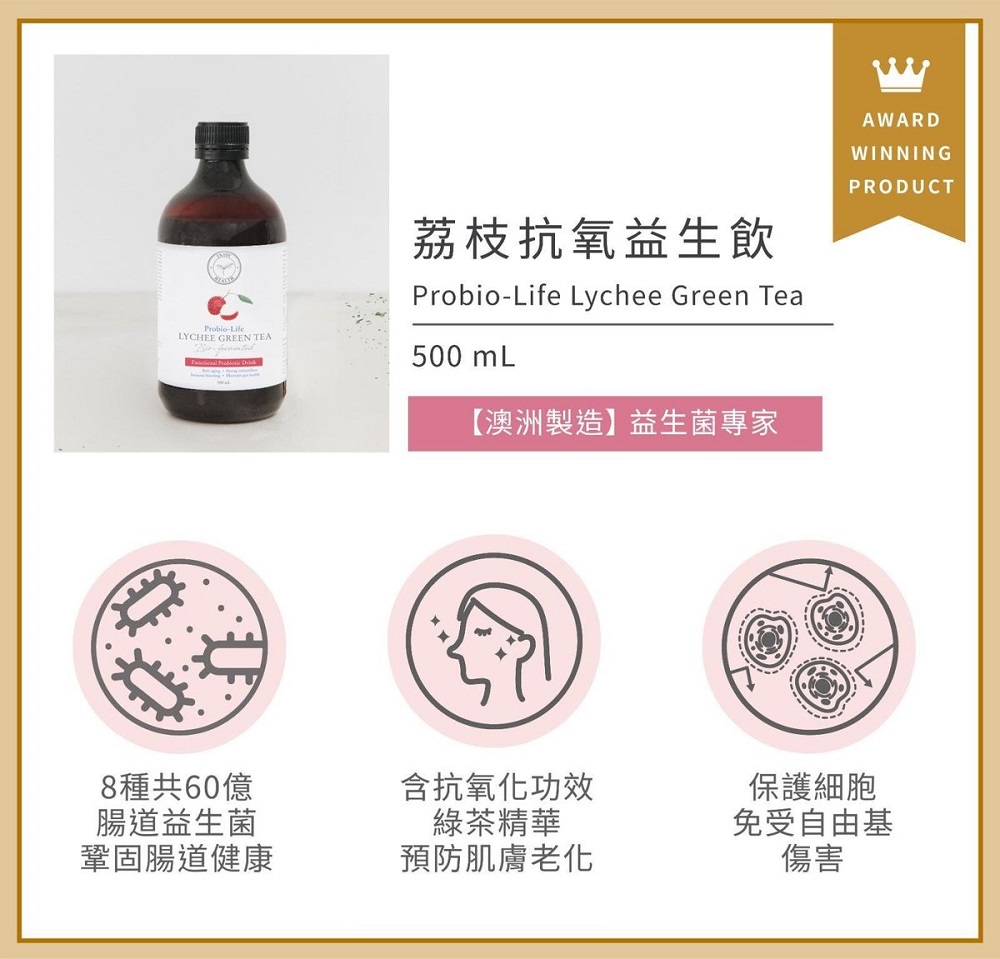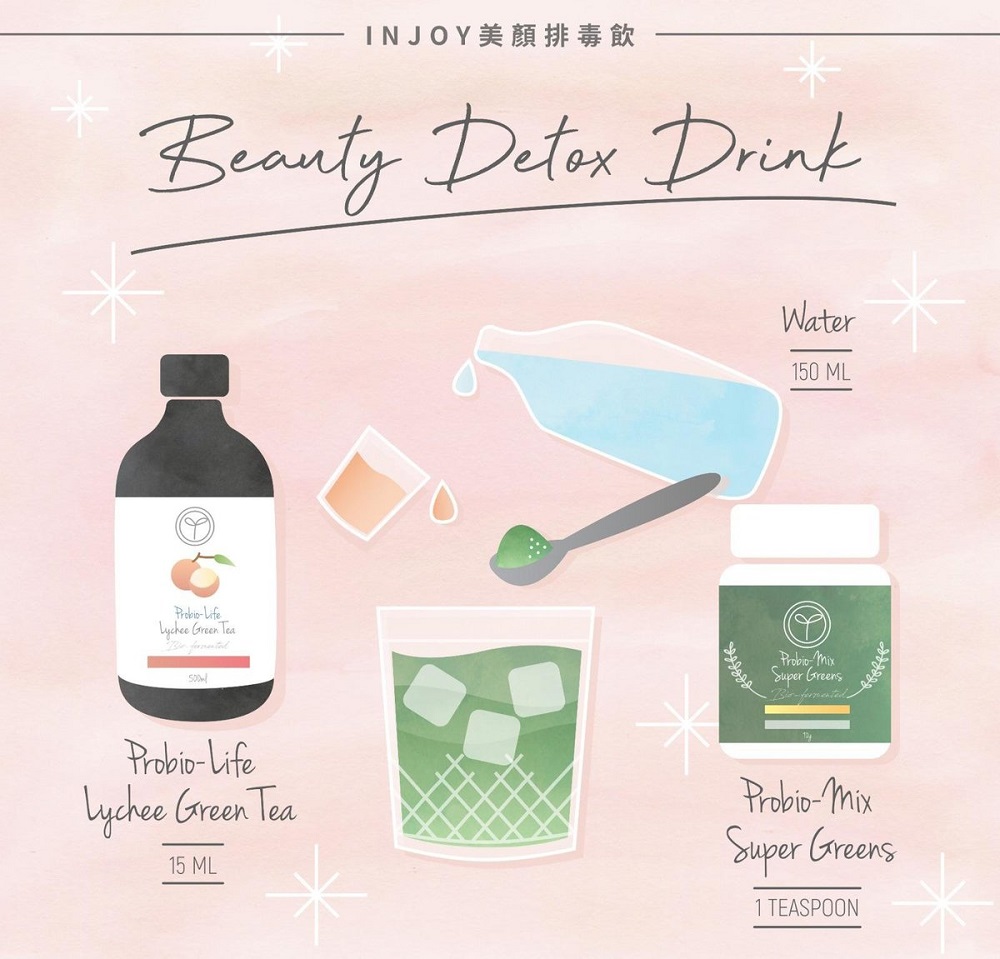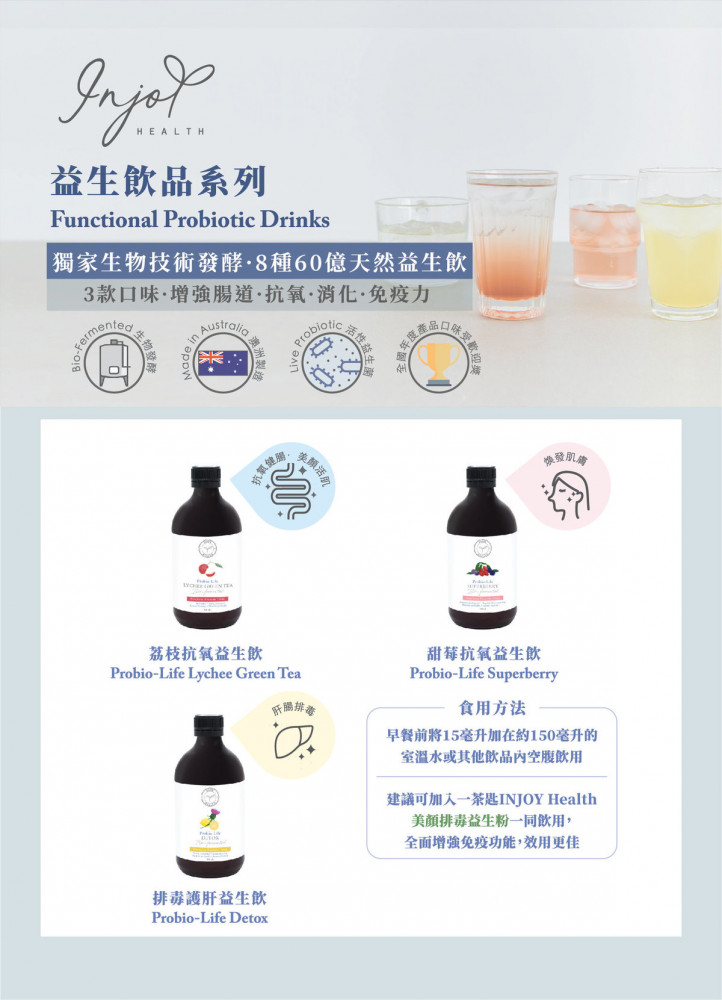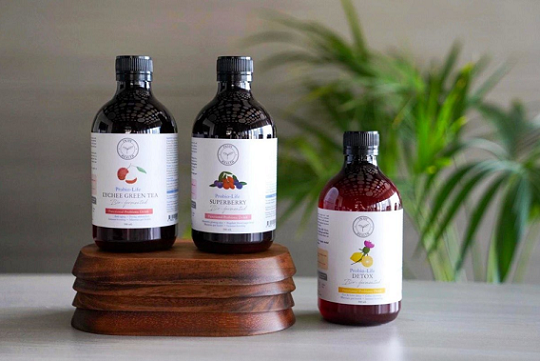 Product description:
Probio-Life series are bio-fermented, enzyme-rich and anti-inflammatory probiotic supplements with 5 truly natural bio-active concentrates. Each serving combines 8 diverse strains of 6-billion live probiotics and the benefits of well-chosen superfood cultures to maintain gut health and improve digestion with an extra boost of additional health functional benefits.
Probio-life lychee green tea, a supplement with anti-aging properties and strong antioxidant. Live probiotics with green tea leaf extract, lychee and pawpaw fruit and leaf is a perfect combination to protect the body against oxidative stress, to strengthen immunity and anti-aging in skin cells. Green tea pairs perfectly with lychee to enhance floral fragrance to tantalize your taste buds.
Suitable for
Individuals who would like to have a glowing skin

Individuals who has low immunity

All family members (Lychee flavours – children's favourite)

6 years old or above
Direction:
Consume on an empty stomach in the morning

Mix 15 ml of Probio-Life series with 200ml room temperature water or with yogurt/juice for even better taste *We highly recommend that mixing with our Probio-Mix Super Greens to maximize the health benefits of Probiotics.
​Product origin: Australia
Package quantity: 500ml
Certificates
Detail ingredients:
Carica Papaya Fruit & Leaf: Most potent source of phytonutrients, vitamin A, B and C, amino acids, carotenes, potassium and magnesium. It is also rich in papain, a proteolytic enzyme that helps break down proteins, fats and carbohydrates for optimal digestive health.

Green Tea Leaf Extract: Abundant in anti-aging antioxidant catechin, a natural polyphenol, which protect our skin and body from oxidative stress, free-radicals damage and cellular aging.

8 Gut-Loving Probiotic Strains (L. acidophilus, L. casei, L. plantarum, L. bulgaricus, L. fermentum, B. lactis, B. bifidum, S. cerevisiae): provide a basis for the maintenance of intestinal health.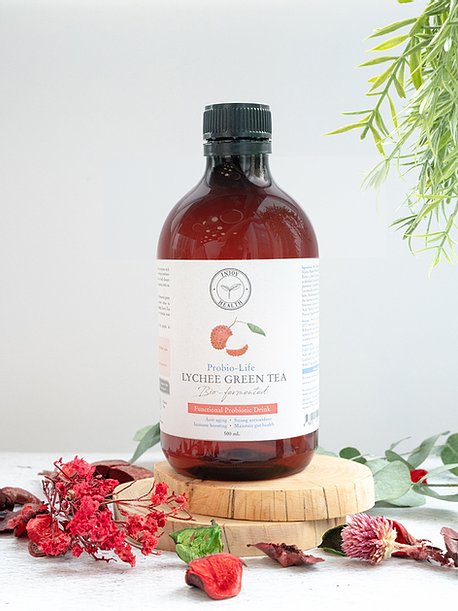 Conditions
Storage: Store below 25 °C in a cool, dry place, and protect from sunlight. Refrigerate once opened.
Precautions: Not suitable for children under 6 years old. For pregnant or breastfeeding women, or those taking prescription of allergic to ingredients, consults a physician before taking this product.
Disclaimer: This product is not registered under the Pharmacy and Poisons Ordinance or the Chinese medicine Ordinance. Any claim made for it has not been subject to evaluation for such registration. This product is not intended to diagnose, treat or prevent any disease.
Clinical Research link
Md. Abul Kalam Azad. Probiotic Species in the Modulation of Gut Microbiota: An OverviewBiomed Res Int. 2018; 2018: 9478630.

María P. Taranto. Lactobacillus reuteri CRL1098 Produces CobalaminJ Bacteriol. 2003 Sep; 185(18): 5643–5647

Li P, Characterization of extracellular vitamin B12 producing Lactobacillus plantarum strains and assessment of the probiotic potentials Food Chem. 2017 Nov 1;234:494-501

B. M. Corcoran Survival of Probiotic Lactobacilli in Acidic Environments Is Enhanced in the Presence of Metabolizable Sugars Appl Environ Microbiol. 2005 Jun; 71(6): 3060–3067.

Li L, Han Z, Niu X, Zhang G, Jia Y, Zhang S, et al. Probiotic supplementation for prevention of atopic dermatitis in infants and children: a systematic review and meta-analysis. Am J Clin Dermatol 2018.

Ashraf R Immune system stimulation by probiotic microorganisms.Crit Rev Food Sci Nutr. 2014;54(7):938-56