INJOY Health - Probio-Life Detox Functional Probiotic Drinks - 500ml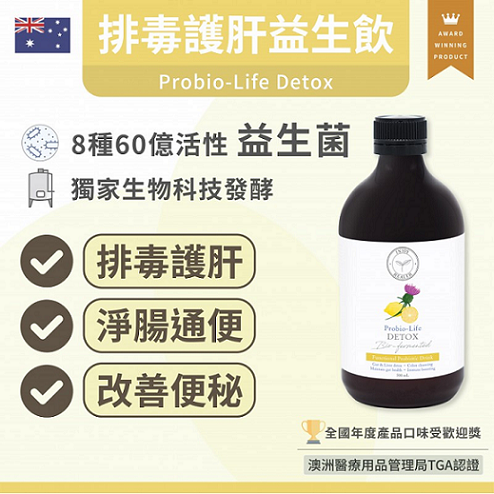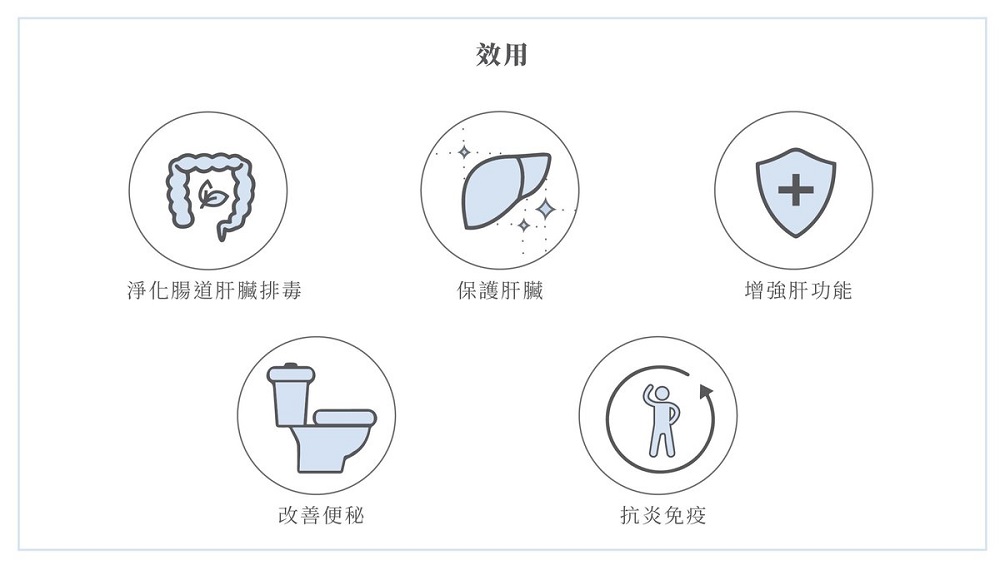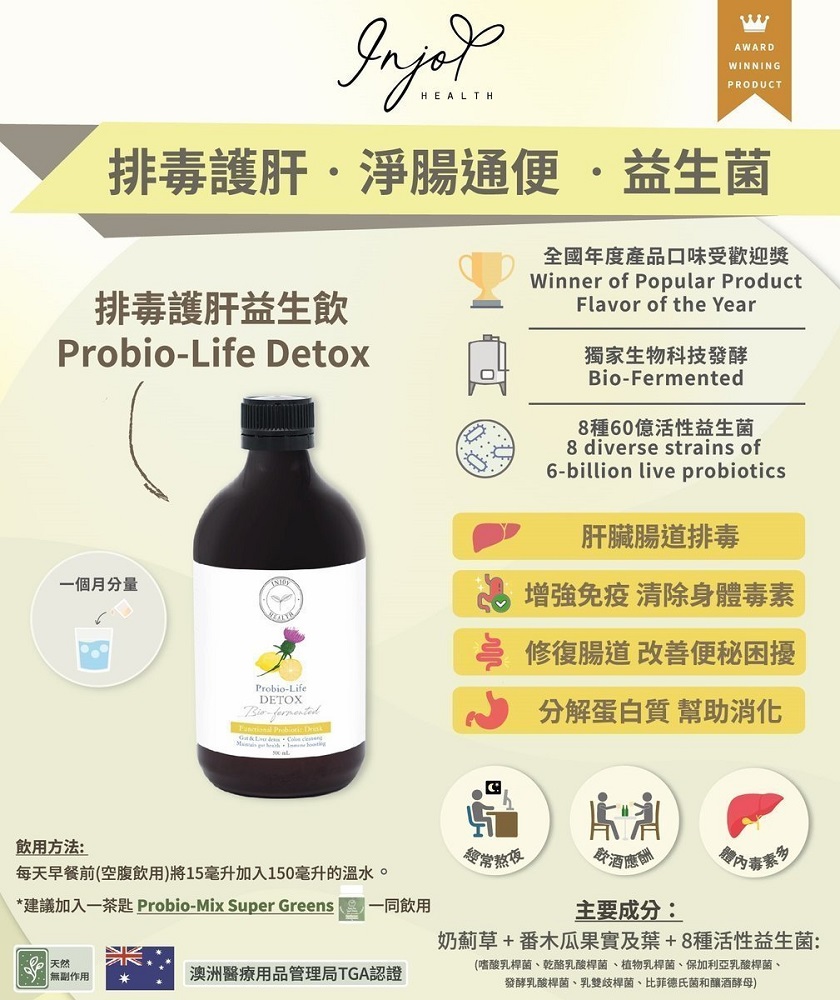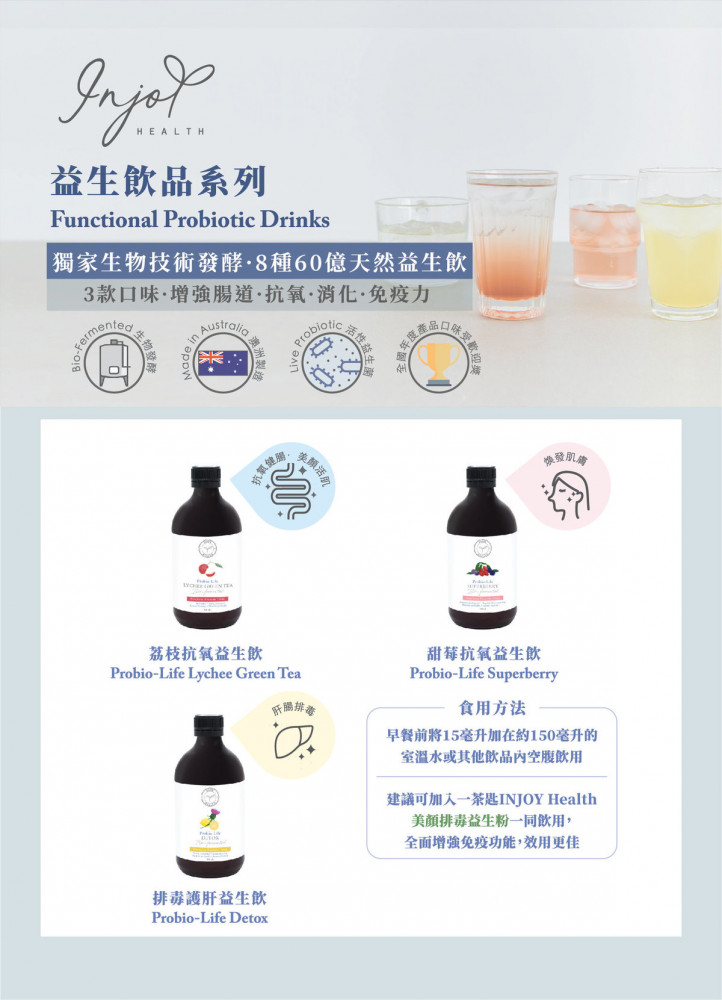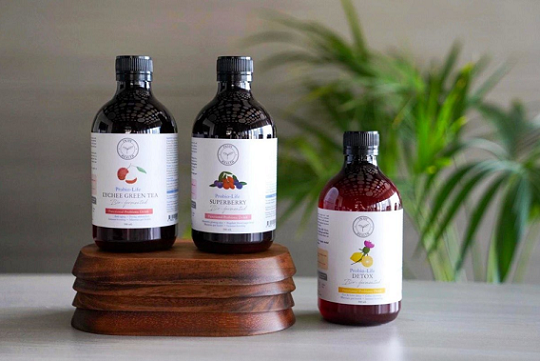 With a potent detoxifying herb including milk thistle, lemon, pawpaw fruit and leaf to promote detoxification, regeneration and protection of liver, effectively flush out toxins in our body, especially beneficial for regular alcohol drinker and individuals who lacks sleep on a frequent basis.
Promote liver & gut detoxification

Promote liver regeneration and protection

Solution for constipation
Product origin: Australia
Package quantity: 500ml
Product description:
Probio-Life series are bio-fermented, enzyme-rich and anti-inflammatory probiotic supplements with 5 truly natural bio-active concentrates. Each serving combines 8 diverse strains of 6-billion live probiotics and the benefits of well-chosen superfood cultures to maintain gut health and improve digestion with an extra boost of additional health functional benefits.
Probio-life detox, a liver & gut detox supplement with potent detoxifying herbs including milk thistle, lemon, pawpaw fruit and leaf to promote detoxification, regeneration and protection of the liver, effectively flush out toxins in our body.
Suitable for
Regular drinker

Individuals who lack sleep on a frequent basis

Suffer from constipation

Need regular detox on a daily basis

6 years old or above
Direction:
Consume on an empty stomach in the morning

Mix 15 ml of Probio-Life series with 200ml room temperature water or with yogurt/juice for even better taste *We highly recommend that mixing with our Probio-Mix Super Greens to maximize the health benefits of Probiotics.
Certificates
Detailed ingredients:
Milk Thistle: A powerful liver cleanser which stimulates bile production and draws out toxins. Traditionally used to treat liver disease for thousands of years in the Mediterranean region.
Carica Papaya Fruit & Leaf: Most potent source of phytonutrients, vitamin A, B and C, amino acids, carotenes, potassium and magnesium. It is also rich in papain, a proteolytic enzyme that helps break down protein, fats and carbohydrates for optimal digestive health.
8 Gut-Loving Probiotic Strains (L. acidophilus, L. casei, L. plantarum, L. bulgaricus, L. fermentum, B. lactis, B. bifidum, S. cerevisiae): provide a basis for the maintenance of intestinal health.
* Please see detailed chart for function of each strains.
Conditions
Storage: Store below 25 °C in a cool, dry place, and protect from sunlight. Refrigerate once opened.
Precautions: Not suitable for children under 6 years old. For pregnant or breastfeeding women, or those taking prescription of allergic to ingredients, consults a physician before taking this product.
Disclaimer: This product is not registered under the Pharmacy and Poisons Ordinance or the Chinese medicine Ordinance. Any claim made for it has not been subject to evaluation for such registration. This product is not intended to diagnose, treat or prevent any disease.
Clinical Research link
Md. Abul Kalam Azad, Probiotic Species in the Modulation of Gut Microbiota: An OverviewBiomed Res Int. 2018; 2018: 9478630.

Di Zhao, Dietary Supplementation with Lactobacillus casei Alleviates Lipopolysaccharide-Induced Liver Injury in a Porcine Model Int J Mol Sci. 2017 Dec; 18(12): 2535.

Comparative genome-based identification of a cell wall-anchored protein from Lactobacillus plantarum increases adhesion of Lactococcus lactis to human epithelial cells. Nature 15 September 2015

Meei-Yn Lin, Management of Lactose Maldigestion by Consuming Milk Containing Lactobacilli Digestive Diseases and Sciences january 1998, Volume 43, Issue 1, pp 133–137

Kullisaar T., Zilmer K., Salum T., Rehema A., Zilmer M. The use of probiotic L. fermentum ME-3 containing Reg'Activ Cholesterol supplement for 4 weeks has a positive influence on blood lipoprotein profiles and inflammatory cytokines: an open-label preliminary study. Nutrition Journal. 2016;15(1):p. 93.

Ying Zhao. Intestinal microbiota and chronic constipation Springerplus. 2016; 5(1): 1130.