INJOY Health - Flu defence combo (Natural Antimicrobic Spray x 1 + PRO Immune x 1)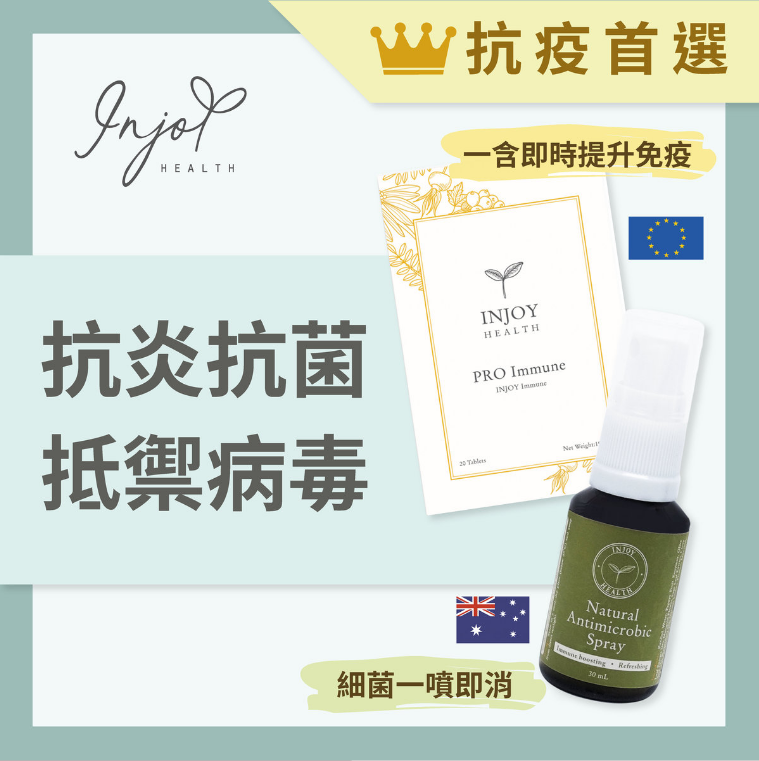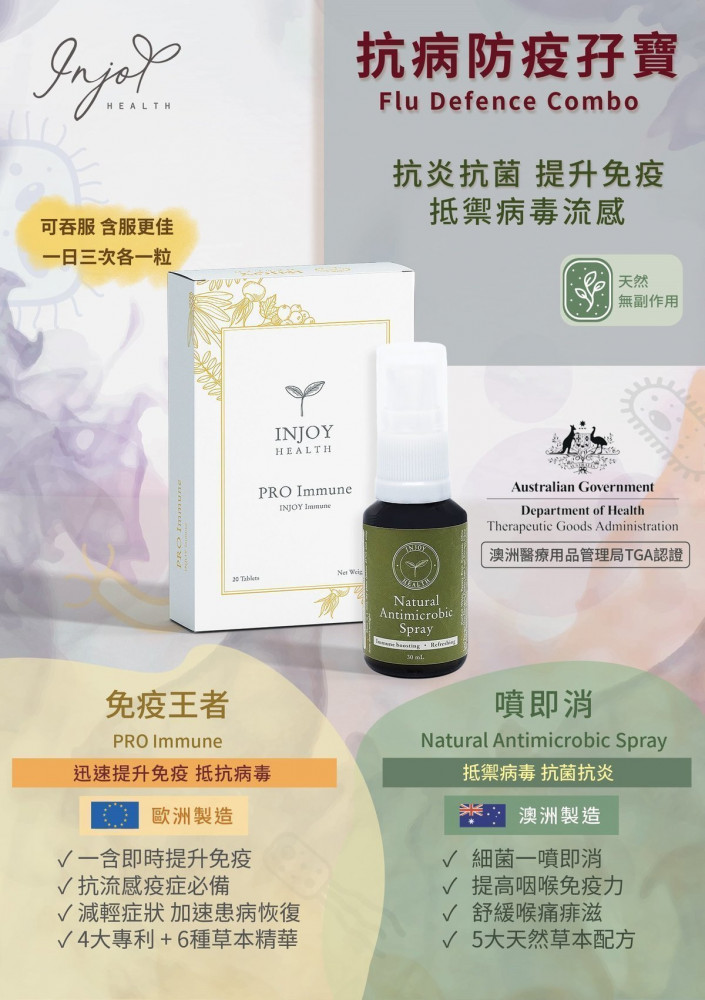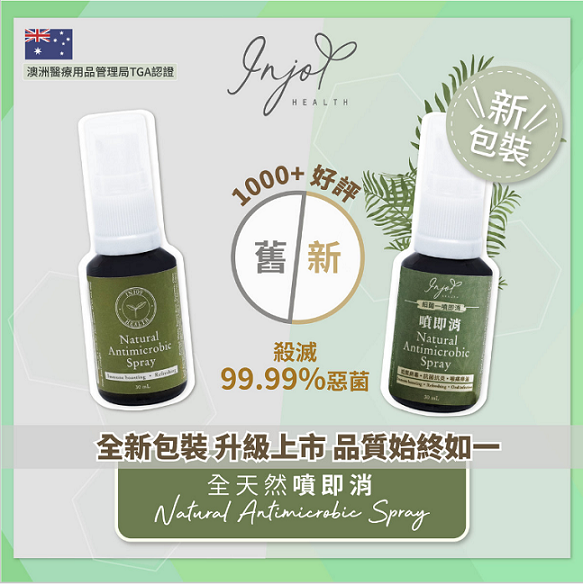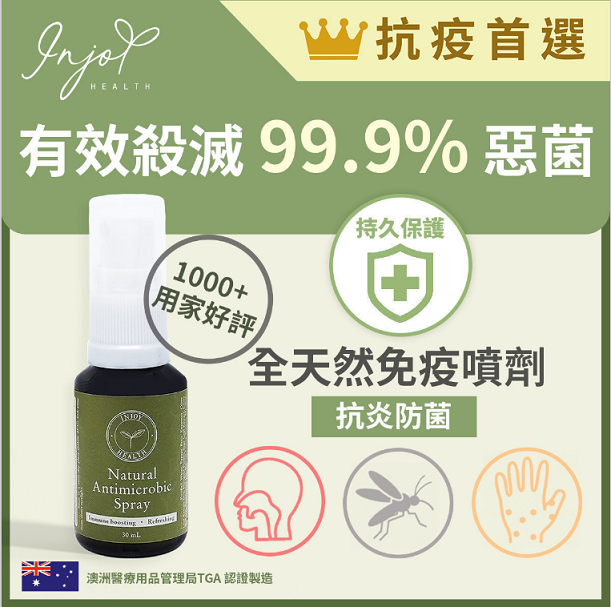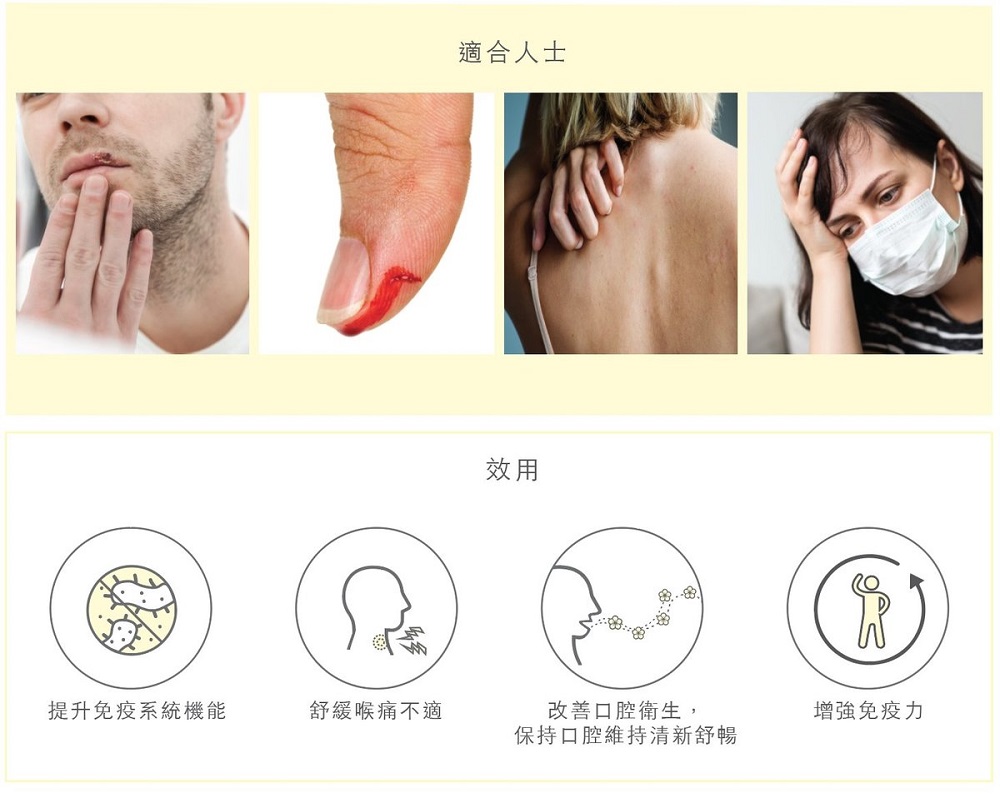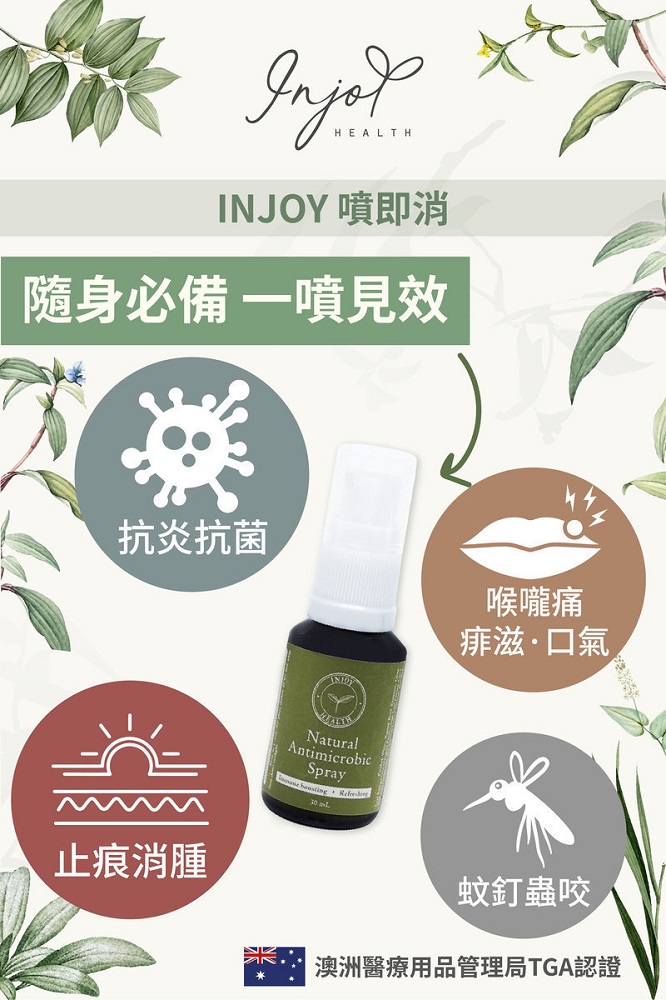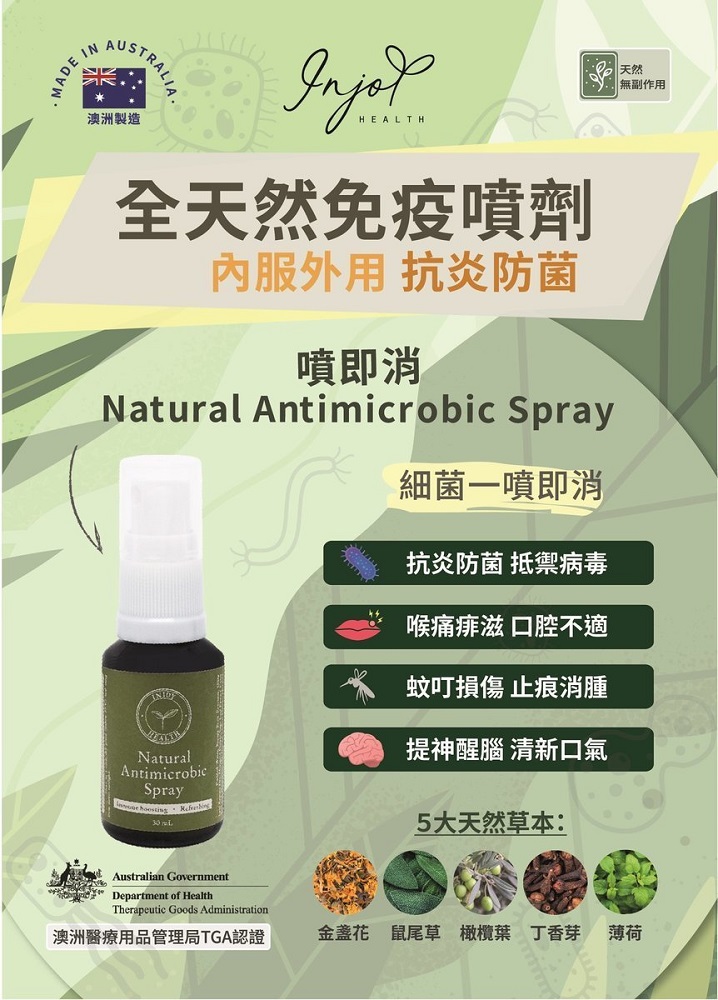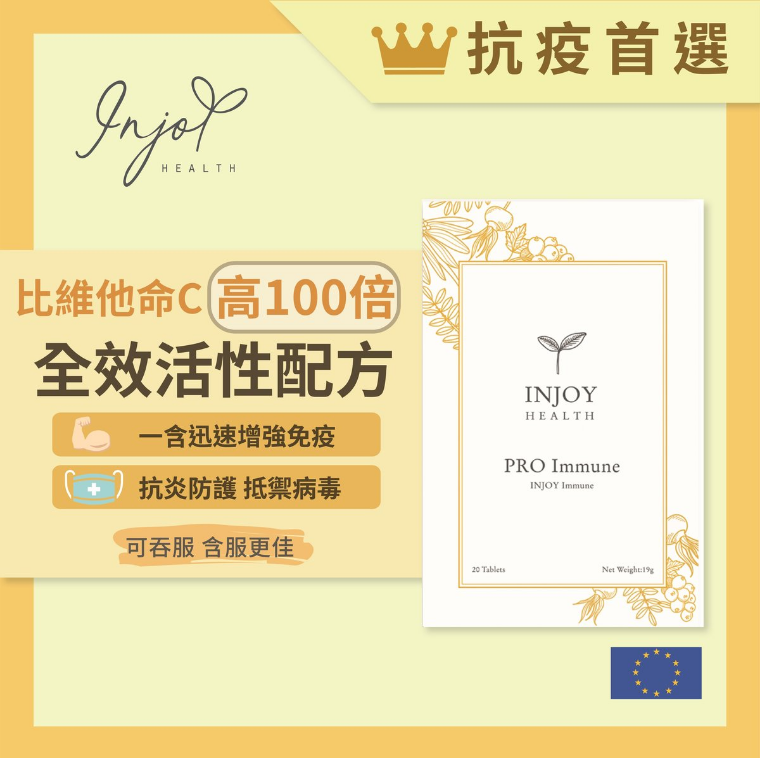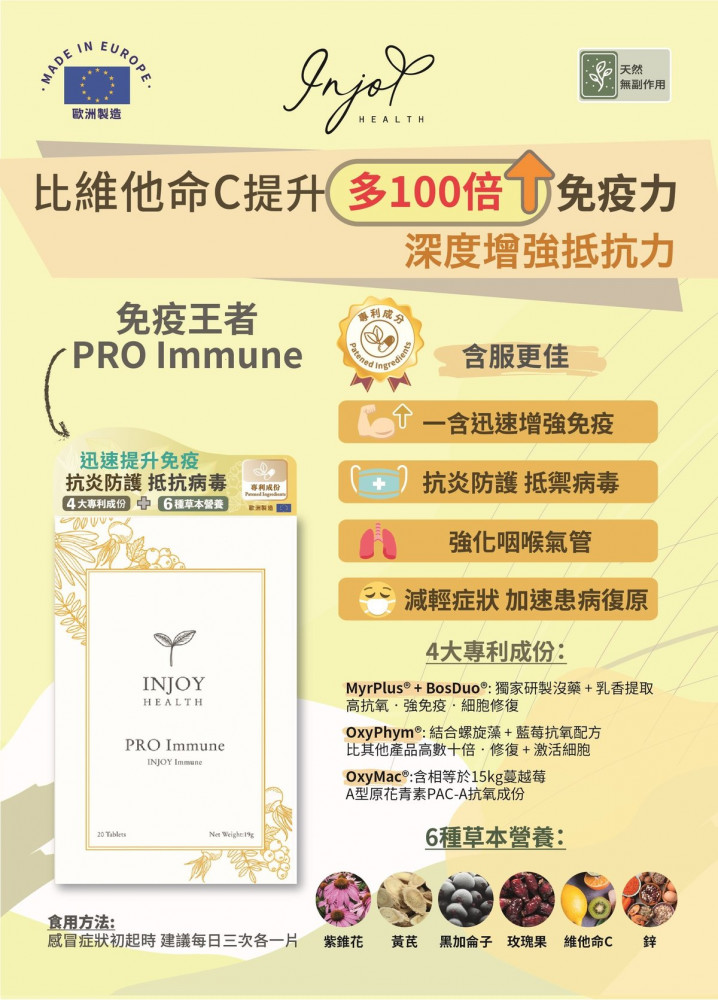 Boost immunity, give comfort at initial stage of cold and flu, sore throat relief, Mouth ulcers resolved,
Flu defense combo includes:
1X Natural antimicrobic spray

(30ml ︱ Origin: Australil)

1X Pro Immune

(20 tablets︱ Origin: Europe)
Natural Antimicrobic Spray
Combines powerful anti-inflammatory and antibacterial herbal medicines, including fresh olive leaf extract, marigold flower, sage leaf and clove bud. Effectively relieves sore throat, respiratory infections, oral ulceration and reduce skin infection.
Marigold Flower (Calendula Officinalis): The dried flower petals of this particular species are believed as one of the most medicinal healing herbs with inflammation and antiseptic properties.

Sage: Contains a high level of rosmarinic acid which helps to relief the symptoms of common colds, flu and upper respiratory tract infection.

Olive Leaf: The pure and fresh olive leaf was extracted to preserve the highest potency of an active ingredient oleuropein which provides a powerful free radical scavenging capacity for immediate oral health.

Peppermint Oil: Help to calm cough and cold symptoms.

Clove Bud Oil: Contains eugenol which can reverse cellular oxidation to eliminate bad breath.
PRO Immune is a compound formula of traditional botanical essence. Echinacea, Astragals, Blackcurrant and Rosehip contain rich sources of essential anti-inflammatory vitamins and minerals. PRO Immune effectively relieves symptoms caused by inflammation at early stage of flu or cold infection, speeds up recovery from sickness, strengthens immune system and fights against bacteria and virus infection.
Echinacea: Plant known for its anti-inflammatory and antiviral against influenza (respiratory) viruses by producing interferon and inhibits certain enzymes to reduce the penetrating capacity of the active virus. Packed with polysaccharides, echinacoside, cichoric acid, ketoalkenes and alkylamides, as well as Beta-carotene, Vitamin C & E, calcium, and chromium all vital to the immune system.

Astragals: Adaptogenic herb with strong immune-support properties. Traditionally used to enhance and balance bodily functions. This super herb contains a wide array of beneficial elements, including more than 40 saponins, multiple flavonoids and trace minerals to boost an increase in antibodies, macrophages and lymphocytes production.

Blackcurrant: With anti-inflammatory activity acts to direct action on the adrenal cortex is therefore indicated for inflammatory conditions generally and locally, particularly on the respiratory system.

Rosehip: Highest grade out of the rosehip family. A special species that contains more healing properties and vitamin C than regular common rosehip. Used to boost immunity and help treat infections.

Vitamin C and Zinc: Help maintain and strengthen immune function while providing energy
Direction:
Natural antimicrobic spray
Spray to the oral cavity or infected area when needed (shake before use).
Pro Immune
As soon as flu symptoms appear, take 1 tablet 3 times a day.

Let it dissolve in mouth for better result.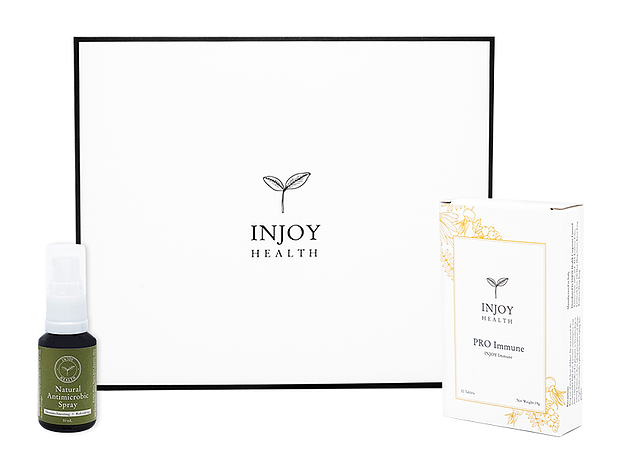 Conditions
Storage: Store below 25 °C in a cool, dry place, and protect from sunlight.

Precautions: Not suitable for children under 3 years old. For pregnant or breastfeeding women, or those taking prescription of allergic to ingredients, consults a physician before using this product.

Disclaimer: This product is not registered under the Pharmacy and Poisons Ordinance or the Chinese medicine Ordinance. Any claim made for it has not been subject to evaluation for such registration. This product is not intended to diagnose, treat or prevent any disease.