Fitbit Versa 2 SE Smoke Woven
Brand: Fitbit
Model: Fitbit-FB507GYGY‐FRCJK
Authorized Goods. 1-Year Warranty.

Sleep better, live better
Sleep plays a huge role in your health. Wear Versa 2 at night to learn about your sleep, develop better habits and wake up ready to take on the world.
1. Sleep Score *NEW
See the quality of each night's sleep with a personalised Sleep Score based on your sleep data.
2. Sleep Stages
Track your light, deep & REM sleep and compare with benchmarks in the Fitbit App to get insights about your night.
3. Sleep Mode *NEW
Reduce interruptions from your watch with sleep mode that disables quick-view display and notifications during a set time.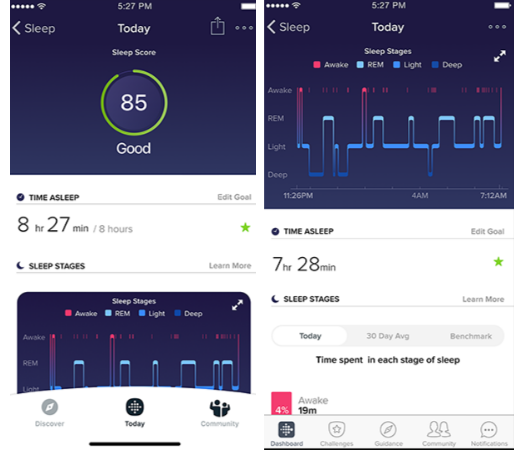 Focus on your health and fitness
That extra push you need to get going? It's just a glance away. Versa 2 uses heart rate, guidance and insights to help you reach your goals.
1. 24/7 Heart Rate Tracking
Track real-time heart rate, resting heart rate & heart rate zones during workouts.
2. All-Day Motivation
Stay focused on your goals with reminders to move, health insights, trends and more.
3. Swim Tracking
Dive in and track your pool workouts—swimproof Versa 2 is water resistant to 50 metres.

4. 15+ Goal-Based Exercise Modes
Choose from run, bike, swim, yoga and more, then set a goal and get real-time stats.
5. Real-Time Pace and Distance
Keep an eye on your speed and mileage by connecting to your phone's GPS.
6. On-Screen Workouts
Fit in more fitness with on-screen workouts and coaching. More workouts available with a subscription.

Stand out in thoughtfully crafted design
Premium finish. Beautiful display. Versa 2 gives you a timeless, versatile look you can wear all day.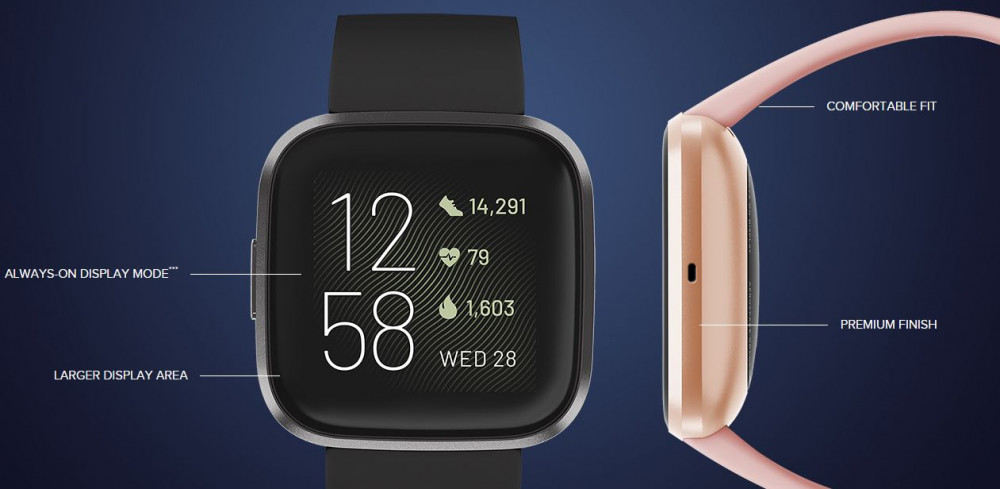 Access your world from your wrist
Stick to your schedule, queue up the perfect playlist, make purchases & more—all from the convenience of your watch.
1. Hundreds of Clock Faces
Give your watch the perfect look with unique designs downloadable from the Fitbit app.
2. Music Experience
Control your Spotify app plus store and play 300+ songs on your wrist. Subscription required.
3. Essential Apps
Download hundreds of your favourite apps—everything from a timer and weather to Spotify and Strava. Subscriptions required. Apps not available in all countries.
4. Notifications & Voice Replies
Get notifications for calls, texts, calendar and apps when your phone is nearby—plus reply to texts from your watch using your voice (Android only).
5. Fitbit Pay
Add up to six credit or debit cards and make purchases and pay for transport from your watch with Fitbit Pay. See bank availability.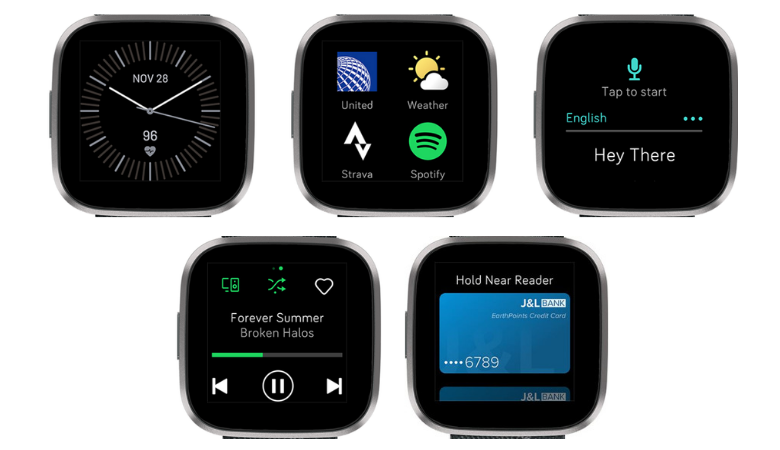 Know your body better in the Fitbit app. Get a deeper understanding of your health & fitness.
See the whole picture by using Versa 2 with the free Fitbit app to get the data, motivation and guidance you need to improve.
1. Guidance & Insights
See how your activity, sleep, nutrition and more contribute to your health plus get guidance to really thrive.
2. Health & Wellness Tools
Reach your goals with help from guided workouts, motivational challenges, food logging and more.

3. Friends & Groups
Compete with friends and family and get the support you need from a community of like-minded people.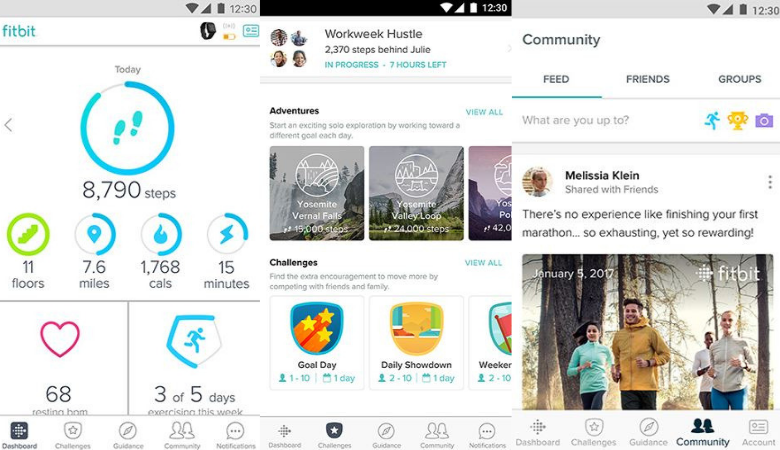 Fitbit Versa 2 All Features
MUSIC EXPERIENCE:Control your Spotify app plus store and play 300+ songs on your wrist. Subscription required.
SLEEP SCORE:Based on your heart rate, time asleep and restlessness, this personalised score helps you better understand your sleep quality each night.
ESSENTIAL APPS:Instantly access your favourite apps for weather, sports and more.
NOTIFICATIONS & QUICK REPLIES:Get call, text and calendar alerts & send quick replies. Works when your phone is nearby; quick replies on Android only.
MULTI-DAY BATTERY:Get 5+ days of battery life on a single charge.
FITBIT PAY:Make secure purchases at millions of stores around the globe and pay for transport—right from your wrist, no phone or wallet necessary. See bank availability.
FITBIT APP:Get the tracking, data, motivation and guidance you need to improve all in one place.
24/7 HEART RATE TRACKING:Use heart rate to better track calorie burn, optimise effort during workouts, see your resting heart rate trends and more.
AUTOMATIC ACTIVITY & SLEEP TRACKING:See steps, distance, calories, floors climbed, active minutes & time in light, deep and REM sleep.
FEMALE HEALTH TRACKING:Log periods, record symptoms, gauge ovulation and discover patterns in your cycle with the Fitbit app.
GUIDED BREATHING SESSIONS:Complete a 2- or 5-minute guided breathing session right on your wrist and find moments of calm throughout your day.
ON-SCREEN WORKOUTS:Get Fitbit Coach workouts on your wrist that guide you through each move. More workouts available with a subscription.
GOAL-BASED EXERCISE MODES:Use 15+ exercise modes to record workouts like run, bike, swim and yoga to get real-time stats during your workouts.
REMINDERS TO MOVE:Get personalised reminders throughout the day that help you reach your goals if you've been sitting too long.
REAL-TIME PACE AND DISTANCE:Connect to your phone's GPS to see real-time pace and distance on your wrist, and get a map of your route in the app.
WATER RESISTANT TO 50M:Water resistant up to 50M, so you can wear your tracker in the shower, pool and beyond. Plus, it automatically tracks how long you're swimming.
SMARTTRACK®:Automatically recognises and records activities like runs, sports & aerobic workouts.
CARDIO FITNESS SCORE:Get a personalised Cardio Fitness Score and tips to improve your fitness level over time.
ACCESSORIES & CLOCK FACES:Wear Versa 2 your way by choosing from hundreds of clock faces & switching the accessory band (sold separately).
ALWAYS-ON DISPLAY MODE:Just glance to see what you need during workouts or when your hands are full.
LARGER DISPLAY AREA:Compared to other Versa family watches, there's less border and more display on this hi-res Corning® Gorilla® Glass 3 touchscreen.
COMFORTABLE FIT:The tapered silicone band is lightweight, flexible and durable.
PREMIUM FINISH:The brushed anodised aluminium case is soft to the touch and seamless front to back.
WIRELESS SYNCING:Works with Bluetooth headphones & 200+ leading iOS and Android devices.