Ensure Guard Mini Fogger G2 with one 100ml refill Set - Sliver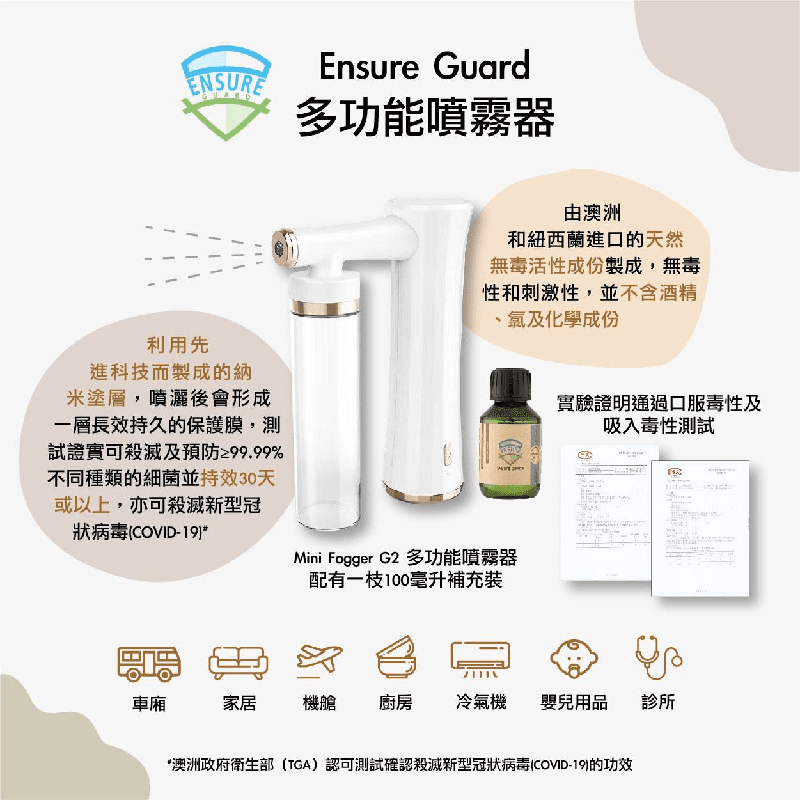 The newly launched Mini Fogger G2 is a handheld and rechargeable device perfect for doing DIY professional fogging wherever you are. Mini Fogger G2 is able to perform continuous fogging over large surface areas within a short period of time (such as over your body/clothing before leaving home, furniture, vehicle, office) . With a simple press of a button, this portable device can emit a strong and continuous stream of Ensure Guard in 3 different strength, it comes with an acrylic charging stand to ensure the Mini Fogger G2 is always ready to go within grabbing distance.
The Mini Fogger G2 kit also includes a travel pouch which allows all accessories (including the device, stand, charging cables and refill bottles) to be packed up nicely, to be taken on your next adventure, wherever that may be.
---
Product Specification
Voltage: 3.7V
Power: 5W
Battery capacity: 1200mAh
Capacity: 80ml
Stand size: 120*60*31mm
Authorized goods