Mobile Duck 5G Mainland China 15-Day 9GB Data Sim $88 I China + Hong Kong use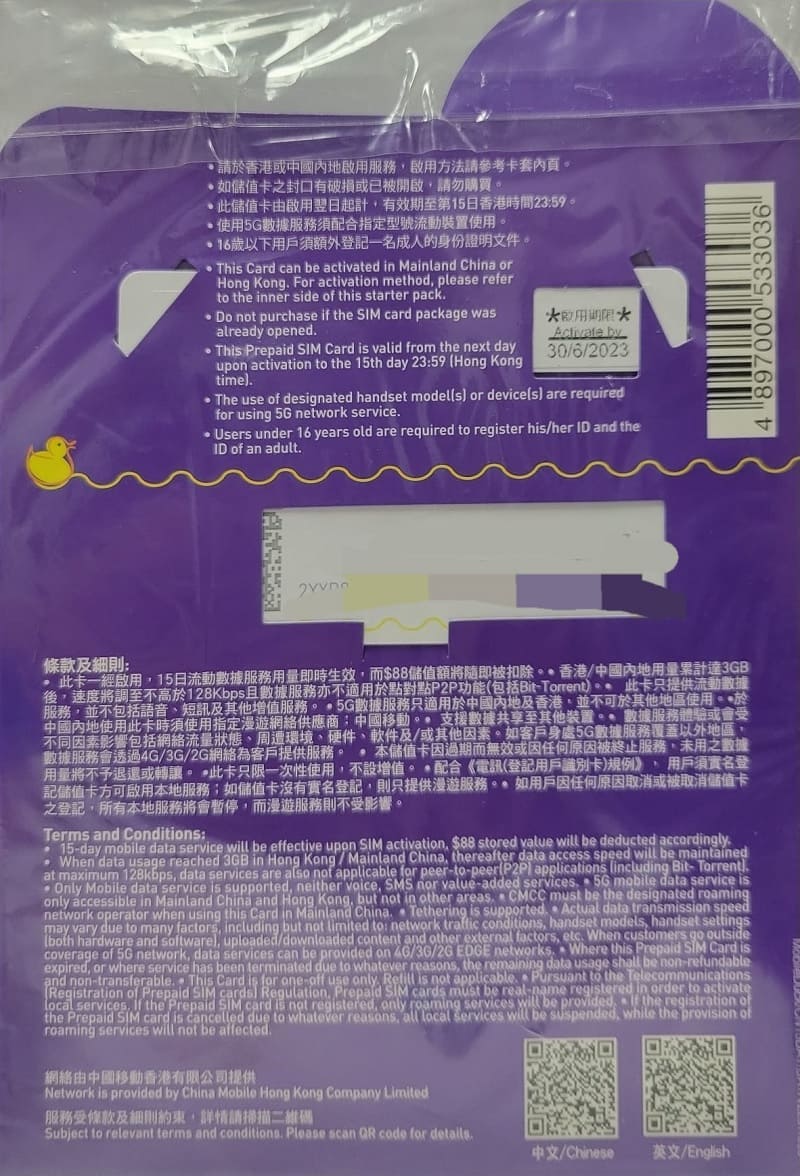 **From February 1, 2023, all Hong Kong prepaid cards with local mobile communication services must complete real-name registration before enabling the relevant telecommunications services. **
*Newly activated Mobile Duck data card in Mainland China for 15 days to get 6GB data (speed limit 128Kbps after upgrading to 9GB), promotion period until March 31, 2023
Press *103*800# to activate this card in Mainland China
---
15Days Mainland China/Hong Kong shared 5G mobile data (after 3GB, the speed limit is not higher than 128Kbps)
The SIM card is valid for 15 days from the activation date(Base on Hong Kong 23:59)
Use the network: China Mobile(CMHK)
The SIM card can be activated after it is inserted into the phone (Use in Hong Kong: Real-name registration must be completed before starting the service)
Support data sharing to other devices
*Not applicable to Macau and Taiwan*
3-in-1 SIM card (Normal + Mirco + Nano Sim)
This card is for one-time use only, no top-up
This card only provides mobile data service and does not provide voice minutes.
If customers in Hong Kong are not covered by 5G data services, CMHK will still provide services to customers through 4G/3G/2G networks. Use of 5G data services must be used with designated mobile devices.
The actual data transmission speed will be subject to the following factors, including but not limited to network usage, mobile phone model, settings (including mobile phone hardware and software, etc.), upload/download content and other external factors.
Activate Before: 30-06-2023
---
The product picture is a schematic diagram, there may be slight differences between the picture and the actual product, and the final packaging may also be different, the actual product shall prevail
There are many reasons why the Sim card cannot be used, not necessarily the problem of the Sim card itself, so please contact us first.
There is customer service contact information on the outside of the Sim card holder, you can contact customer service via Whats App.