Berrcom Non-Contact Infrared Forehead Thermometer
Brand: Berrcom
Model: BERRCOM-JXB-178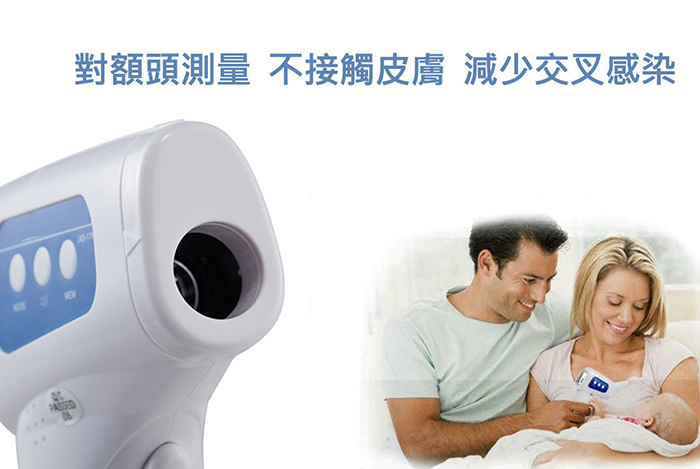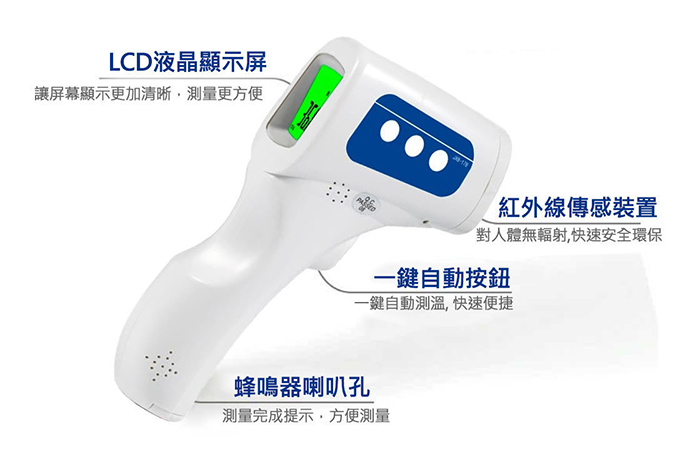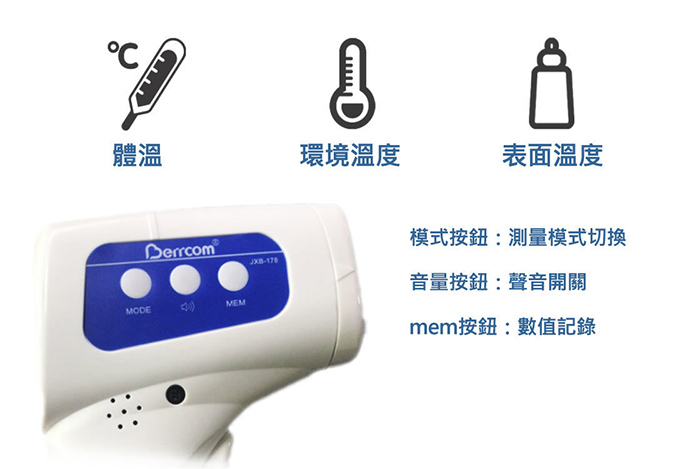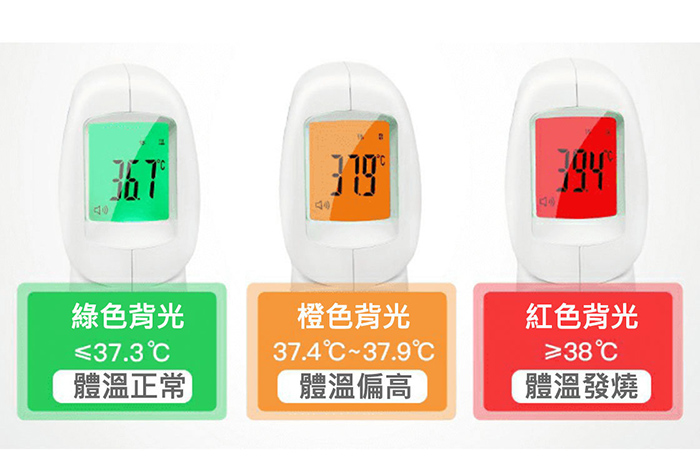 This thermometer also comes equipped with three different temperature taking modes ; Body, Room and Surface temperature modes.
The thermometer can memorize the last 32 temperature measurements.
And it can show the measurement result truly though Three Colors.
Suitable for Newborn and Up
The backlit of thermometer will display Three Colors :
1. Green(Normal):≤37.3°C(99.1°F)
2. Orange(High):37.4〜37.9°C(99.3〜100.2°F)​
3. Red(Fever):≥38°C(100.4°F)
*When the backlit will display RED color, the alarm will be audible at the same time.
Functions :
1. Non-contact Measurement
2. Easy to use : One button can get the measurement result truly
3. The tested temperature unit can be displayed in either ℃ or ℉
4. Memorize the last 32 temperature measurements
5. Get accurate readings quickly within One Second
6. Automatic power-off (30 seconds) to conserve energy
7. Longevity use 100,000 readings
8. On / Off Sound : Can adjust to silent mode
9. Calibration function to fix the error
10. Low battery indicator
11. Certification of International Standards : US FDA and CE
12. Noctilucent Function : The backlight display is convenient for night use and temperature measurement.
Method of measuring the forehead temperature:
1)Press "On/Scan" button, aim towards the forehead. Before taking the temperature, make sure to remove hair and perspiration from the forehead.
2)Press the scan button to turn on the thermometer. If user do not press any button, the thermometer will automatic power-off (30 seconds) to conserve energy.
3)Move the thermometer take the human body temperature with a 3cm-5cm distance from forehead.
4)Aim to the body forehead and Press the scan button around ONE SECOND. The result will display on the backlit.
Technical Specifications :
1.Unit Size : 187*120*57 mm (LxWxH)
2.Unit Weight (without battery) : 105g
3.Temperature display resolution : 0.1C (0.1F)
4.Consumption : ≤300mW5. Precision :
- Body : 32°C〜42.9°C(89.6°F〜109.2°F)
- Surface : 0°C〜60°C(32°F〜140°F)
- Room : 0°C〜40°C(32°F〜104°F)
** The above information is for reference only and subject to official factory **
** Battery is not included (2-AA batteries) **